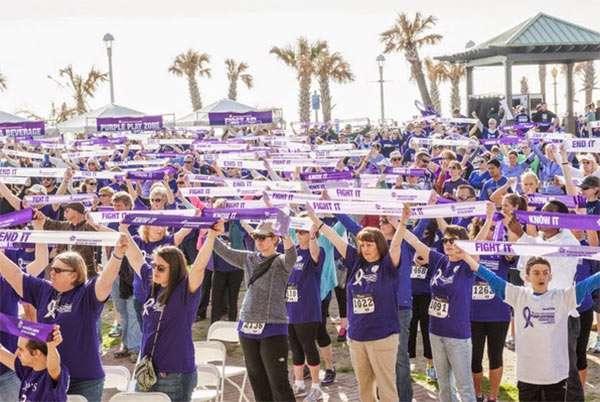 PurpleStride Tidewater Rallies Virginia Beach Community in Fight Against Nation's Deadliest Major Cancer
Funds raised at PurpleStride support vital research and clinical initiatives of the Pancreatic Cancer Action Network
VIRGINIA BEACH, Va. (March 28, 2017) – – The Tidewater Affiliate of the Pancreatic Cancer Action Network (PanCAN) invites the community to change the course of pancreatic cancer and improve patient outcomes by attending PurpleStride Tidewater 2017, presented by The Alan B. Nusbaum Family and Capital Group on Sunday, April 9, at Neptune's Park.   
The Pancreatic Cancer Action Network is the leader accelerating the pace of research progress for the nation's deadliest major cancer. Its urgent mission is to improve outcomes for patients battling the disease today and to double pancreatic cancer survival by 2020.
PurpleStride is a national movement that is rewriting the course of pancreatic cancer. Each year, more than 80,000 people in cities across the U.S. participate in PurpleStride 5K walk/run events to raise funds for the organization's key initiatives, including Precision PromiseSM, Know Your Tumor® and the Patient Registry. The Pancreatic Cancer Action Network has raised over $87 million for the cause through community events from 2008 to 2016.
"I Wage Hope at PurpleStride for my mom, Moe, a two-year pancreatic cancer survivor," said Jennifer Murphy, advocacy chair of the Tidewater Affiliate of the Pancreatic Cancer Action Network. "The more awareness we can create around the disease, the better. PurpleStride supports patient programs and funds research allowing people like my mom to have better outcomes."
Pancreatic cancer is the deadliest major cancer, with a five-year survival of just 9 percent. However, there is hope. PurpleStride Tidewater aims to improve patient outcomes by raising $180,000.
The Virginia Beach event will be hosted by emcee Chris Reckling, co-host of WAVY-TV 10's "The Hampton Roads Show." Other supporters include national presenting sponsor Celgene; national gold sponsor AbbVie; and silver sponsors Il Giardino and Sentara.
To register for PurpleStride Tidewater, visit www.purplestride.org/tidewater. For more on PurpleStride and the Pancreatic Cancer Action Network, watch the PurpleStride PSA and the organization's PSA.