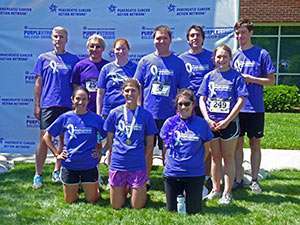 Raleigh-Durham Walks to End Pancreatic Cancer at PurpleStride
Funds raised at PurpleStride support vital research and clinical initiatives of the
Pancreatic Cancer Action Network
RALEIGH, N.C.  (March 30, 2017) – – The Pancreatic Cancer Action Network's Raleigh-Durham Affiliate invites the community to join PurpleStride Raleigh-Durham 2017, the walk to end pancreatic cancer, on Saturday, April 29, at North Carolina State University – Centennial Campus Oval.
The Raleigh event, hosted by WRAL-TV anchor Ken Smith, starts at 7 a.m. and features a new walk route. Other PurpleStride Raleigh-Durham supporters include national presenting sponsor Celgene; national gold sponsor AbbVie; silver sponsor Sam's Club of Morrisville; and bronze sponsor Cato Research Ltd -- Cancer Advances, Inc.
"With a high mortality rate, I feel obligated to share my story of survival," said Jim Hart, a three-year pancreatic cancer survivor and affiliate chair of the Raleigh-Durham Affiliate. "PurpleStride gives us an opportunity to spread the word about pancreatic cancer, to encourage people to join and help, and to make our voices heard."
Pancreatic cancer is the deadliest major cancer, with a five-year survival of just 9 percent. However, there is hope. PurpleStride Raleigh-Durham aims to improve patient outcomes by raising $253,000.
The Pancreatic Cancer Action Network is accelerating the pace of research progress for the nation's deadliest major cancer. The organization's urgent mission is to improve outcomes for patients battling the disease today and to double pancreatic cancer survival by 2020.
Each year, more than 80,000 people in cities across the United States participate in PurpleStride, the walk to end pancreatic cancer. The 5K walk/run events raise funds for the organization's key initiatives, including Precision PromiseSM, Know Your Tumor® and the Patient Registry. The Pancreatic Cancer Action Network has raised over $87 million for the cause through community events from 2008 to 2016.
Wage Hope at PurpleStride Raleigh-Durham, the walk to end pancreatic cancer. Register today at www.purplestride.org/raleighdurham. For more information on PurpleStride and the Pancreatic Cancer Action Network, watch the PurpleStride PSA and the organization's PSA.