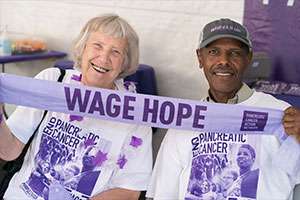 PURPLESTRIDE WASHINGTON D.C. AIMS TO CHANGE THE COURSE OF NATION'S TOUGHEST CANCER
Funds raised at PurpleStride, the walk to end pancreatic cancer, support vital research and clinical initiatives of the Pancreatic Cancer Action Network
District of columbia – (May 17, 2017) – The Pancreatic Cancer Action Network's National Capital Area Affiliate invites the community to walk to end pancreatic cancer at PurpleStride Washington D.C., presented by the Washington Capitals, on Saturday, June 10, at Freedom Plaza.
PurpleStride Washington D.C. will be hosted by Fox News Channel's chief national correspondent Ed Henry. Henry is also an accomplish author and his book 42 Faith: The Rest of the Jackie Robinson Story has been featured as the number three book on the Washington Post best seller list. The event will also feature "The Voice" season two semi-finalist Erin Willett, who will perform the National Anthem.
Pancreatic cancer is the nation's deadliest major cancer, with a five-year survival of just 9 percent. The Pancreatic Cancer Action Network (PanCAN) is a trailblazing organization addressing pancreatic cancer through research, clinical initiatives, patient services and advocacy with an immediate mission to improve patient outcomes today and to double pancreatic cancer survival by 2020.
"More than 53,000 Americans will be diagnosed with pancreatic cancer this year and 91 percent of those patients will not live past five years," said Lynn Matrisian, PhD, MBA, chief science officer for the Pancreatic Cancer Action Network. "Funds raised through PurpleStride help advance pancreatic cancer research and ultimately improve patient outcomes."
Each year, more than 80,000 people in cities across the U.S. Wage Hope at PurpleStride, the walk to end pancreatic cancer, and have raised more than $76 million since 2008. These funds support the organization's key initiatives, including Precision PromiseSM, Know Your Tumor® and the Patient Registry.
Josh Yazman, spokesperson for the National Capital Area Affiliate, lost his mother to pancreatic cancer in 2014 after a four-year battle with the disease.
"I knew about PanCAN since my mother's diagnosis, but I didn't get involved until a friend invited me to PurpleStride in 2014," Yazman said. "After that first event, I was hooked on the commitment that everyone shared to improve patient outcomes. PurpleStride is an opportunity to connect with thousands of people affected by pancreatic cancer and take actionable steps towards finding a cure by fundraising."
The Washington D.C. event is supported by national presenting sponsor Celgene; presenting sponsor Washington Capitals; national gold sponsor AbbVie; and gold sponsor Kovler Fund of CFNCR.
To register, donate or learn more about PurpleStride Washington D.C., please visit purplestride.org/dc. For more on PurpleStride and the Pancreatic Cancer Action Network, watch the PurpleStride PSA and the organization's PSA.