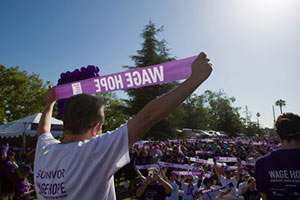 Nation Urged to Shift From Pink to Purple for Pancreatic Cancer, A Disease That Kills More People Annually Than Breast Cancer
Pancreatic Cancer Awareness Month Is an Opportunity to Educate People about a Disease with a Five-Year Survival Rate of Just 8 Percent
MANHATTAN BEACH, Calif. – (Nov. 1, 2016) – More patients die annually from pancreatic cancer than breast cancer in the United States, yet general awareness of pancreatic cancer is lacking. The Pancreatic Cancer Action Network urges the nation to shift from pink during breast cancer awareness month in October to purple this November in support of pancreatic cancer awareness month by learning about the symptoms and risk factors of pancreatic cancer.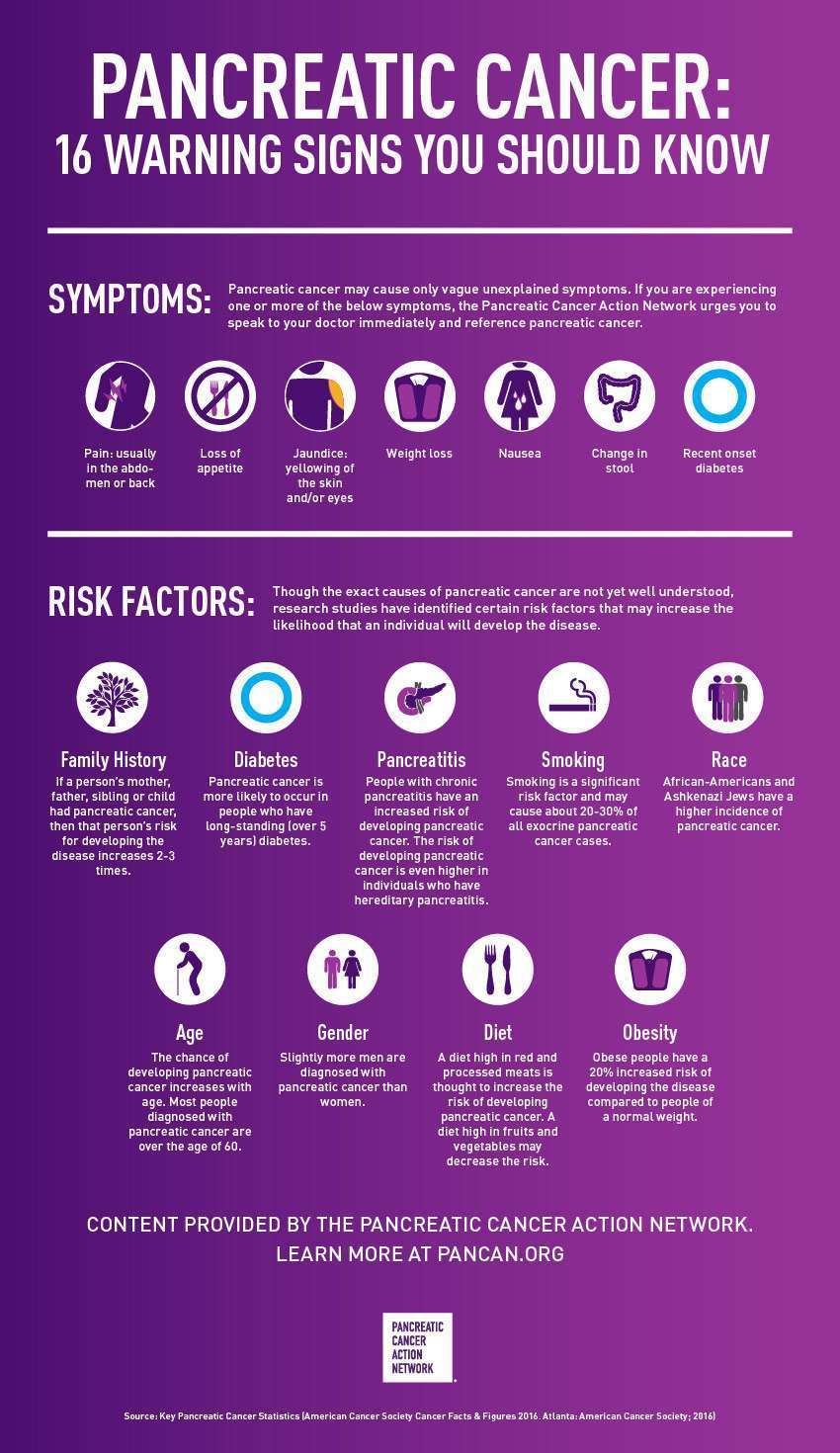 Thanks to years of research and advocacy in the breast cancer community, breast cancer patients have better treatments options, screening tools and early detection which have resulted in a decline in death rates.
It's time to improve outcomes for pancreatic cancer.
"Our nation must rally behind pancreatic cancer patients in the same ways we have for breast cancer patients," said Julie Fleshman, JD, MBA, president and CEO of the Pancreatic Cancer Action Network. "To improve outcomes and see death rates decline in pancreatic cancer, we must educate more people about the disease."
Knowing the symptoms and risk factors are important to raising awareness about pancreatic cancer and a tangible action that people can take during awareness month this November.
Pancreatic cancer may cause only vague unexplained symptoms. Pain (usually in the abdomen or back), weight loss, itching with jaundice (yellowing of the skin and/or eyes), loss of appetite, nausea, change in stool, pancreatitis and recent-onset diabetes are symptoms that may indicate pancreatic cancer.
If you are experiencing one or more of these symptoms, the Pancreatic Cancer Action Network urges you to speak to your doctor immediately and reference pancreatic cancer.
If you have two or more first-degree relatives who have had pancreatic cancer, a first-degree relative who developed pancreatic cancer before the age of 50, or an inherited genetic syndrome associated with pancreatic cancer, you may have an increased risk of developing pancreatic cancer.
The Pancreatic Cancer Action Network strongly recommends consulting with a genetic counselor to determine your risk and eligibility for a screening program.
"By taking action through education this November, you are helping change the future of this disease," added Fleshman. "Help us spread the word."
Learn more about pancreatic cancer, additional risk factors and how to support the cause this month at pancan.org/wagehope.
Follow the Pancreatic Cancer Action Network on the Latest News blog, Twitter, Instagram and Facebook.
# # #
About the Pancreatic Cancer Action Network
The Pancreatic Cancer Action Network is the national organization creating hope in a comprehensive way through research, patient support, community outreach and advocacy for a cure. The organization is leading the way to increase survival for people diagnosed with this devastating disease through a bold initiative — The Vision of Progress: Double Pancreatic Cancer Survival by 2020. To continue to accelerate progress, a goal to raise $200 million by 2020 is also in place. Together, we can Wage Hope and rewrite the future of pancreatic cancer.
MEDIA INQUIRIES ONLY CONTACT:
Cara Martinez
Senior Manager, Public Relations
Pancreatic Cancer Action Network
Direct: 310-706-3357
Email: cmartinez@pancan.org
ALL OTHER INQUIRIES, PLEASE CALL THE PANCREATIC CANCER ACTION NETWORK AT 877- 272-6226 OR EMAIL INFO@PANCAN.ORG.Revolutionary Clinical Trial Initiative Focuses On Precision Medicine, Collaboration And Data Sharing To Transform Outcomes For All Pancreatic Cancer Patients