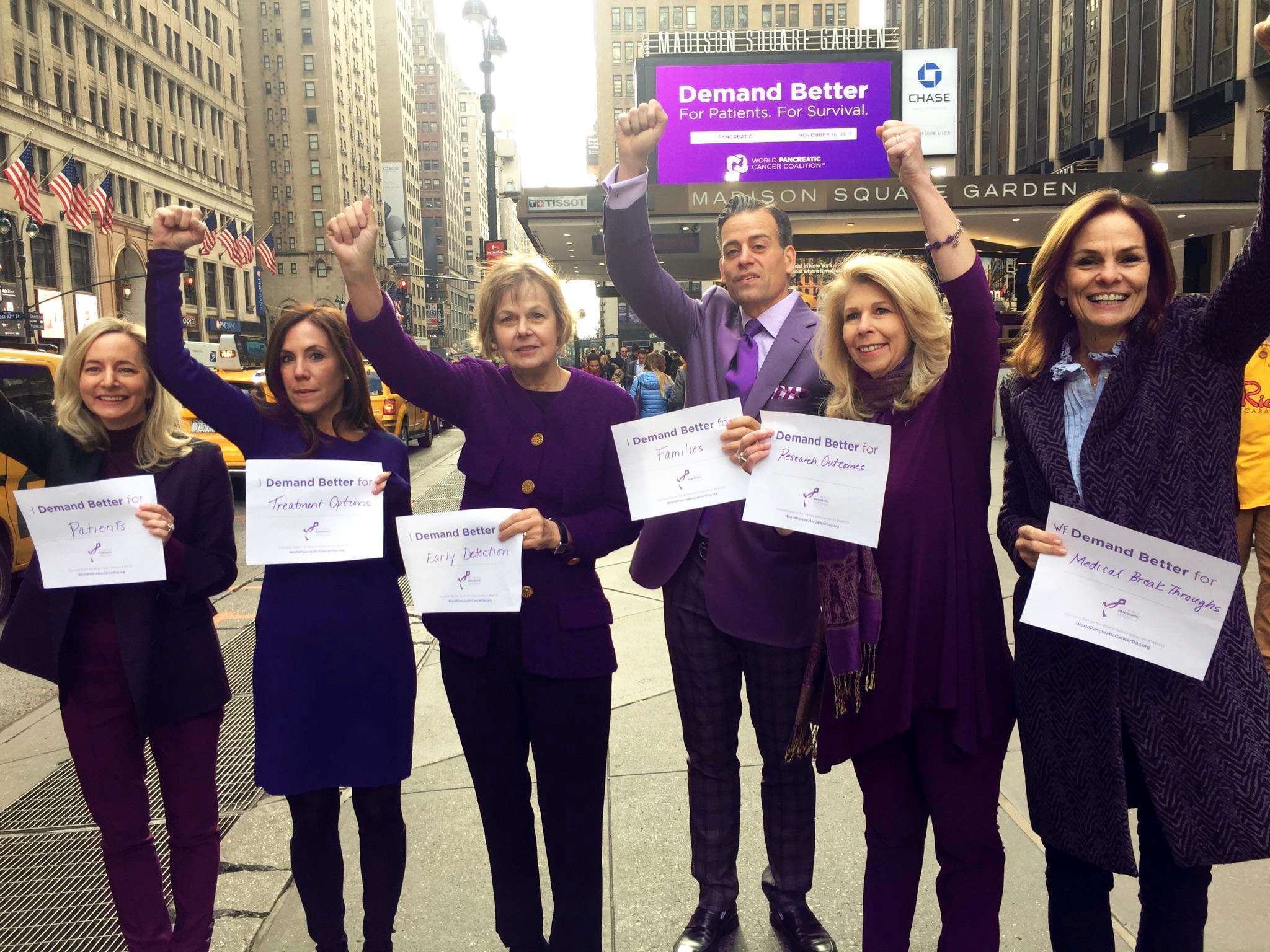 World Pancreatic Cancer Coalition Demands Better for Patients and for Survival
On World Pancreatic Cancer Day, Coalition Leaders Share Why They Demand Better
Manhattan Beach, CA (November 16, 2017) – In a new video, leaders from the World Pancreatic Cancer Coalition (WPCC), a global alliance in the fight against pancreatic cancer, are demanding better for patients and for survival today, World Pancreatic Cancer Day (WPCD).

The World Pancreatic Cancer Coalition unites over 60 pancreatic cancer organizations and advocacy groups from around the world who collaborate for the collective good of all people affected by pancreatic cancer.
The Coalition oversees World Pancreatic Cancer Day, which is observed around the globe each November during Pancreatic Cancer Awareness Month. The one-day event, happening today, aims to raise critical global awareness of the disease and inspire people to take action.
This year the Coalition is urging the nation to Demand Better. For Patients. For Survival, starting with earlier diagnosis.
There is currently no screening test or early detection method for pancreatic cancer, and though research is being conducted in these areas, knowing the symptoms and risks remains the key to early diagnosis. Research shows that patients diagnosed in time for surgery are more likely to live five years and beyond.
Every day, more than 1,000 people worldwide will be diagnosed with pancreatic cancer. Of that, an estimated 985 will die from the disease. Additionally, pancreatic cancer has the lowest survival rate among all major cancers, and in nearly every country, it is the only major cancer with a single-digit five-year survival rate (2 to 9 percent). These stunning figures are not merely statistics; they represent family members, friends and colleagues on every corner of the globe.
Learn how you can demand better today by visiting worldpancreaticcancerday.org. For additional information on the Coalition, please visit worldpancreaticcancercoalition.org.
Follow the World Pancreatic Cancer Coalition on Facebook, Twitter and Instagram.
---
About the World Pancreatic Cancer Coalition
The World Pancreatic Cancer Coalition is an international group of pancreatic cancer patient advocacy groups with a mission to drive transformational change for all those affected by the disease. Through global collaboration, the coalition raises awareness of pancreatic cancer by strengthening the efforts of participating member organizations. Each November, Pancreatic Cancer Awareness Month, coalition members unite on World Pancreatic Cancer Day to draw attention to pancreatic cancer and highlight the need for greater awareness, funding and research.
About World Pancreatic Cancer Day
World Pancreatic Cancer Day (WPCD), a day dedicated to raising global awareness of pancreatic cancer, occurs on Nov. 16, 2017, during Pancreatic Cancer Awareness Month. WPCD is an initiative of the World Pancreatic Cancer Coalition, bringing together more than 60 organizations from 27 countries on six continents to raise awareness and inspire action. The goal of WPCD 2017 is to drive awareness of the symptoms and risks of pancreatic cancer and the urgent need for earlier diagnosis to improve patient outcomes.