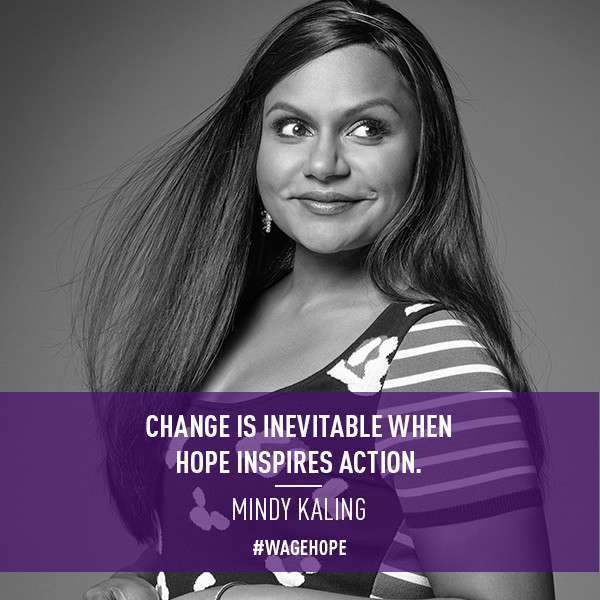 Mindy Kaling Delivers Hope With Haute-Couture for Pancreatic Cancer
Actress Auctions Clothing to Support the Pancreatic Cancer Action Network
MANHATTAN BEACH, Calif. – (Nov. 18, 2016) – To continue the success of World Pancreatic Cancer Day, Mindy Kaling, star of the hit Hulu original comedy series The Mindy Project, is auctioning an outfit on eBay to benefit the Pancreatic Cancer Action Network.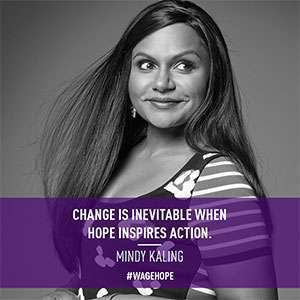 All proceeds from the auction will support the organization in memory of Kaling's mother Swati Roysicar, who passed away from the disease in 2012.
"This is my contribution toward changing the future for pancreatic cancer patients. It's a heartbreaking disease, I know first-hand. It's the least I can do during Pancreatic Cancer Awareness month."
Pancreatic cancer surpassed breast cancer this year to become the third-leading cause of cancer death in the United States. The disease is the deadliest major cancer with a five-year survival rate of just 8 percent.
"We're so appreciative of Mindy's continuous support," said Katie Seccombe, manager of community partnerships for the Pancreatic Cancer Action Network. "Her voice is extremely important in raising global awareness about this disease. Her support will help us reach our goal to double survival by 2020."
Now live on eBay until Nov. 27, the auction currently features a dress Mindy wore during an appearance with Conan O'Brien. Check out more of Mindy's fashionable moments during season five of The Mindy Project currently streaming on Hulu.
Learn more about pancreatic cancer and how to support the cause this month at pancan.org/wagehope.
Follow the Pancreatic Cancer Action Network on the Twitter, Instagram and Facebook.
Follow Mindy Kaling on Twitter, Instagram and Facebook.