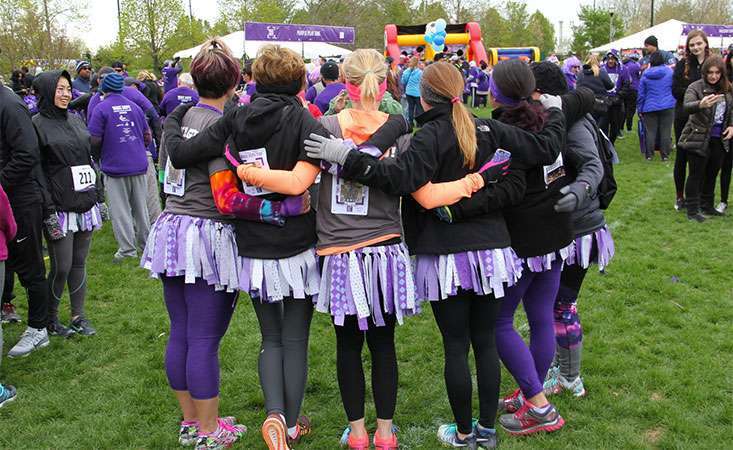 PurpleStride Supports the Pancreatic Cancer Action Network's Urgent Mission to Save Lives, Double Survival by 2020
CHICAGO, Ill. (June 6, 2018) – Thousands of passionate participants will walk to end pancreatic cancer, the world's toughest cancer, at PurpleStride Chicago on June 24. The community event is hosted by the Pancreatic Cancer Action Network (PanCAN) Chicago Affiliate at Soldier Field starting at 10 a.m.
Pancreatic cancer is the third leading cause of cancer-related death in the U.S. with a five-year survival rate of just 9 percent. In order to save lives and double survival by 2020, PanCAN urges the Chicago community to join PurpleStride.
"When we Wage Hope together, we can elevate national awareness of an urgent cause," said Julie Fleshman, JD, MBA, president & CEO of PanCAN. "Our passionate volunteers are a purple wave of humanity that draws greater attention to pancreatic cancer, recruits more people to join our movement, and supports our mission through this and other national PurpleStride events."
The money raised at this event supports critical research, clinical initiatives and patient services, including Know Your Tumor®, Precision PromiseSM,  Clinical Trial Finder and the Patient Registry.
Frank De Seno, spokesperson for the Chicago Affiliate, understands the devastating effects that pancreatic cancer has on both patients and their loved ones.
De Seno lost his oldest brother to pancreatic cancer 10 years ago, just one month after he was diagnosed. Then, four years after his brother's death, De Seno's wife, Linda, was diagnosed with the same cancer. She passed away after a three-month battle at the age of 52.
"I joined PanCAN in memory of my brother and my late wife," De Seno said. "I will not stop until we find a cure for pancreatic cancer, and that is why PurpleStride is so important to me. The funds raised through this event will advance research, and that research will end this disease."
PurpleStride Chicago will take place at Soldier Field and will be hosted by FOX32 anchor Corey McPherrin. The event is supported by national presenting sponsor Celgene, national gold sponsors AbbVie and Ipsen, gold sponsor Skate With Bob Foundation, gold media sponsors FOX 32, MIX 101.9 FM and WQNA 88.3 FM and bronze sponsor The CARA Group Inc.
To register, donate or learn more about PurpleStride Chicago, visit purplestride.org/chicago.
To learn more about PanCAN and its signature walk PurpleStride®, watch the PurpleStride PSA and the History of PanCAN. Follow PanCAN on Twitter, Instagram and Facebook.