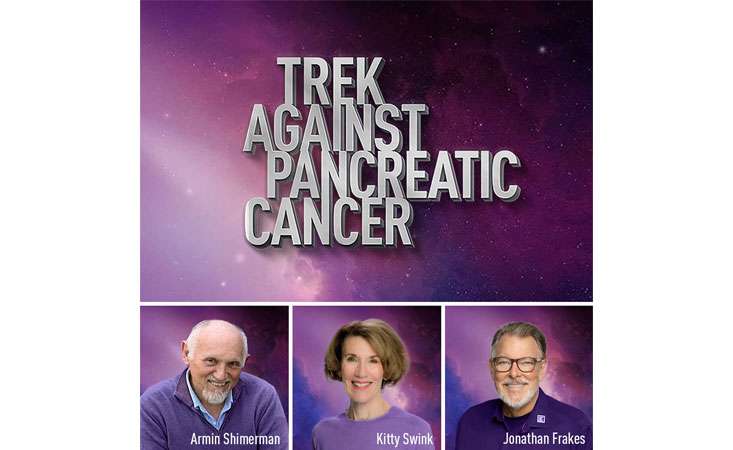 Actors Are Calling on the Star Trek Community and People Across the Country to Support Their Team "Trek Against Pancreatic Cancer" and Make a Donation Today
PanCAN PurpleStride Takes Place in 60 Communities Nationwide on April 29, 2023 – Learn More and Register HERE
LOS ANGELES, Calif. (February 15, 2023) – Today, the Pancreatic Cancer Action Network (PanCAN) announced that Jonathan Frakes ("Picard," "Star Trek: Strange New World" Season 2), Armin Shimerman ("Deep Space Nine") and Kitty Swink – a 19-year pancreatic cancer survivor ("Deep Space Nine") – are reuniting team "Trek Against Pancreatic Cancer" for PanCAN PurpleStride, the ultimate walk to end pancreatic cancer. The event takes place on Saturday, April 29, 2023, in Los Angeles and in 59 other communities nationwide. The team is calling on their fans and everyone across the country to join them in the fight to end the disease. PanCAN PurpleStride is the number one way PanCAN raises funds to fuel its mission and the dollars raised change the lives of people facing pancreatic cancer and advance progress against the disease.
This is the third year in a row that Frakes, Shimerman, and Swink have participated in PanCAN PurpleStride. The mission for the team is personal – Frakes lost his brother, Daniel, to the disease over 20 years ago. And Kitty Swink is a 19-year pancreatic cancer survivor – her husband, Armin, by her side during the diagnosis and treatment. John Billingsley ("Star Trek: Enterprise") is also joining the team this year. He lost his mother to pancreatic cancer following just a three month battle. The team will leverage the power of their collective voice, encouraging their fans across the nation to show support and help others "live long and prosper."
"A better world, a brighter future. No disease or suffering. Limitless possibility. Hope. These were all part of Gene Roddenberry's vision of Star Trek," said Frakes. "They also run parallel to PanCAN's vision – to create a world where every patient with pancreatic cancer will thrive."
"As a 19-year survivor, I know how lucky I am," said Swink. "I feel it is my job, my honor, to help anyone I can to fight this disease. If we join together, we can make a difference and change the course of pancreatic cancer. I don't know any group of people that is more generous and dedicated to hope and the future than the Star Trek family. I am optimistic we can unite to create a better future. Make it so."
Shimerman added, "My goal in getting involved with PanCAN by starting team "Trek Against Pancreatic Cancer" at PurpleStride Los Angeles is simple: I want to see the survival rate increase from where it is to 100%. No one should die of pancreatic cancer. No family should have to endure the loss of a loved one to this ghastly disease."
City by city, supporters will walk the nation in solidarity on Saturday, April 29, 2023 to raise national awareness and much-needed funds for pancreatic cancer. This year's goal is to raise $19 million in nearly 60 communities nationwide. Approximately 70,000 participants are expected to come together in person, and anyone can register to participate for free at www.purplestride.org.
"We are so grateful to Jonathan, Kitty, Armin and everyone who is participating in PanCAN PurpleStride. Their efforts are making a difference," said Julie Fleshman, JD, MBA, president and CEO of PanCAN. "PanCAN PurpleStride gives everyone affected by this disease the opportunity to make an impact through greater awareness and fundraising."
Progress is being made. In January, the five-year survival rate for pancreatic cancer reached a new all-time high of 12%, an increase of one percentage point from last year. This is the first time since 2017 that the survival rate has increased two consecutive years, a promising upward trend in the fight against this tough disease. However, pancreatic cancer is currently the third leading cause of cancer-related death in the U.S. and is on track to become the second leading cause.
Notable individuals who have passed in recent years from the disease include "JEOPARDY!" host Alex Trebek, actor Willie Garson, Supreme Court Justice Ruth Bader Ginsburg, and U.S. Representative John Lewis.
To find and register for a PanCAN PurpleStride event in your community, visit www.purplestride.org. Those who are unable to attend an event locally can still participate by joining the nationwide event, PurpleStride USA, and registering for free.
For more information on the Pancreatic Cancer Action Network and its urgent mission to save lives, visit pancan.org or follow PanCAN on Twitter, Instagram and Facebook.
About the Pancreatic Cancer Action Network
The Pancreatic Cancer Action Network (PanCAN) leads the way in accelerating critical progress for pancreatic cancer patients. PanCAN takes bold action by funding life-saving research, providing personalized patient services and creating a community of supporters and volunteers who will stop at nothing to create a world in which all pancreatic cancer patients will thrive.
Media Contacts
Stephanie Berman, Vice President, Smithhouse Strategy
Direct: 917-617-5667, Email: stephanie@smithhousestrategy.com
Jillian Scholten, Senior Manager, Public Relations, PanCAN
Direct: 310-706-3360, Email: jscholten@pancan.org