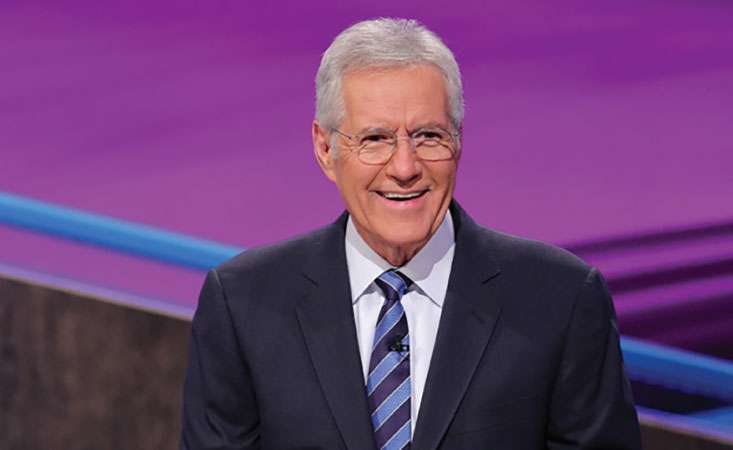 The Pancreatic Cancer Action Network (PanCAN), a leading nonprofit patient advocacy organization dedicated to fighting the world's toughest cancer, joins the world in mourning the passing of Jeopardy! host Alex Trebek to pancreatic cancer.  This heartbreaking news comes in November during Pancreatic Cancer Awareness Month and on the heels of the passing of two other prominent figures in the past five months, U.S. Representative John Lewis and Supreme Court Justice Ruth Bader Ginsburg.
PanCAN is eternally grateful to Trebek for his openness and honesty about his pancreatic cancer journey and more importantly, his strength and resolve to fight for all who looked to him for inspiration. He transformed the conversation around pancreatic cancer and provided hope to people impacted by this disease.
Pancreatic cancer is the world's toughest cancer with a five-year survival rate of just 10 percent in the United States. It is the third leading cause of cancer-related death in the U.S. and demands urgent action to save lives. There is no early detection test for pancreatic cancer and few effective treatments are available. Most people with pancreatic cancer are diagnosed at a late stage when surgery to remove the tumor is no longer an option and the cancer has spread.
Trebek was diagnosed with Stage IV pancreatic cancer in March 2019 after experiencing persistent stomach pain.
Following his diagnosis, Trebek openly shared the physical and emotional symptoms and side effects caused by the disease and its treatment – ranging from pain and hair loss to deep feelings of despair. As a result, he created unprecedented awareness for the disease.
Shortly after the public announcement of his diagnosis, Trebek attended PanCAN's PurpleStride Los Angeles Walk to End Pancreatic Cancer with a Jeopardy! friends and family group called "Team Alex."  During the event, he stood on stage with other survivors and addressed the crowd noting that the other survivors there helped remind him there's always hope – something he paid forward to countless others throughout his journey.
In addition to sharing his journey with several high-profile media and posting on Jeopardy's Twitter account, he made time to record a public service announcement in partnership with the World Pancreatic Cancer Coalition, of which PanCAN's CEO and President, Julie Fleshman, is the Chair, describing the symptoms of pancreatic cancer in honor of World Pancreatic Cancer Day last November.
As a result of Alex telling his story, PanCAN saw an immediate and sustained increase in the number of people visiting our website for information and resources, more people donating to the cause, more people registering for PurpleStride events and more.
As we celebrate his life and grieve his death, we will redouble our efforts to improve outcomes for the over fifty-seven thousand patients diagnosed in the United States every year with pancreatic cancer, in honor and memory of Trebek and so many others.
For those who wish to pay tribute to Trebek, they can share a story about his impact by posting on PanCAN's Honor Wall and making a donation in his memory to fund life-saving research and support critical patient services or by setting up a personalized tribute fundraising page in his honor.
About the Pancreatic Cancer Action Network
The Pancreatic Cancer Action Network (PanCAN) is dedicated to fighting the world's toughest cancer. In our urgent mission to save lives, we attack pancreatic cancer on all fronts: research, clinical initiatives, patient services and advocacy. Our effort is amplified by a nationwide network of grassroots support. We are determined to improve outcomes for today's patients and those diagnosed in the future.
For more information, high res photos, B-roll or to schedule an interview with Julie Fleshman, president and CEO of PanCAN, please contact:
Julie Vasquez, Senior Manager, Public Relations, 310-697-9129 or  jvasquez@pancan.org
Jillian Scholten, Senior Manager, Public Relations, 949-244-2561 or jscholten@pancan.org