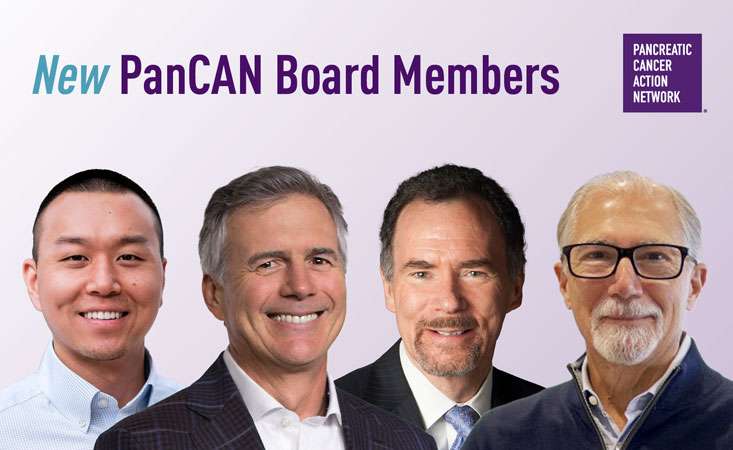 New Board Members United by Their Personal Connections to Pancreatic Cancer Will Support PanCAN's Bold Goals for Progress and Growth
LOS ANGELES, Calif. – (July 11, 2023) – The Pancreatic Cancer Action Network (PanCAN), a leading nonprofit in the fight against pancreatic cancer, proudly announces the addition of four esteemed business leaders, Jay T. Backstrom, MD, MPH, Rich Hume, Eric Park and Mace Rothenberg, MD, to its national board of directors. These new additions bring additional expertise to the organization as it takes bold action to accelerate progress for pancreatic cancer patients and create a world in which they thrive. In addition to being leaders professionally and in their communities, all PanCAN's board members understand the impact of pancreatic cancer, giving them a personal interest in advancing PanCAN's mission.
PanCAN President and CEO Julie Fleshman, JD, MBA, said, "We are thrilled to bring the vision of our newest members to our talented group of board leaders. With their support and leadership, we will continue to make progress toward the ambitious goals we've set that include driving the 5-year survival for pancreatic cancer from 10% to 20% and raising $80 million annually by 2030 to provide the opportunity to invest more in changing patient outcomes."
Jay T. Backstrom, MD, MPH, is an industry veteran with over 30 years of experience in clinical research and development and has served as President and CEO of Scholar Rock since October 2022. Dr. Backstrom formerly served as Executive Vice President, Research and Development at Acceleron Pharma, from December 2019 through its acquisition by Merck in 2021. He is also formerly the Chief Medical Officer and Head of Global Regulatory Affairs for Celgene Corporation. Dr. Backstrom's grandmother died of pancreatic cancer when he was a first-year medical student and, in 2009, he was impacted again when his wife, Dr. Desiree Bennett Backstrom, was diagnosed with metastatic disease and passed away six months later.
"PanCAN support, particularly the patient educational materials were very helpful when my wife was first diagnosed," said Dr. Backstrom. "I feel honored and privileged to service on PanCAN's board of directors and to be part of the mission to improve lives of everyone impacted by pancreatic cancer in honor of both my wife and grandmother."
Rich Hume is Chief Executive Officer of TD SYNNEX as well as a member of their board. In his role, he is responsible for the strategic direction of the company and oversees all aspects of its extensive global operations. Hume also served as CEO of Tech Data from 2018 to 2021 and previously spent more than 30 years of his career at IBM, serving most recently as the company's General Manager and COO, Global Technology Services. Hume lost his wife, Leslie Hume, to pancreatic cancer in 2018 and was her caregiver for the year prior to her passing.
"As a CEO of a public company, I am hoping to help with the overall progress of PanCAN's mission and objectives by applying many of the experiences I have had in over 40 years of business," said Hume. "I am excited about PanCAN's investment in research and collaboration with other institutions working to improve the survival rates of pancreatic cancer."
Eric Park is a Managing Director on Accordion's NetSuite Team within the CFO Technology Practice. He has more than a decade of financial accounting, system implementation, and Enterprise Resource Planning (ERP) transformation experience, and he specializes in cloud-based technology architecture, business process optimization, and ERP system evaluations. Park has spent much of his career working closely with large software companies and building strategic relationships with private equity sponsors. Park lost his mom to pancreatic cancer in 2021.
"After my mom passed away, my wife and I wanted to find a way to honor her legacy and life. I found PanCAN and it quickly became evident that this was a special organization and I'm excited for the opportunity to bring my experience in finance, accounting and technology to support its future growth," said Park. "I'm especially drawn to PanCAN's Early Detection Initiative. My mom was diagnosed at stage IV, so I am extremely passionate about finding ways to detect the disease early so people can have a fighting chance to beat it."
Mace Rothenberg, MD, is a physician-executive with more than 30 years of experience in government, academia, and industry. Dr. Rothenberg served as Chief Medical Officer of Pfizer from 2019 to 2021, during which time the company initiated, completed, and obtained emergency use authorization for its COVID-19 vaccine, Comirnaty®. Prior to that role, Rothenberg led Clinical Development for Oncology at Pfizer from 2008 to 2018. Rothenberg is board-certified in Internal Medicine and Medical Oncology. He is a Fellow of the American College of Physicians and the American Society of Clinical Oncology.
"After I discovered PanCAN, I began to tell every patient with pancreatic cancer I saw in my practice about it and what a great resource it was for reliable, accurate information," said Dr. Rothenberg. "Joining the board of PanCAN is both a great honor and great responsibility. Thirty years of experience working in government, academia, and industry has given me insight into the unique contributions of each when it comes to cancer research, drug development, and how we can improve outcomes."
In addition to the new members joining PanCAN's board of directors, the organization gratefully acknowledges the leadership of Hilarie Koplow-McAdams as her term ends and she steps down from the board. Koplow-McAdams served as a board member since 2013 including as Vice Chair from 2016 to 2020 and Chair from 2020 to 2022.
"Hillarie has been a phenomenal leader for PanCAN throughout her tenure on the board, especially while serving as Chair during the unprecedented time of COVID-19," said Fleshman. "I am grateful for her partnership and the positive, lasting impact she has had on our organization."
All changes to PanCAN's board of directors were effective as of July 1, 2023.
To learn more about PanCAN's board leadership, visit pancan.org. 
About the Pancreatic Cancer Action Network
The Pancreatic Cancer Action Network (PanCAN) leads the way in accelerating critical progress for pancreatic cancer patients. PanCAN takes bold action by funding life-saving research, providing personalized patient services and creating a community of supporters and volunteers who will stop at nothing to create a world in which all pancreatic cancer patients will thrive. For 18 years in a row, PanCAN has earned a Four-Star Rating from Charity Navigator – the highest rating an organization can receive. This rating designates PanCAN as an official "Give with Confidence" charity, indicating strong financial health, ongoing accountability and transparency.
Media Contact:
Jillian Scholten
Senior Manager, Public Relations
Pancreatic Cancer Action Network
310-706-3360
jscholten@pancan.org