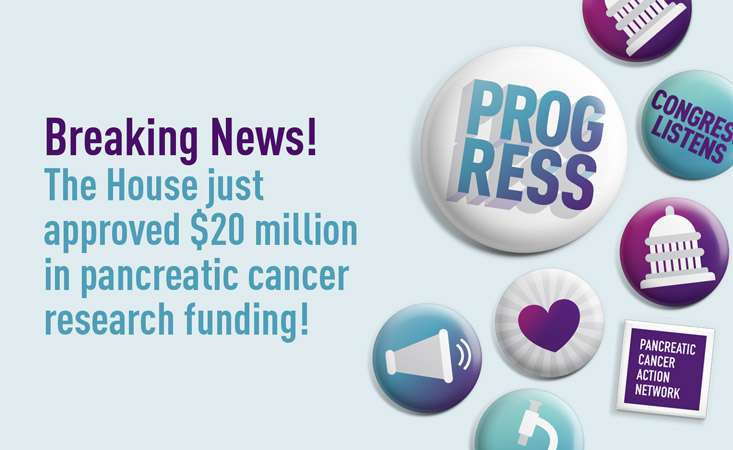 With Leadership from Pancreatic Cancer Action Network (PanCAN) Champions in Congress, House Defense Appropriations Bill Passes with Increase to Pancreatic Cancer Research Program at Department of Defense
LOS ANGELES, Calif. – (Sept. 29, 2023) – The Pancreatic Cancer Action Network (PanCAN), a leading nonprofit in the fight against pancreatic cancer, is thrilled that the U.S. House of Representatives approved an amendment to the Defense Appropriations Bill, increasing funding for the dedicated Pancreatic Cancer Research Program at the Department of Defense (DoD) from $15 to $20 million for the new fiscal year in their version of the bill. In order for this funding increase to get enacted into law, the Senate will need to advance their version of the bill and the increase will need to be kept intact throughout conference negotiations between both chambers.
As a result of PanCAN's ongoing advocacy efforts, the House Defense Appropriations committee included $15 million for the Pancreatic Cancer Research Program when the Fiscal Year (FY) 24 Defense Appropriations Act was reported out of committee. As the bill was advancing to final passage, Representative Terri Sewell (D-AL) supported by Representatives Anna Eshoo (D-CA), Andre Carson (D-IN) and John Joyce (R-PA) introduced an amendment to increase funding for the program by $5 million. The full House responded in support and the FY 24 Defense Appropriations Act was passed by the House with $20 million dedicated to pancreatic cancer research. While this is a critical milestone, PanCAN will continue to advocate to ensure the increase is included as the bill moves through next steps with the Senate and conference negotiations.
"We are incredibly grateful to Representatives Sewell, Eshoo, Carson and John Joyce for their leadership and support in bringing this amendment to the House floor as the funding has the potential to impact the lives of thousands of pancreatic cancer patients across the country," said Julie Fleshman, JD, MBA, president and CEO of PanCAN. "But the money isn't in the hands of researchers yet and we encourage Congress to work in a bi-partisan manner to complete their work on a FY 24 spending deal that includes $20 million in dedicated funding for pancreatic cancer."
The House-approved funding increase is for the Pancreatic Cancer Research Program administered through the DoD's Congressionally Directed Medical Research Program (CDMRP). This first ever dedicated pancreatic cancer program was created in 2019 with an inaugural investment of $6 million in response to PanCAN's advocacy efforts and with the leadership of PanCAN's champions in Congress. The creation of this program was a key achievement as PanCAN works to improve patient outcomes and increase federal investment for the disease. The research portfolio at the DoD complements that at the National Cancer Institute (NCI) and focuses on high-impact research to accelerate discoveries of new treatments and early detection strategies. Currently, more than 80 percent of research funding for pancreatic cancer comes from the federal government with the largest sources coming from the National Institute of Health (NIH) and NCI.
"While we are thrilled to have dedicated research dollars for pancreatic cancer through the DoD program, we stand with the entire cancer community in calling on Congress to pass a continuing resolution to avoid a government shutdown and continue to increase funding for all cancer research through the NIH and NCI," said Fleshman.
Pancreatic cancer is one of the deadliest cancers with a five-year survival rate of just 12 percent. In 2023, an estimated 64,000 Americans will be diagnosed with pancreatic cancer and approximately 50,500 are expected to die from the disease, underscoring the urgent need for research discoveries in this space.
For more information about the Pancreatic Cancer Action Network and its urgent mission to save lives, visit pancan.org or follow PanCAN on Twitter, Instagram and Facebook.
About the Pancreatic Cancer Action Network
The Pancreatic Cancer Action Network (PanCAN) leads the way in accelerating critical progress for pancreatic cancer patients. PanCAN takes bold action by funding life-saving research, providing personalized patient services and creating a community of supporters and volunteers who will stop at nothing to create a world in which all pancreatic cancer patients will thrive. For 18 years in a row, PanCAN has earned a Four-Star Rating from Charity Navigator – the highest rating an organization can receive. This rating designates PanCAN as an official "Give with Confidence" charity, indicating strong financial health, ongoing accountability and transparency.