In 2017, the Pancreatic Cancer Action Network (PanCAN), in partnership with generous donors, awarded 17 grants to 21 researchers at 12 institutions for a projected investment of $4.9 million to support pancreatic cancer research across the country.
PanCAN's 2017 grants portfolio is thoughtful and comprehensive, including innovative approaches to unlocking the biology of the disease, improving patient treatments and outcomes and accelerating early detection methods.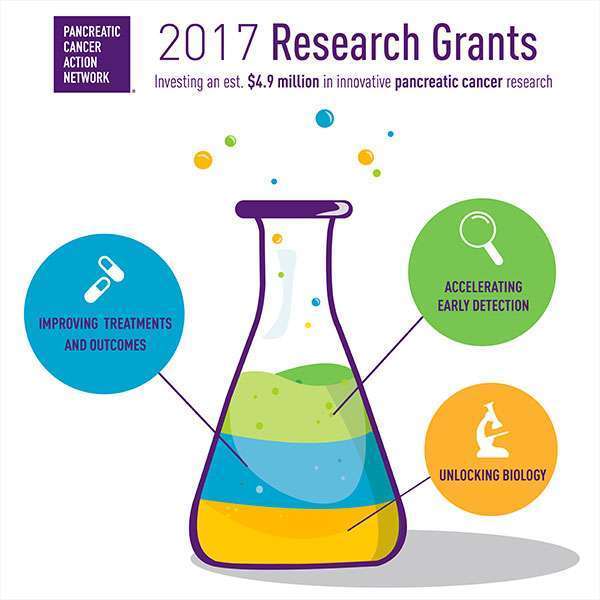 This year marks the 15th anniversary of the Research Grants Program, and the organization has awarded 159 grants to 158 scientists at 58 institutions to date. PanCAN's cumulative research investment is monumental – estimated to be more than $48.5 million over 15 years, including both our competitive Research Grants Program and internal research initiatives.
PanCAN's next call for applications will be in the fall 2017. Researchers are encouraged to sign up for funding alerts via our Research Digest curated for the pancreatic cancer research community.
Please join us in welcoming this year's new grantees and sharing this announcement:


2017 Richard Cianfaglione – Pancreatic Cancer Action Network – NCI, Frederick National Laboratory for Cancer Research KRAS Fellowship
Hema Adhikari, PhD
Duke University
Elucidating the Role of KRAS Specificity Determinants in Pancreatic Cancer

2017 Skip Viragh Pancreatic Cancer Action Network Precision Medicine Targeted Grant
Gregory Beatty, MD, PhD
University of Pennsylvania
Multiplex Tissue-based Assays and Analytical Tools for Pancreatic Cancer

2017 Pancreatic Cancer Action Network – NCI, Frederick National Laboratory for Cancer Research KRAS Fellowship
Marco Biancucci, PhD
Northwestern University – Chicago Campus
Targeting KRAS Switch I with Highly Specific Bacterial Endopeptidase

2017 Gail V. Coleman-Kenneth M. Bruntel – Pancreatic Cancer Action Network Translational Research Grant
Vladimir Bogdanov, PhD
Co-PI: Syed Arif Ahmad, MD
University of Cincinnati
Disrupting Tissue Factor-beta1 Integrin Axis in Pancreatic Cancer

2017 Pancreatic Cancer Action Network – AACR Career Development Award
Jason Doles, PhD
Mayo Clinic
Metabolic Alterations Driving PDAC-associated Muscle Wasting

2017 Pancreatic Cancer Action Network Translational Research Grant
Giulio Draetta, MD, PhD
MD Anderson Cancer Center
Therapeutic Vulnerabilities of Mesenchymal Pancreatic Cancer Cells

2017 Pancreatic Cancer Action Network – AACR Pathway to Leadership Grant
Luisa Escobar-Hoyos, PhD
Memorial Sloan-Kettering Cancer Center
mRNA Splicing in Pancreatic Adenocarcinoma

2017 1440 Foundation Pancreatic Cancer Action Network Precision Medicine Targeted Grant
Sunil R. Hingorani, MD, PhD
Fred Hutchinson Cancer Research Center
Combining Stromal Disruption and Relief of Immune Suppression to Treat PDA

2017 Pancreatic Cancer Action Network Translational Research Grant
Steven Hughes, MD
University of Florida
Protein Signatures Improve the Diagnostic Yield of Fine Needle Aspiration

2017 Pancreatic Cancer Action Network Early Detection Targeted Grant
Anirban Maitra, MBBS
Co-PI: Samir Hanash, MD, PhD
MD Anderson Cancer Center
Optimizing Biomarker Combinations for Pancreatic Cancer Early Detection

2017 Pancreatic Cancer Action Network Early Detection Targeted Grant
Gloria Petersen, PhD
Mayo Clinic
Validation and Temporal Performance of Pancreatic Cancer Biomarkers in Prospective Cohorts

2017 Pancreatic Cancer Action Network Early Detection Targeted Grant
Brett Sheppard, MD
Co-PI: Rosalie Sears, PhD
Oregon Health & Science University
Blood-based and Imaging Biomarkers of PDAC in New-onset Diabetics

2017 Skip Viragh – Pancreatic Cancer Action Network – AACR Career Development Award
Ingunn Stromnes, PhD
University of Minnesota
Enhancing Efficacy of Engineered T-cell Therapy for Pancreatic Cancer

2017 Tap Cancer Out – Pancreatic Cancer Action Network Translational Research Grant
Timothy C. Wang, MD
Co-PI: Paul Oberstein, MD
Columbia University
Targeting Cholinergic Receptors to Suppress Pancreatic Cancer

2017 Pancreatic Cancer Action Network Early Detection Targeted Grant
Yu-Xiao Yang, MD, MSCE, FACP
University of Pennsylvania
Validation of a Model Predicting Pancreatic Cancer in New-onset Diabetes

2017 Pancreatic Cancer Action Network – AACR Career Development Award
Haoqiang Ying, MD, PhD
MD Anderson Cancer Center
The Regulation of Oncogene Addiction by YAP Pathway in Pancreatic Cancer

2017 Pancreatic Cancer Action Network Early Detection Targeted Grant
Kenneth Zaret, PhD
University of Pennsylvania
Early Detection of PDAC in New-onset Diabetes and Other Cohorts