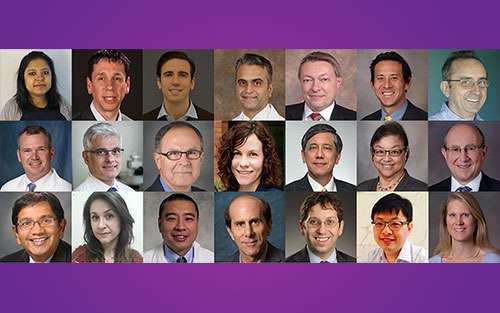 We are thrilled to announce our 2017 research grants recipients. In collaboration with generous donors, the Pancreatic Cancer Action Network (PanCAN) is investing an estimated $4.9 million in vital pancreatic cancer research through its competitive peer-reviewed 2017 Research Grants Program – including 17 grants to 21 researchers at 12 institutions across the country. Meet our 2017 grantees here!
This year marks the 15th anniversary of PanCAN's Research Grants Program and the first year the organization's grants portfolio has included a strong emphasis on two key topics in the field: precision medicine and early detection.
"For the first time in our organization's history, we requested applications focused on high-impact early detection and precision medicine grants, which will help to unveil new possibilities and treatment options," said Julie Fleshman, JD, MBA, president and CEO of the Pancreatic Cancer Action Network. "Additionally, we are continuing to invest in early-career researchers to build the community of researchers focused on this disease and funding leading-edge translational research that bridges laboratory findings and clinical impact."
Among the 12 institutions represented in this year's portfolio are three institutions the organization has awarded grants to for the first time: University of Cincinnati, University of Minnesota and Oregon Health & Science University. This is an encouraging indicator that the pancreatic cancer research community is strengthening and growing.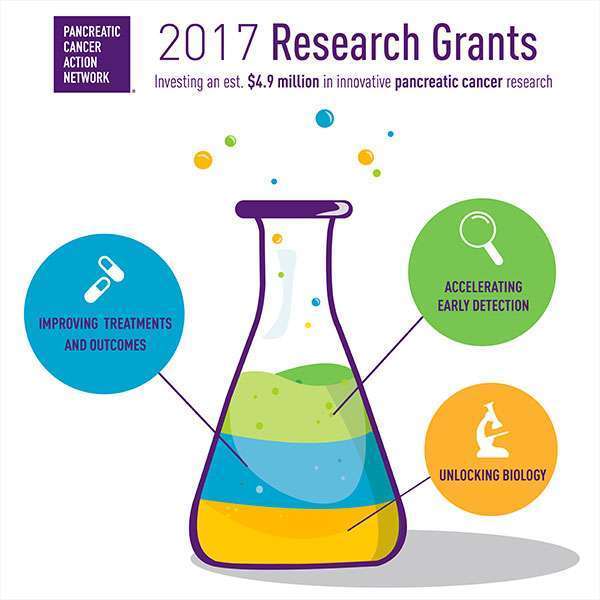 PanCAN's current grants portfolio is thoughtful and comprehensive, including approaches to unlocking the biology of pancreatic cancer, improving treatments and outcomes for patients and accelerating early detection methods.
"It is a proud day for our entire community," added Fleshman. "And we are especially grateful for our charitable partners, who have provided vital support for this year's Research Grants Program."
Five of this year's grants are named in honor of generous supporters or a loved one, including:
Pancreatic Cancer Action Network Precision Medicine Targeted Grant
The Gail V. Coleman-Kenneth M. Bruntel – Pancreatic Cancer Action Network Translational Research Grant
The Tap Cancer Out – Pancreatic Cancer Action Network Translational Research Grant
The Skip Viragh – Pancreatic Cancer Action Network – AACR Career Development Award
The Richard Cianfaglione – Pancreatic Cancer Action Network – NCI, Frederick National Laboratory for Cancer Research KRAS Fellowship
To date, PanCAN's cumulative research investment is projected to be over $48.5 million, including its Research Grants Program and internal research initiatives. Since 2003, the organization has awarded a total of 159 grants to 158 scientists at 58 institutions throughout the country.
Researchers are encouraged to sign up for funding alerts via our Research Digest curated for the pancreatic cancer research community. PanCAN's next call for grant applications will be in fall 2017.
Please join us in welcoming this year's new grantees and sharing this announcement!