2021 Grantee: Rohit Chandwani, MD, PhD
Weill Cornell Medicine
Research Project: Hnf1b Defines an Epigenetic Ontology of Human Pancreatic Cancer
Award: 2021 Pancreatic Cancer Action Network Career Development Award funded by The Jim & Shirley Young Family Foundation
Award Period: July 1, 2021 – June 30, 2023
Amount: $200,000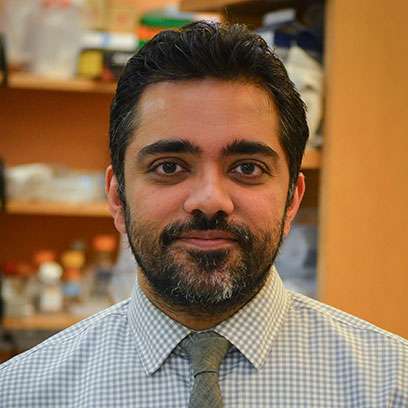 Biographical Highlights
Rohit Chandwani, MD, PhD, is an Assistant Professor in the Division of Liver Transplantation, Hepatobiliary and Pancreatic Surgery in the Department of Surgery and in the Department of Cell and Developmental Biology at Weill Cornell Medicine.
Dr. Chandwani received his undergraduate degree in Economics from Harvard University and earned his medical degree at the Yale University School of Medicine. He then trained in General Surgery at Columbia University Medical Center and in Surgical Oncology at Memorial Sloan Kettering Cancer Center, where he was Chief Fellow for the Department of Surgery.
A surgeon-scientist, Dr. Chandwani is also Principal Investigator of the Laboratory of Cancer Epigenetics, where he studies the epigenetic dysregulation of pancreatic and liver cancer. His laboratory is known for the application of chromatin-based tools to interrogate cell fate in the development of pancreatic neoplasia. Dr. Chandwani earned his PhD from The Rockefeller University in the laboratory of Alexander Tarakhovsky and was a postdoctoral fellow in the laboratory of Steven D. Leach at Memorial Sloan Kettering. He has been the recipient of funding from the National Cancer Institute, the American Association for Cancer Research (AACR), the Emerson Collective Cancer Research Fund, and the American Surgical Association for his work in cancer epigenetics, as well as the recipient of the 2016 PanCAN Pathway to Leadership Grant, which helped support his transition from a postdoctoral fellow to an independent investigator.
Project Overview
Pancreatic cancer is well known to be impacted by genetic changes, which include mutations and fusions of different parts of genes together. However, epigenetic changes also occur. These represent changes to the physical structure, packaging and location of DNA, without impacting its sequence.
Dr. Chandwani is particularly interested in changes to chromatin, which is a complex structure that includes DNA, RNA (another genetic material) and proteins. Chromatin plays an important role in controlling the timing and amount of gene expression that takes place within a cell. Modifications to chromatin are common in cancer, and Dr. Chandwani and his research team are working to define "signatures" of chromatin changes that occur within pancreatic cancer cells. Their goal is to determine if there are specific chromatin signatures that define pancreatic cancer cases with the most aggressive disease by studying tumor samples from patients who experienced long- vs. short-term survival.
For their second aim, the Chandwani lab will focus on a specific protein, Hnf1b, that is a transcription factor. Transcription factors behave by controlling the expression of other genes into proteins. Dr. Chandwani and his team will evaluate the role of Hnf1b using different laboratory model systems, including "organoids," which are cancer cells grown in a three-dimensional form like a tumor, and in mouse models. They will determine the effects of over-expressing Hnf1b as well as blocking its expression. Together, their studies will provide insight into epigenetic changes that drive pancreatic cancer progression and how they impact clinical outcome.