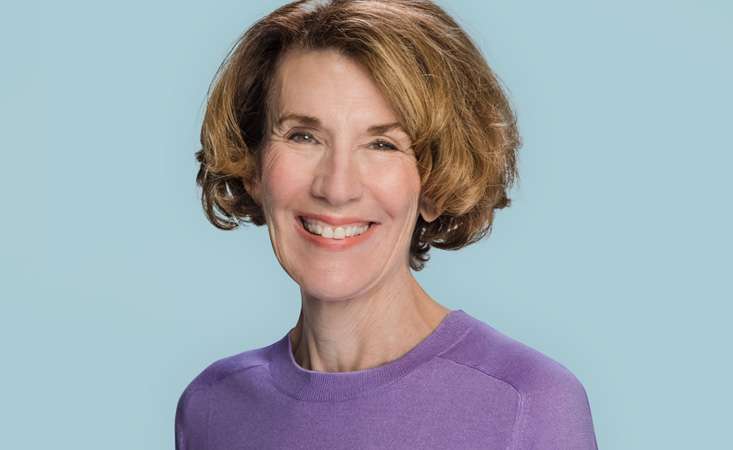 Editor's note: Kitty Swink is a 17-year pancreatic cancer survivor and "Star Trek: Deep Space Nine" actress. She is also a PanCAN Ambassador as part of our "Talk. Test. Take Control." campaign that encourages a conversation with your doctor about genetic and tumor tissue biomarker testing if you are a pancreatic cancer patient, and genetic testing if you are a first-degree relative.
As a 17-year pancreatic cancer survivor, I look back and realize I was having symptoms but I didn't know they were symptoms of pancreatic cancer. Lower back pain, weight loss, chronic heartburn. I was under a great deal of stress, which could have explained the weight loss – my dad had Alzheimer's and it was a difficult time. Plus, I've always been an athlete, so I was used to having things hurt.
A member of our "Star Trek" family was in the hospital with lung cancer and one day while visiting, her childhood nanny said to me, "Don't worry about Cecily…worry about yourself."
I came home and told my husband Armin what she had said, and he responded, "Maybe you should listen to her."
I had been diagnosed with very early-stage breast cancer 10 years earlier, when I was 39, but I was pretty bad about going to doctors. But the push worked.
It was a Thursday and I got an appointment for the following week. The next morning someone cancelled so they got me in that day. I told my doctor what was going on and she thought it was probably acid reflux and the pressure I was under, but she ran some tests to be safe. By Saturday night my urine was brown. On Monday I came home from a funeral, and my doctor had called to say I was seriously ill. When we spoke, she told me to go to Cedars-Sinai right away. By the time I was seen, I had turned yellow with jaundice – another symptom of pancreatic cancer.
Seventeen days later, I left Cedars having had a Whipple procedure and three weeks after that, I started chemo.
With breast cancer, it never occurred to me that I might die. With pancreatic cancer, it was different. I was profoundly scared.
My oncologist said to Armin, "Don't go online and look up the survival rate for pancreatic cancer. Your wife is not a statistic – she is a person."
It didn't take me long to understand that I had things left to do with my life and I was going fight hard to stay here and do them. I was lucky. I was very fit, I had great health insurance, a great medical team, an extraordinary husband and I was surrounded by amazing friends and a loving family.
Even during treatment, it became my goal to help whoever I could who was facing cancer. I always get more back than I could ever give.
One of the great gifts pancreatic cancer gave me was my friendship with Charlotte Rae. You probably know her as Mrs. Garrett on "The Facts of Life." But to me she was one of the great ladies of the American Theatre and more than that, she became my friend and my adopted grandmother.
Our mutual pal, Larry Pressman, put us together when Char was diagnosed with pancreatic cancer.  From the first day, we were bonded for life. We went to lunch, we ran lines with each other, saw each other on stage, I threw her last birthday party with Larry and our friend John, and we shared our stories at PurpleStride Orange County.
I am here to offer hope. Hope that it is possible to survive beyond this disease. On March 4, I tweeted that 17 years ago that day I had had my Whipple. So many people responded to let me know I made them believe they could survive it, too. Or that their mom or brother could. Or that they had lost someone they loved but my story made them feel better. Once again, I got back more than I gave.
Together, we can change the course of pancreatic cancer.
As "Star Trek" captains say, "Engage."
If you or someone you know is facing pancreatic cancer, contact
PanCAN Patient Services
for free, personalized support and resources.