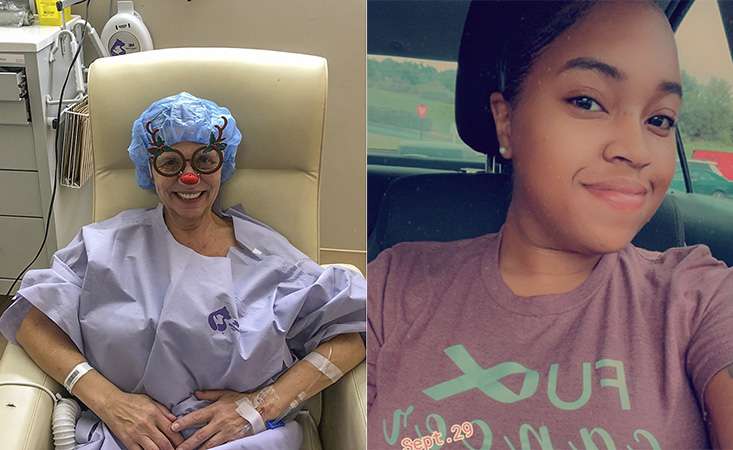 Editor's Note: July 30 was declared International Day of Friendship by the United Nations in 2011, dedicated to friendships across borders, cultures and backgrounds. When Sandy Robis contacted PanCAN about her inspiring friendship and journey with Aaliyah Nance, we knew it would be the perfect story to tell on this day.  In their own words, Sandy and Aaliyah talk about their diagnosis, their connection – and how they keep each other motivated.
When were you diagnosed and how did you learn about PanCAN, Know Your Tumor and how we could help?
Sandy: I was diagnosed in December 2018 with stage III pancreatic adenocarcinoma.  I learned about PanCAN via the numerous Facebook groups I joined for pancreatic cancer.  I often visit PanCAN's website for the invaluable resources provided and I also personally participated in the Know Your Tumor® program which was a great experience.  Thanks to PanCAN, I now know the specific mutations/variants I have so my doctor can investigate targeted treatments and clinical trials I may be eligible for.  I highly recommend PanCAN to everyone, especially those newly diagnosed who are shocked, overwhelmed and don't know where to get help in navigating their journey.
Aaliyah: I learned about PanCAN when I got the call that I was diagnosed with pancreatic cancer in July 2020. I had no idea what pancreatic cancer was. I did a lot of Google searches about it and PanCAN came up. The first thing I searched was the survivors who have all had PC. It helped a lot and gave me hope for my future.
How did it feel to connect with/get in touch with/talk with each other after meeting on Facebook?
Sandy: I had told my story publicly to many charities and posted it on Facebook to inspire others to have hope, stay positive and advocate for the best outcomes possible.  Aaliyah read my story and contacted me via personal message and I have the date – it was September 2, 2020!  She said, "Sandy, your story is very similar to mine, can we chat?"  I said of course and our dialogue continued for several months while we were going through our respective journeys and our friendship began and flourished.  I feel truly blessed and derive such gratitude from meeting Aaliyah and being able to share my journey in order to make hers better.
Aaliyah: I met Sandy on the Whipple and Pancreatic Cancer page on Facebook. There were thousands of people in that group. One person stuck out to me because they had a very similar experience with what I was going to be going through. I messaged Sandy and learned she was one of the sweetest souls I have ever talked to – we had a great connection. It felt so good to have someone understand what I was going through.
How do you inspire each other, especially given distance, age difference, different treatment approaches? 
Sandy: I wanted to provide Aaliyah with the hope to fight the fight and the resources and lessons learned so she, along with her medical team and family, could make the best decisions for her.   We would go back and forth on treatments, side effects, alternative options, research/studies, diet and stuff we were doing with family and friends. Keep in mind, this was all during COVID so we could not visit each other.  Once the US/Canada border is re-opened, hopefully we can make that happen! And who would have thought a 60-year-old and a 25-year-old would get along so well. I knew Aaliyah and I had a similar zest for life and we were not giving up no matter what. As everyone knows, there are good days and not so good days, but every day is a blessing and we both stayed positive and marched ahead.  Our diagnosis was very similar as was our treatment plan so there was lots to share.
Aaliyah: Sandy and I inspire each other by always checking up on each other and asking how certain doctor visits went. We are the complete opposite but I think with the connection we have, it didn't matter that I was a 26-year-old from North Carolina and she was in her 60's from Canada. None of that mattered to me. It was the fact that she helped me through a lot of my journey through pancreatic cancer. We knew we were survivors.
How would you describe your friendship, knowing that a cancer journey was the one thing that brought you together?
Sandy:  Grateful – what 63-year-old doesn't want to have a friendship with a 26-year-old? If it was cancer that brought us together, so be it –we both turned lemons into lemonade and are even stronger than we were for it.  We're both NED (No Evidence of Disease) now – can you believe that?  Stage III for Aaliyah and recently stage IV for me.  Aaliyah is beyond her physical years, so mature, so brave, so strong, so determined, which I know is why my dear friend is now cancer-free and living her life fully with such joy and gratitude.  Can't wait to meet in person and give her the biggest heartfelt hug ever.
Aaliyah: Our friendship is incredible. Even though it was pancreatic cancer that brought us together, we still managed to keep each other uplifted at all times.  We both have hope for everyone battling this awful disease and we just want to show the world that you are not alone in this. I couldn't ask for a better friend to help me through this journey.
Contact PanCAN Patient Services
for free, personal one-to-one support about a pancreatic cancer diagnosis, genetic and tumor biomarker testing, treatment and symptom management – including diet and nutrition resources like our popular booklet on the topic.