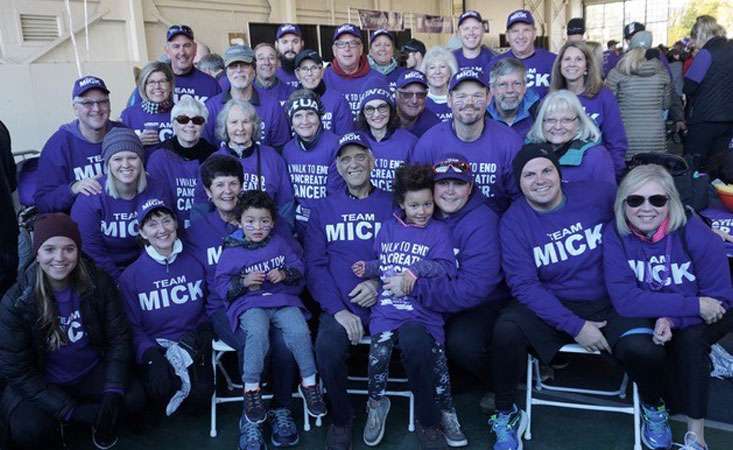 They say team captains must be three things: caring, courageous and consistent. Tom Spane, PanCAN PurpleStride team captain, is all of them. Tom will be taking steps for the 10th year at PanCAN PurpleStride Puget Sound on Saturday, April 30, 2022, in honor of his brother, Mick, who passed away from the pancreatic cancer in August 2020.
Tom, who is also a PanCAN PurpleStride Grand Club member, answered our questions about his brother and getting involved with PanCAN PurpleStride —offering encouragement and fundraising tips for those wanting take steps at PanCAN PurpleStride.
How did you get connected to PanCAN?
I first learned about PanCAN when my brother was first diagnosed with pancreatic cancer. Receiving his diagnosis was obviously traumatic for my brother. As a lifelong educator, he looked for ways to learn more about his cancer and the support that was out there. He was quickly connected to PanCAN Patient Services, which was a very valuable resource for him. PanCAN helped provide him with information to better understand his cancer and helped connect him to others across the country who were going through the same experience.
Tell me about your brother Mick – how do you think he would feel about all you're doing in his honor?
Fortunately, Mick's battle with pancreatic cancer lasted almost 12 years. He was able to participate in every PurpleStride event up until his death. Participating in PurpleStride was always very emotional for him on many levels. He was so humbled by the support from his friends and family, and at the same time, reminded of his own mortality.
He was always extremely thankful for my efforts and that of all the Team Mick members. Our success was not necessarily due to any individual's effort in raising money. I truly believe that our success was mainly due to the respect that my brother earned in his lifetime – as an educator, a dedicated husband and father, a friend to so many. He touched the lives of countless individuals, and our success is directly related to that.
Just one example of the scope of Mick's influence on those who knew him: One of Mick's best friends from college helped raise money for PanCAN and other charitable groups by organizing a grueling 71-mile mountain bike ride in the Washington Cascades. Jim LeMonds organized event this to honor Mick and celebrated his 71st birthday by completing this 71-mile ride in a single day! Jim and his riding partner raised $35,000 for various charities including PanCAN!
How did you hear about PanCAN PurpleStride?
My knowledge of PanCAN PurpleStride came via my brother. He learned of the event and its impact from PanCAN Patient Services and others he communicated with at PanCAN. I believe we participated in our first walk the year after he was diagnosed. Our initial goal was not that lofty, but it didn't take long for us to realize that with a little effort, we could garner donations for PurpleStride with relative ease.
What made you want to become a PanCAN PurpleStride Team Captain?
My decision to be captain for Team Mick was a no-brainer. Mick was my only sibling, and it seemed like I was the obvious choice. I'm also a lifetime educator and spent the better part of my career as a leadership teacher at our local junior high. An important part of our school culture was to raise funds to support several charities. I guess it's safe to say that I had some experience in doing this type of thing.
Any advice for others who want to be a team captain, but are hesitant?
Being a team captain can be as easy or difficult as you want to make it. Don't worry that being a captain will take over your life, as it doesn't have to work that way. Above all, it is a great way to honor the family member or friend that you are supporting.
Any fundraising tips you think would be helpful to others?
Don't underestimate the power of social media. PanCAN makes it easy to send out scripted messages and provides many different templates to choose from depending on your need.
After two years of striding apart, what are you most looking forward to about being back in person?
For us, it will be bittersweet. It will be absolutely wonderful to be able to stride in person with family and friends that are a part of Team Mick. Of course, this will be a very emotional PurpleStride for us, as it will be the very first stride without my brother Mick.
Thanks to Tom, Team Mick and everyone participating in PanCAN PurpleStride on One Big Day, Saturday, April 30, 2022.