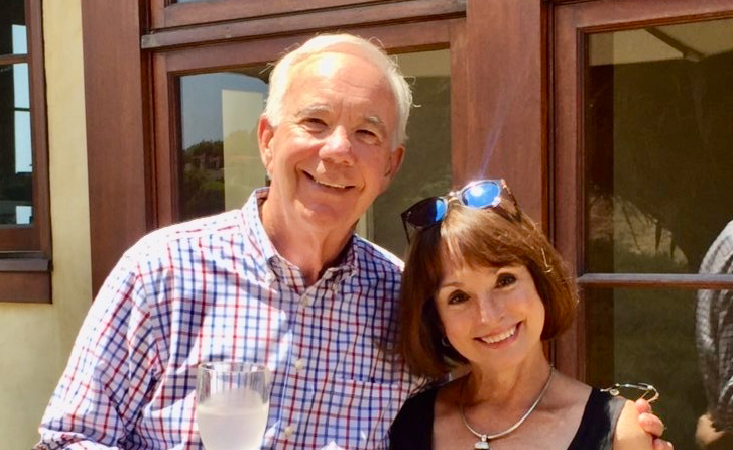 In Hollywood, on-screen romances are created to build drama and keep the audience guessing. It's the key to making a movie love story relatable, yet exciting. But not all real-life love stories need the drama to be considered the real thing.
That's the case for Dwaine Mattei and Lee Reitler, a couple living out a love story they describe as easy and conflict free. Less than 50 miles from the drama of Hollywood, this Orange County couple has found love for the second time around.
Dwaine lost her husband to pancreatic cancer in 2003. Dwaine's daughter wanted her mom to be closer to family, so she asked her to move from Pennsylvania to Huntington Beach, Calif., in 2015. But being closer to family wasn't the only thing her daughter had hopes for. She wanted to see her mom get back out there and start looking for companionship. It had been 12 years since her dad passed, and she knew her mom deserved someone special. In 2017, Dwaine joined the world of online dating.
Lee also lived in Orange County and had spent two years as a widow after losing his wife to pancreatic cancer in 2015.
It was at a New Year's Eve party that he was told by his friends that he was too great of a catch to be spending the new year alone. A friend told him he was only allowed to come back to the party after he had gone home and created an online dating profile.
It took some encouraging for both Dwaine and Lee to put themselves back out there. They both had been on a few dates and always appreciated the conversations and opportunity to meet new people. But it was the date where they met each other that changed everything.
This meetup was different from all the others. "The conversation was easy. It was organic. That was super refreshing for me." Dwaine said.
Early in the date, they learned that both of their spouses had passed away from pancreatic cancer.
Dwaine told me, "After the first date, I was writing a thank you note to him (because that's just what I do), and as I was writing it, I started tearing up. And that was unexpected because it was an instant response to the evening and to Lee. I've certainly dated other people, but this was different. It was a really meaningful connection for me."
It wasn't long after their first few dates that Lee was on a Panamanian vacation with friends when he realized he couldn't stop thinking about her. Every day, it was Dwaine who kept popping up in his head. He knew then that it was love.
The day before Dwaine's birthday, Lee drove her to a jewelry store and popped the question. They've now been happily married for three easy, drama-free years.
They talked about the ease of their relationship and how much love they had for each other. But they also talked a lot about their late spouses, who clearly play an important role in their relationship.
Lee said, "You don't get over it. We haven't gotten over our spouses or moved on. We've just found another source of happiness." He went on to say, "A lot of people feel they need to remain sad as a way to pay respect to their late spouse. It's not a right or wrong attitude. It's just not how we approached it."
Dwaine said, "I think it's fair to say we both sort of feel we know the other's spouse through each other's loved ones. You hold them near but also understand there is life out there and you accept the strength that remains. Our love doesn't negate the love we had for our late spouses."
The PanCAN PurpleStride team they've created for PurpleStride Orange County is a beautiful example of how they choose to honor their late spouse's memory. They're currently about 35% of the way to their goal of raising $5,000 for Team Lee & Dwaine. They have friends and family from all over the country cheering them on because they want to impact the lives of those who will face this disease in the future, all while making sure their late spouses are never forgotten.
Join us at PanCAN PurpleStride on April 30, 2022.
Register today
for free and start fundraising for pancreatic cancer patients.
This article written by PanCAN volunteer Jamie Foltz.