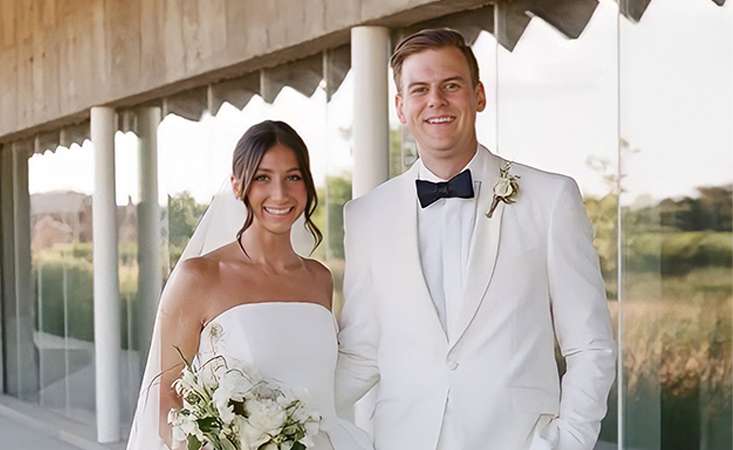 Ari and Jackson Evans started dating nine years ago and immediately, Jackson's mom Diane and Ari became the best of friends. After Diane passed away from pancreatic cancer in 2018, the family started researching organizations that were raising awareness of the disease.  They found PanCAN and started fundraising. Jackson's brother Will named PanCAN as his charity of choice in a basketball tournament and his other siblings did a SoulCycle fundraiser until the pandemic hit.
Ari and Jackson wanted to continue fundraising with something special and more meaningful.
This year, for their wedding, Ari and Jackson set up a Wage Hope My Way page and asked for donations for PanCAN in honor of Diane instead of setting up a traditional wedding registry.
"We thought everyone would be inspired to contribute to someone they knew would have loved to be a part of our wedding day," said Jackson.
And inspired they were – to date, Ari and Jackson have raised more than $25,000 for PanCAN.
"It's very easy to want to contribute to something but say 'I don't have time for that' or 'Will what I do really matter?' Jackson said. "The first step is the hardest when trying to get involved."
"It only takes one person to get hundreds of others involved," Jackson said. "I would encourage anyone who is struggling with finding their way to make an impact, to simply reach out to PanCAN and just try."
"People's willingness to support a cause is always there, it's just a matter of giving them the opportunity," said Jackson. "I feel inspired to think bigger now.  The opportunity is limitless and after spending more than three years working with PanCAN, I feel as though I can continue to make a bigger impact."
The highlight for Jackson was honoring Diane during their intimate wedding ceremony.
"It felt as though she was there," he said.
Donate today
and fund progress for patients fighting pancreatic cancer now and in the future.