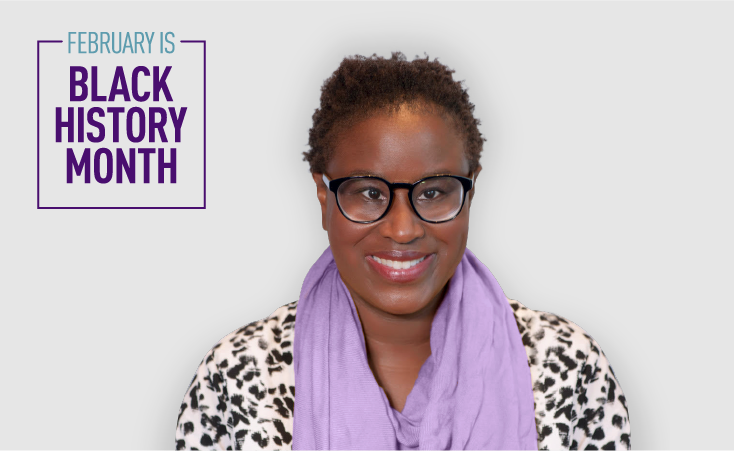 Editor's note: Today marks the start of Black History Month and with it, a series of stories recognizing inspiring PanCAN supporters who are making progress for pancreatic cancer patients. The national theme for Black History Month 2022 is "Black Health and Wellness."
Pancreatic cancer affects Black Americans more than any other racial or ethnic group. Here, learn more about how one survivor is making sure they know the symptoms and the importance of self-advocacy with their healthcare team.
When people facing pancreatic cancer reach out to Randi Ervin, they want to know her story. About her diagnosis, her treatment, her experience, her perspective.
She's happy to share. The more knowledge, the better.
It's been over five years since a small growth was found at the head of her pancreas. Her diagnosis: pancreatic neuroendocrine cancer, a less common form of pancreatic cancer. The cancer had spread, and during a Whipple procedure, surgeons removed the pancreas, spleen, gallbladder and part of the intestine.
Today Randi is doing well and as she says, paying it forward by getting involved and raising awareness about the disease and PanCAN. She serves as the Outreach Chair for the San Francisco Affiliate of PanCAN volunteers, making sure that people in the community know about the free programs, resources and services PanCAN Patient Services provides.
PanCAN's vision is to create a world in which all patients with pancreatic cancer will thrive. Our mission is to take bold action to improve the lives of everyone impacted by pancreatic cancer by advancing scientific research, building community, sharing knowledge, and advocating for patients.
Randi first learned about PanCAN when her surgeon shared resources with her as she prepared for her Whipple procedure, and she was re-introduced during a cancer fair at her local hospital. A PanCAN volunteer was there, with a table and materials about the disease and how PanCAN helps patients and families.
"That's what I have, pancreatic cancer," Randi told the volunteer. Not long after, she was volunteering, too.
"It's therapeutic and it's good fellowship," she said of her involvement with PanCAN. "We've got a very nice vibe going in our affiliate – we are lighthearted and fun and we work smart and hard. We accomplish a lot."
Randi is also a member of the PanCAN Survivor Council, a group that represents the voice of pancreatic cancer survivors, giving insight and perspective. The Council serves as a bridge between the national organization and local grassroots efforts.
They represent hope, optimism and positivity.
Especially important for a disease like pancreatic cancer.
And it's especially important within the Black community, which is affected by pancreatic cancer more than any other racial or ethnic group.
"We also have worse outcomes," Randi said. "I think it's really important that we bring more attention to the symptoms of this disease so that early detection is more common."
Thinking back to her own diagnosis and treatment, Randi had a healthcare team she felt comfortable with, that she trusted, and that listened.
"My bloodwork had shown that I was prediabetic," Randi said. "Instead of just assuming I was on the way to type 2 diabetes and treating that, my doctor ordered more bloodwork.
"I always tell people that the symptoms of pancreatic cancer are subtle and sometimes they can be explained away. They are commonly diagnosed as something else, so it's important that their doctor considers all possibilities and not only the diseases they may be more familiar with. I am really grateful that my doctor looked at my situation closely."
Randi lives in Oakland, Calif., an area with a racially diverse population. She had a healthcare team that was keen to dig for more answers, and she wishes that everywhere, it was common for healthcare professionals to better understand the differences in people and their experiences.
"Symptoms can present differently, side effects can present differently, and we all have different needs," she said. "I tell people to advocate for themselves more, and if they feel they're not being listened to or that symptoms aren't being taken seriously, to find a new doctor and consider getting a second opinion."
Socioeconomic factors play a key role in cancer diagnosis, treatment and outcomes.
When Randi was diagnosed, she had a good job with good benefits, including great insurance. She had a supportive network of friends, family and colleagues. She was even able to walk to some of her doctor's appointments.
But a cancer diagnosis usually doesn't happen quickly. And just getting to all the appointments can be a challenge for a variety of reasons.
"I had an ultrasound, an MRI, a PET scan, a CT scan, a biopsy," Randi said. "All of this to get a diagnosis. Then, treatment. With my surgery, there was all the pre-op, a hospital stay and then a long medical leave. That's a lot of time away from work and family. For many people, it can be very tough."
For these reasons and more, Randi will keep lending her voice to the cause and sharing her experience, perspective and insights not only with PanCAN and patients, but also in her community and beyond.
Progress is made possible thanks to PanCAN supporters.
Donate today
and make a difference for pancreatic cancer patients.