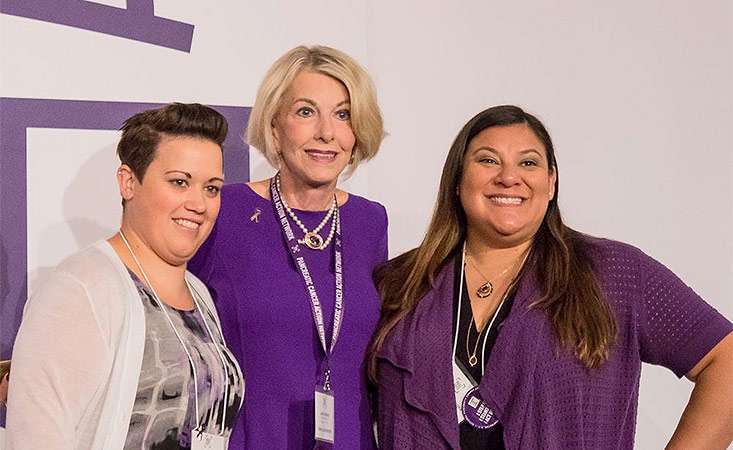 Editor's note: National Pancreatic Cancer Advocacy Day is June 18-19 in Washington, D.C., and registration is now open. Today we're sharing a previously published story of one pancreatic cancer survivor's attendance at Advocacy Day last year. She also shares her "someone" – her inspiration for volunteering and advocating for the cause – as part of our "It Starts with Someone" weekly story series.
It was Jennifer Baker's fourth trip to National Pancreatic Cancer Advocacy Day in Washington, D.C., this past June. Baker is a stepmother of three, grandmother of three and is PanCAN's Community Advocate in Northwest Arkansas. She is also a 10-year pancreatic cancer survivor.
It's been important for her to attend multiple times because there's little awareness of the disease in her home state of Arkansas.
"I need to let my members of Congress know that people in our area are fighting pancreatic cancer," she said.
And indeed, they are hearing that message loud and clear.
Baker said her fellow Arkansas delegates at Advocacy Day got a warm and supportive welcome from their legislators. Her congressional leaders know Baker fairly well by now – she attends the town hall meetings they hold when they're back home in their district, and her continued presence there and on Capitol Hill has helped her message resonate, she said.
"The entire Advocacy Day experience was wonderful this year – from attending the Survivor Breakfast and having a member of PanCAN's new Survivor Council at my table, to meeting newly diagnosed survivors. Many of them are in treatment and likely didn't feel up to par – so all of this really made an impact on me."
So who is Baker's "someone"…her reason for getting involved?
"Every person in the fight and all the people who are affected by the disease," she said. "At Advocacy Day, there were people there from across the country who are doing their part. Moments like that give me renewed strength to keep doing what I'm doing. I am not involved simply for myself. I also do this for those who are no longer here to have a voice."
Join hundreds of advocates like Jennifer on Capitol Hill this June to tell Congress about your "someone" and why federal funding for pancreatic cancer research is critical.