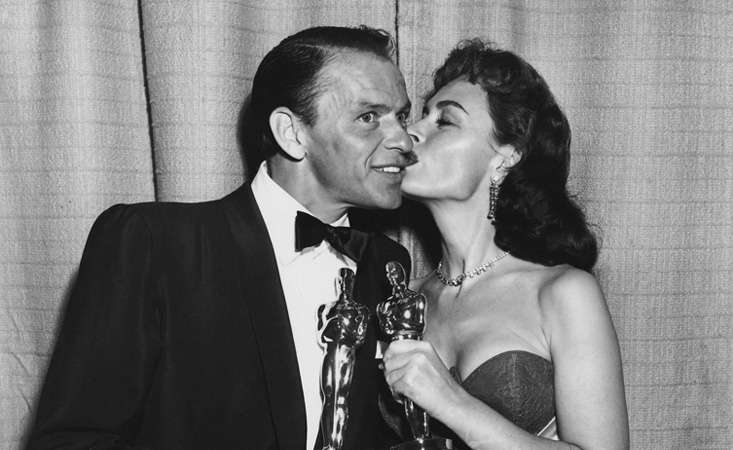 Glitz. Glamour. Sequined Masks (possibly). These are some of the things we expect to see at the 93rd Academy Awards airing today, Sunday, April 25, 2021 on ABC.
Now more commonly known as The Oscars – after the iconic 8.5-pound, 13.5-inch gold statue – the award show celebrates what The Academy of Motion Picture Arts and Sciences considers the best in film for the previous calendar year.
The entertainment industry is no stranger to pancreatic cancer. From prolific directors to daring producers, talented actors to gifted composers and everyone in between, pancreatic cancer doesn't discriminate, no matter how successful, talented or famous you are.
Today we are highlighting a small group of Academy Award-winning legends who passed away from pancreatic cancer. We'll reflect on the art they created and hope for a tomorrow filled with better outcomes for all.
Donna Reed (1921-1986)
Donna Reed received an Academy Award for Best Supporting Actress in 1954 for the film From Here to Eternity. In the film, she played Alma "Lorene" Burke, girlfriend to Montgomery Clift's character, Private Robert E. Lee "Prew" Prewitt.
The film won eight Academy Awards including Best Picture and Best Director.
In addition to From Here to Eternity, Donna Reed is best known for the film It's a Wonderful Life and playing the titular role on The Donna Reed Show.
Donna Reed passed away only three months after being diagnosed with pancreatic cancer just before her 65th birthday.
Eiko Ishioka (1938-2012)
Eiko Ishioka was the costume designer on Francis Ford Coppola's 1992 film Bram Stoker's Dracula – it earned her an Academy Award for Best Costume Design. She was also posthumously nominated in the same category for her work on the 2012 film Mirror Mirror, though did not win.
Ishioka's film career was just a fraction of what the multiple-talented Japanese art director, costume designer, and graphic designer accomplished in her career.
While you may not have seen the films she worked on, you probably saw her work during the 2002 Winter Olympics where she collaborated on designing the uniforms and outerwear for the members of the Swiss, Canadian, Japanese and Spanish teams. She also was the director of costume design for the opening ceremony of the 2008 Summer Olympics in Beijing.
Hal Ashby (1929-1988)
Legendary director and editor Hal Ashby died four months after being diagnosed with pancreatic cancer.
Before becoming a director, he worked as an acclaimed film editor, earning Academy Award nominations for his editing work on The Russians Are Coming, the Russians Are Coming in 1967 and In the Heat of the Night in 1968, the latter of which he won.
Ashby's work as a director earned him one nomination, for the 1978 film Coming Home, starring Jane Fonda and Jon Voight. Both Fonda and Voight won Best Actress and Best Actor respectively for the film.
In fact, Ashby is one of only four directors who directed Academy Award-winning performances in all four acting categories and directed 10 different actors in nominated performances.
A documentary titled Hal, released in 2018, dives into Ashby's life and career. The documentary, available on Amazon Prime, offers insights on some of Ashby's most famous films including Being There, Harold and Maude and Shampoo.
Henry Mancini (1924-1994)
Arguably one of the greatest film composers in history, Henry Mancini was nominated for 18 Academy Awards throughout his career, taking the golden statue home four times. Two of his four Oscars were for his work in the classic film, Breakfast at Tiffany's – Best Original Song for "Moon River" and Best Scoring of a Dramatic of Comedy Picture.
Fun fact: the doorbell at his home played the first three notes of "Moon River."
Mancini won his third Academy Award – Best Original Song – in 1962 for "Days of Wine and Roses," from the movie with the same title. It took 20 years to win his fourth award, this time for Best Original Score for the 1982 film, Victor/Victoria, directed by Blake Edwards, who Mancini worked with on Breakfast at Tiffany's, Day of Wine and Roses and more.
Henry Mancini died from complications due to pancreatic cancer in 1994, less than four months after diagnosis.
Joan Crawford (190?-1977)
The American Film Institute ranks Joan Crawford as the 10th greatest screen legend of American film history. She died in her New York City apartment while battling pancreatic cancer.
Crawford was nominated for Best Actress three times. She won once for her work in the 1945 film Mildred Pierce. Saying she was too nervous to leave her home, Crawford accepted the award from her bed in full makeup with members of the press in attendance.
After her death, her Oscar statuette went on auction and sold for $68,000.
Crawford's fourth husband, Alfred Steele, was CEO of the Pepsi-Cola Company. After his death, she sat on the board of directors. During this time, she told Walt Disney he should create a ride celebrating the children of the world, based on a ride she provided to the 1964 World's Fair. When the fair ended, she gifted what is now known as "It's A Small World" to Disneyland.
Join us in our vision to create a world in which all patients – including Oscar winners – with pancreatic cancer will thrive.
Donate
to PanCAN today.