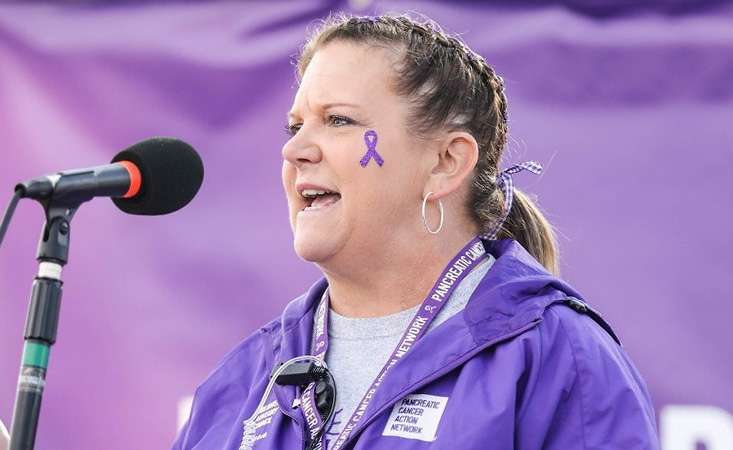 Editor's note: Throughout November, Pancreatic Cancer Awareness Month, we're discussing testing – biomarker and genetic testing – as part of our focus on "Talk. Test. Take Control. Three simple steps that could save your life." Today, PanCAN volunteer Kara Saldeen shares her story about how she decided to undergo genetic testing after losing multiple family members to pancreatic cancer.
When my dad was diagnosed with pancreatic cancer in November of 2000, there was no doubt in my mind that there was a genetic link. He was the fourth person in our family to battle this disease.
He fought the disease so hard and with so much passion and faith, but ultimately lost his battle in July of 2003. I was devastated and mad and also a little scared. Before he passed, he implored me to do whatever I could do to make sure that this disease would not affect me or my children. I promised I would.
After being angry at pancreatic cancer for a couple of years for taking my dad, I started volunteering for PanCAN in 2007. I learned a LOT about the disease. Different treatments, diets and causes, but not much about genetics.
As the years went by, I heard more and more about familial pancreatic cancer and genetic testing. I was more than curious, as I had made a promise to do "whatever I could do," but honestly, I just thought that meant volunteering my time!
When my primary care doctor suggested genetic testing during my yearly physical in November of 2013, I could come up with 100 adjectives to describe how I felt. I knew in my heart that this was something I should do, but I wavered between thinking "knowledge is power" and "ignorance is bliss." I was SO confused.
After my insurance referred me and I finally decided to move forward with genetic counseling, I made an appointment…and then cancelled two days before my appointment. I did this three times over the course of a few months. Finally, on a cold, wintry day in March of 2014 – I remember it like it was yesterday – I got a call from the counselor that I kept canceling on.
She asked if she could help me with a decision. When I explained my struggle, she suggested that I come in to simply discuss what testing would mean for me. She said she only referred about 10% of the people she met for genetic testing. I thought – I have a 90% chance that they won't even test me – so I actually made and WENT to my appointment.
My counselor was wonderful. She immediately put me at ease as she started taking down my medical history and talking about my family. Within the first 10 minutes, she put her pad of paper down, looked me right in the eyes and said: "Kara, I will be referring you for testing. Maybe we should talk about what that looks like for you."
I remember sitting there in tears, again feeling the struggle inside me – until she said these words: "Kara, you might never benefit from anything that we find out from your testing, but the information that you could pass down to your kids will be priceless."
UGH! Now I knew what I needed to do – I knew the promise I had made 11 years before to my dad. It took 12 weeks for the results of my test to come back, and when they did, I was called to make an appointment with a GI doctor. I was freaked out, to say the least.
My doctor (who I love) informed me that my test basically came back inconclusive. Out of the 13 genes that were tested, two of the genes had "variants," which means that there is something there, but research hasn't yet pinpointed what it is.
He informed me that we were going to treat my results as positive and start monitoring me very closely. What does that mean? Well…I am lucky enough to have a doctor who is very forward-thinking. We came up with a plan to get his eyes on my pancreas every year. On the even years, I undergo an endoscopic ultrasound and on the odd years, we do an MRI with contrast dye.
RSVP for our free event
"Early Detection and Better Treatments: How Testing Plays a Critical Role," on World Pancreatic Cancer Day – Nov. 18, 2021.
I feel fortunate to have a doctor who will fight to have these tests covered, as there is no "standard" for early detection. Many insurances will not cover them. He also checks my CA 19-9 levels and my fasting glucose levels twice a year. So far, I have passed every test. I know I am incredibly blessed to have not only a primary care doctor who was wise enough back in 2013 to refer me for testing but also a GI doctor who is super proactive.
I think back to that day…that snowy, wintry day when I decided that knowledge WAS power. When I decided it was WAY better to know than not to know. It took courage and lots of prayer, but I have zero regrets. I feel like I am one of the luckiest people alive as I know IF I am diagnosed with pancreatic cancer, it will be caught early, which I believe is half the battle.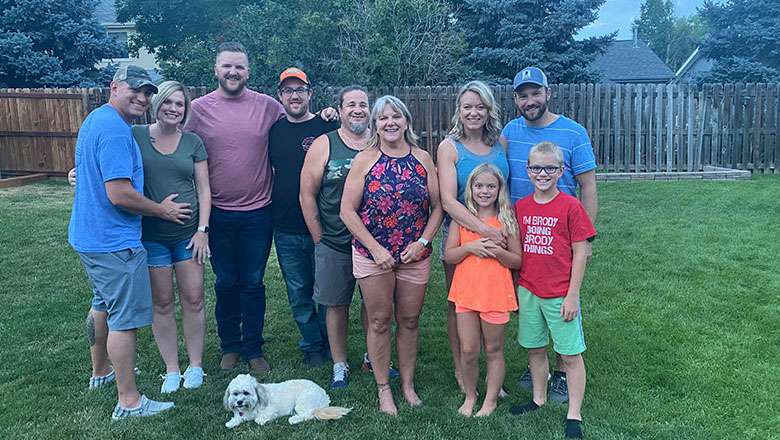 Kara with her children and grandchildren.
I have lost not only my dad, my aunt, my great aunt and my second cousin, but many, many friends and fellow volunteers who simply didn't know that this horrible disease was inside of them until it was way too late.
I made a promise to my dad and am so glad I was brave enough to keep it!