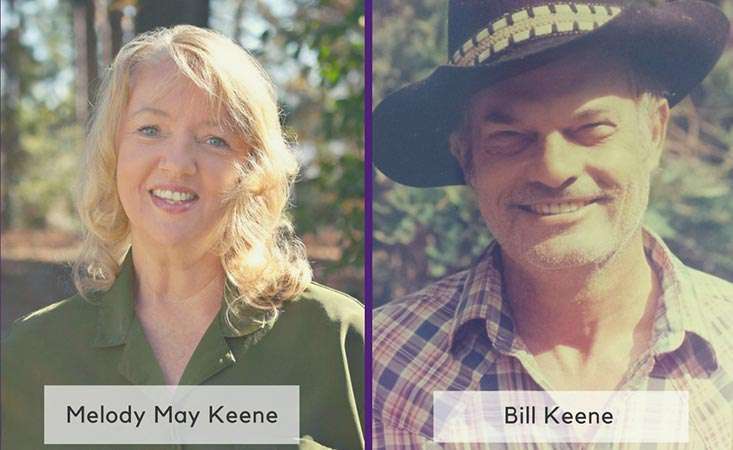 Katy Keene would never have imagined that she would come face-to-face with pancreatic cancer twice in her life. She would never have imagined that it would hit both of her parents with shattering results.
Keene lost her mother and her father to the disease within a six-year span. Her father, Bill Keene, lost his battle in 2009, and her mother, Melody May, lost her fight in 2015.
Losing both of her parents to pancreatic cancer left two very big holes in her life: "As you can imagine, these were traumatic experiences for me. I've experienced how devastating this disease is, and the unfortunate stats my parents fell into once diagnosed." Pancreatic cancer has the lowest survival rate of all major cancers.
Keene was the caregiver for her parents through their separate pancreatic cancer diagnoses. "Being a caregiver for both of my parents during their cancer process wasn't easy." Her parents received their diagnoses separately and with each diagnosis came unique challenges.
"They were very different. My father was able to be at home with hospice care until his final days. My mother, once admitted to the hospital, never left due to complications and was then admitted to hospice."
Both of her parents were lucky enough to be surrounded by their friends and family during their battles, attesting to how much of an impact they had on their loved ones. "My parents were amazing people who lived lives they loved. They were comforted to have family and friends surrounding them through the good and bad times." They each left their marks on those around them.
Her father loved the outdoors, owned a ranch, and wore cowboy boots and a cowboy hat every day. "He was a tough country guy with a kind heart." Her mother respectively was "an energetic, positive soul and a talented portrait artist, who could light up any room she entered. A woman full of love and gratitude."
Keene had not expected to find both cancer journeys so difficult and challenging, especially since both of her parents had the same disease. "I had never experienced that type of caregiving nor that level of loss before, so the journey was overwhelming at times, and I wasn't always sure what to expect."
In the face of such tragedy, Keene would not trade anything for that time she spent with them in their final days. "I'm so grateful having been able to be with them during those times."
Keene has found new hope and direction to support those touched by pancreatic cancer by getting involved with the Pancreatic Cancer Action Network (PanCAN). It began with forming The Keene Team for PurpleStride Jacksonville, the walk to end pancreatic cancer.
She started the team to support all those diagnosed with the disease, to aid in research funding, and to help caregivers whom she feels a special affinity toward.
"I and other participants are passionately supporting research to better understand pancreatic cancer, its origins, how to help battle it and, one day, even prevent it. I'm humbled to know there are organizations such as PanCAN that help in these efforts." As of this post, her team has raised more than half of its fundraising goal.
"I continue life knowing that my parents are with me each day, and I am influenced by them in all things I do. My father's determined, independent spirit has always been a part of who I am. My mother's caring and creative soul shines on in the things I do."
Keene is determined to prove that something positive can be brought out of such loss. Even in the last moments of their lives, she made sure to not lose sight of how close this brought her with her parents. "I wouldn't give up a single moment."