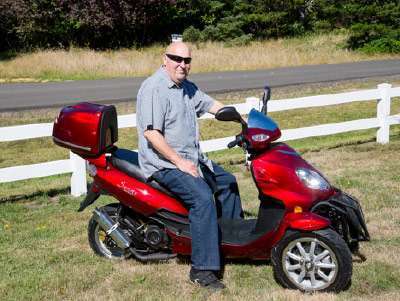 My now 64-year-old dad was diagnosed in February 2014 with stage III unresectable pancreatic cancer. This diagnosis came after many months of signs and symptoms and basically brushing it off as needing to get his nutrition in order.
Initially, my dad was told he had three months to live and to get his papers in order. To prolong his life a few more months, he was treated with a very aggressive chemotherapy regimen that put him in a wheelchair and made him very sick. After he finished that round of chemotherapy, we found out my dad was a good candidate for the Appleby surgery. However, the surgery was aborted because of the placement of the tumor and main arteries. This was devastating news.
Soon after this surgery, we found an oncologist at a high-volume institution in Seattle. Once we consulted with the oncologist, he prescribed a less invasive form of chemotherapy and discussed a new procedure where the surgeon essentially "burns" the tumor with a laser. The procedure took place in the fall of 2015. After the surgery, the surgeon came out and said my dad was cancer-free. Oh my gosh. Tears of pure joy!
Once my dad had healed from surgery, a combo of chemotherapy and radiation was administered to remove a few lingering cancer cells. After this round of treatment, we were told he was still cancer-free! He continues to have pain. But he's working with his doctors and will be seeing his surgeon soon to discuss the pain that could be scar tissue from the recent surgical procedure.
The moral of the story is NEVER EVER GIVE UP HOPE! My dad is certainly not in remission, however, for the past year he has led a pretty active life (He was able to finally get rid of the wheelchair!). Our family has grown extremely close during this hard time. We don't know what the future holds, but I cherish every moment with my dad.
Please note that after my dad's initial diagnosis, I immediately utilized the Survivor and Caregiver Network through the Pancreatic Cancer Network. What a wonderful gift this resource was. I communicated via email, text and phone with so many wonderful survivors who shared their stories and gave my family and me hope. I am so grateful!