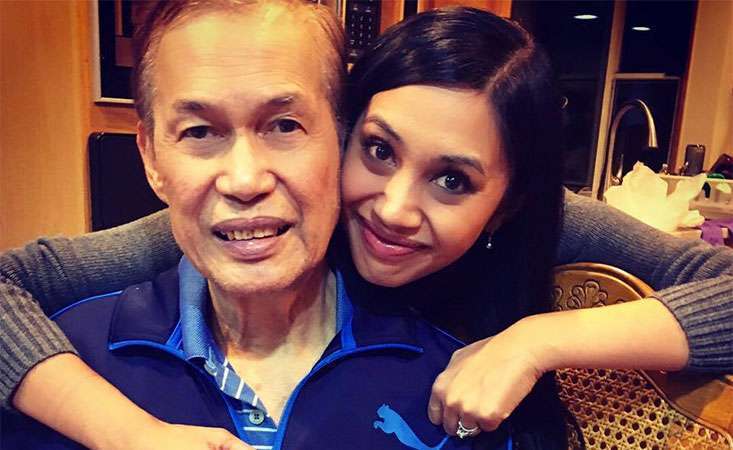 Editor's note: Jennifer de Leon, a caregiver for her father, gave an inspiring speech at PurpleStride Los Angeles in May. We wanted to share her words with those who weren't in attendance.
Nine months ago, my father, Hector, was diagnosed with pancreatic cancer. The heartbreak, shock and devastation are indescribable, but I know many of you relate. He started chemotherapy, and my once-vibrant dad, who played tennis four times per week his entire life, became completely bedridden. He lost 30 pounds, refused to eat for days, developed diabetes and suffered from extreme fatigue, nausea, diarrhea, hair loss and rashes. My dad is a stage IV cancer patient and not eligible for surgery.
But I'm not here today to deliver a message of sadness and despair; I'm here to deliver a message of hope. I'm here to tell you about the recent turnaround in my dad's health and quality of life because of our engagement with the Pancreatic Cancer Action Network's (PanCAN) PanCAN Patient Services.
Fast-forwarding to today, my dad has gained his weight back and is thriving under chemo – perhaps living life more fully than before cancer. Though retired at age 72, he works 35 hours per week to keep his mind engaged. He doesn't play tennis anymore, but he's still an exercise junkie, walking three miles every day and lifting weights. He went from being totally bedridden to now dancing the cha-cha with my mom, riding roller coasters and going camping with us on road trips in our VW Bus. Last week, he and my mom returned from an international trip to Israel and Jordan.
When I tell people this, I am not trying to trivialize the suffering of others, and I would be lying if I said that he didn't have bad days. But for those of you who are suffering, I want you to know that there is hope. Even as a stage IV patient, your health and energy can turn around, like it did for my dad, and your greatest, most fulfilling days can still be ahead of you. But how? Truthfully, the gamechanger for us was reaching out to PanCAN, and that's why I'm so passionate about this organization.
When we felt like giving up, PanCAN Patient Services encouraged us to get a second opinion and gave us a list of specialists in Seattle, which is where my dad lives. The doctor we chose designed a treatment plan that has prevented further cancer spread while giving my dad fantastic quality of life.  PanCAN Patient Services also gave us connections to their Survivor & Caregiver Network, which gave us renewed optimism and hope. After hearing countless stories of people who blew past their prognosis, we thought, "Screw the average statistics. Many people survive well beyond the bell curve. What are they doing, and how can we be successful like them?" And ever since, we've been soaking up their advice and taking all we can get.
My father means a lot to me. He and my mother sacrificed everything – their families, cultures and careers – to move from the Philippines to the United States for my education. I want to help them in return, but sometimes I feel powerless. I'm sure many of you feel the same. We can't perform surgery, we can't prescribe chemotherapy – and even for those who can, we can't make the tumors go away. So much feels beyond our control, and it's easy to be paralyzed with inaction and despair.
But the truth is that we're not powerless. In fact, it's the opposite: the future of pancreatic cancer rides on our shoulders and is up to us to determine right now. Today, we can stride, we can hustle, we can raise awareness, we can spread optimism and we can donate money to double survival by 2020. For those of you with loved ones who have passed from pancreatic cancer, it's the single greatest act of love that we can do to honor them: to ensure that no other family suffers from this awful disease. 

Contact PanCAN Patient Services
for in-depth, personalized pancreatic cancer information, including treatment options and a list of specialists near you. To learn more about PurpleStride, the walk to end pancreatic cancer, and to find an event in your area, visit
www.purplestride.org
.