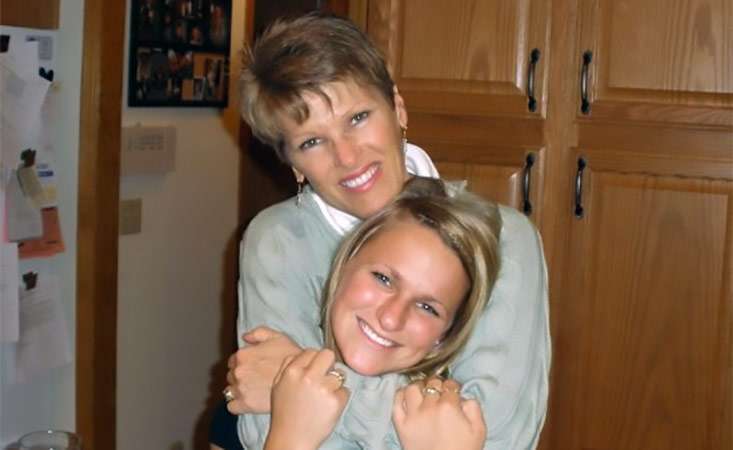 Pancreatic cancer rocked Lisa Brester's life when her mother, Carol, passed away from the disease at just 62 years old. Now she's turning her pain into passion by handmaking jewelry in honor of her late mother.
Brester, a Kentucky-born and Los Angeles-based designer, recently created a jewelry line for Pancreatic Cancer Awareness Month, celebrated every November.
The Pancreatic Cancer Action Network (PanCAN) sat down with Brester to learn more about her mom, her passion and her tireless fight to attack pancreatic cancer this November and beyond.
Your connection to pancreatic cancer is an incredibly personal one. Tell us about that.
In February 2016, my mom was diagnosed with stage IV pancreatic cancer. I was living in Los Angeles but when I learned of her illness, I immediately returned to Lexington, Kentucky, to take care of her. She passed away only two months later.
How did her passing affect you?
It shook my entire world in every way possible. There have been so many ups and downs over the past two years. What gets me through the really tough days is focusing on the gifts she gave me, and while I'm devastated she's no longer here, I'm grateful for all the time I did have with her.
What kinds of gifts did she give you, and how did they leave a lasting impression on your life?
When I was a little kid, I would make handmade fishing lures for my dad and brothers to use on their fishing trips. My mom remembered that, so she suggested that I pick up the hobby again, only this time making jewelry instead of lures.
While my mom rested, I made all kinds of pieces of jewelry. When she was awake, she'd help me style items. She encouraged me to get out of my comfort zone and challenge myself with intricate, complex pieces. Then she urged me to go to the next level – to start a business doing something I loved. That's how Kentucky Gypsy was born. I built this brand off passion.
My mom left me with the gift of purpose. She planted that seed in me, so in a way, a bit of her lives on.
It's not just about jewelry, though. Tell me about the deeper meaning.
When I took those couple of months off to be with my mom, I spent every moment as her caretaker. We took life day by day. With a disease as serious as pancreatic cancer, you have no other choice. We very much lived in the moment. I made my jewelry while we talked about all the precious things you could ever want to talk to your mom about.
Watching pancreatic cancer take my mom away from me was the hardest time of my life. But even today when I make necklaces or earrings or bracelets, I think of all those hours I spent right next to her. I can't talk to her, but this is a way I can still connect with her.
The past few years have been incredibly trying for you. What helps you get through it all?
My mom's life and death are knitted into my existence. Losing her has helped me focus on being grateful for what I had when I had it; it's what keeps me going.
And that's why I continue to make these pieces. Through handmade work, I do a lot of reflection. My jewelry comes from my heart, my soul, my mind and my hands. There's an emotional attachment to it. That emotion comes from my mom and passes through my hands into the jewelry. That energy then lives on with the people who wear the pieces.
This passion has given my life purpose. I have created a life I love. And it's all because of my mom.
Brester's handmade jewelry line is available at her website Kentucky Gypsy. The artisan jewelry maker will donate 20 percent of all sales on her website to PanCAN during the month of November. Funds raised support pancreatic cancer research, clinical initiatives, free patient services like PanCAN Patient Services and advocacy efforts.
Inspired by Lisa Brester's story? You too can
get involved
as an advocate, volunteer or donor.