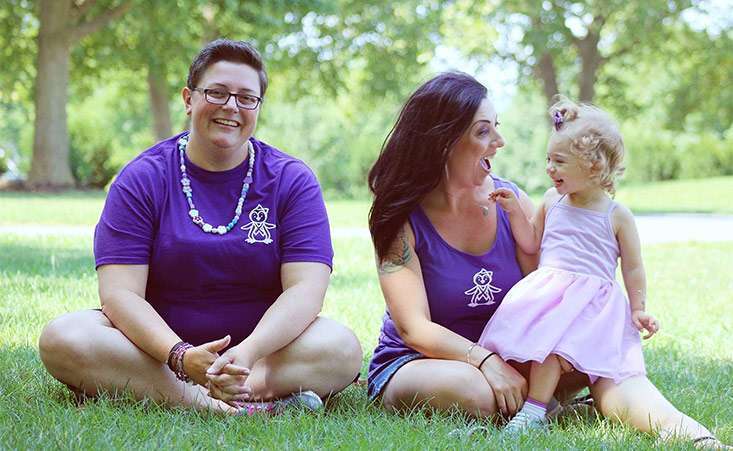 Editor's note: For each of us involved in the cause, it started with someone — the reason we were compelled to get involved and change the story of pancreatic cancer. Today we're bringing back a favorite series about the "someone" behind the motivation, called, "It Starts with Someone." Cally Adams is an oncology nurse whose profession took on a whole new meaning when her older sister was diagnosed with pancreatic cancer at age 40.
PanCAN: Cally, tell us about your sister.
CA: My sister, Sarah Sedlak, is 10 years older than me. When we were kids, she was like a little mom to me. Despite our age difference, we spent lots of time together – I remember during summers being inseparable at our neighborhood pool. College eventually separated us but we remained close. She was diagnosed with metastatic pancreatic cancer in July 2016.
PanCAN: As an oncology nurse, you've been at the bedside of many cancer patients during your 12-year career. But when the tables turned and you were personally affected, how did your perspective change?
CA: Oncology nursing became a whole new profession for me after my sister was diagnosed. I never imagined that I would be the sister of a cancer warrior. Sometimes still, for a minute, I forget that we are "that" family.
The family that never saw this coming. The family that my fellow oncology nurses would bond with, and that later, we'd say to each other, "Can you believe the pancreatic cancer statistics?" The family we'd cry about on our way home from work, and the family who, when we got home would remind us to hug our own families a little tighter. But my family is also that family who has a lot of love for each other. And that's getting us through!      
PanCAN: How has your sister's illness changed you?
CA: I always considered myself to be understanding and empathetic, but unless it's happening to you, you can't truly understand what people are going through. Now I do.
A couple years ago I met an amazing family at work – the patient had metastatic colon cancer and she had four small kids. Her three sisters were always with her. This was a month after my own sister's diagnosis and it was so painful for me.
I eventually told one of the sisters about Sarah, which helped to be able to share. As nurses, we typically say to our patients and their families, "I don't know how you feel," but sometimes I tell them that I do.
I know what it's like to feel like you're in a nightmare every single day. And that somehow, between feeling like you're living a nightmare and hoping for a miracle, you are supposed to continue to work, pay bills, eat well, exercise, sleep well, be kind and understanding of others and their needs, answer texts and phone calls, keep people updated, make appointments and keep them, be a good wife and mom to your toddler – and oh, put a smile on your face even when your heart is breaking. I only share my story and Sarah's story when it makes sense, though, and I trust my gut on if and when to do so.
PanCAN: Given the heaviness of this job, did you ever regret choosing oncology?
CA: I meet patients who move me, who inspire me, who motivate me, and I know that this is my calling and that I'm meant to be part of those patients' lives. I have been a part of so many amazing journeys and found my true passion in a profession. I'm thankful for that gift!
PanCAN: How have you been able to help your sister?
CA: I've been able to connect her with wonderful doctors. She has done so much for me over the years. I never thought I would be helping her in this way. Now I see that it's a blessing that I chose this path. I couldn't be more proud to be an oncology nurse.
PanCAN: How is Sarah doing today?
CA: She recently began a clinical trial. She is living with purpose and intent – and that is to enjoy every day and make memories. She has 12 nieces and nephews, including my daughter, who is 2.
PanCAN: In what ways have you gotten involved with PanCAN in honor of your sister (and pancreatic cancer patients you've known throughout your career)?
CA: I hosted a Wage Hope My Way fundraiser last November – we had a silent auction and a bake sale. It was a very inspiring, uplifting event! When Sarah was diagnosed, I remember thinking, "This can't happen to us, to our family – we're in a protective bubble." But it did happen – and because of it, I have come to see PanCAN as family, too.
Join Cally and others making it their mission to help us double pancreatic cancer survival by 2020. Get involved today.