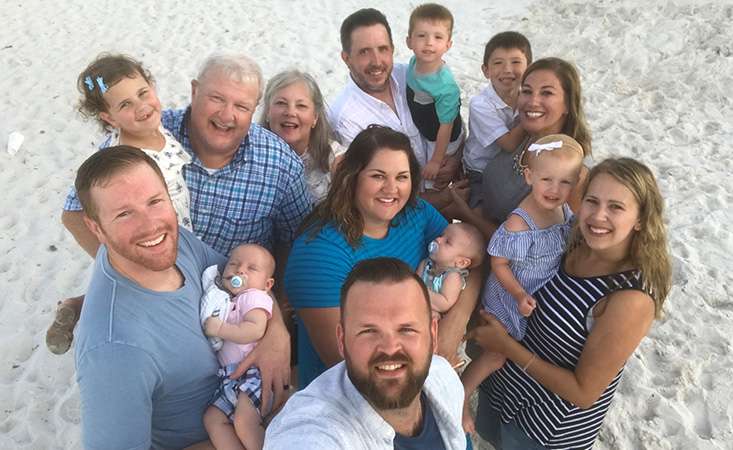 Editor's note: PanCAN supporter Brian Gareau lost his wife, Pat, to pancreatic cancer in 2020. For National Caregivers Day, he writes here about how the time he and Pat spent caring for their grandchildren led to important lessons about how to be present when Pat needed him as her own caregiver. Brian is the author of a book about Pat's journey titled, "Keeping a Firm Grip – Perspective During Challenging Times." He writes, "Pat's life story stands as a powerful reminder that we get to choose our perspective. We need to continuously focus on the whole of our situation, not the hole we are in."
Life blindsided our family in the fall of 2018 when my wife, Pat, was diagnosed with pancreatic cancer that quickly progressed to stage IV. After a torturous 17-month journey of tests, chemotherapy, ER visits, surgeries, extended hospital stays, and clinical trials, Pat went to her heavenly home. But the chaos pancreatic cancer tried to create could not steal our joy of life, kill our faith or destroy our hope for the future.
My bride of over 35 years blessed us with three terrific children. They, in turn, have blessed us with seven grandchildren, ranging in age from 9 to 1 year old. Close geographic proximity and strong relationships allowed us to help care for our six oldest grandchildren together before cancer took Pat's life in 2020. It is one of the greatest blessings we have ever had. Our grandchildren truly stole our hearts.
I learned a few key lessons from caring for our grandkids that helped me care for my beautiful spouse. Now, I am absolutely not implying to ever treat an adult like a child. Adults who need assistance in daily life deserve respect, dignity and the ability to maintain some type of independence. They have feelings, thoughts and opinions that must always be considered. However, beginning-of-life and end-of-life care share some characteristics.
Here are some things I've learned about caregiving throughout our circle of life:
Non-verbal communication. At least 70% of human communication is non-verbal. Infants, toddlers and young children pick up facial expressions, gestures and tone of voice. They can easily sense stress and anxiety and "absorb it." Adults do the same. So as a caregiver, when I was sad, frustrated, worried or overwhelmed, my spouse knew it. When I would say, "I'm fine," the words were hollow compared to what she saw with her eyes, ears and heart. Conveying verbal messages that aligned with my body language helped improve clarity and trust and maintain positivity.
Hovering. There is a fine line between being involved and being overly involved in our caregiving. As a caregiver, we want others to feel confident, calm and safe around us. But if we aren't careful, we can inadvertently rob them of the joy of independence. The goal is to help them be strong advocates for themselves. For example, more than once, Pat had to remind me that she didn't want or need a babysitter while I was away from the house. I had to accept her desire for independence and trust she knew her physical boundaries.
What to ask—and when. The questions we ask as a caregiver are powerful. Asking a closed-ended question such as, "How are you feeling?" can limit a reply to a one-word answer. But an open-ended question such as, "How would you describe your symptoms today?" can create more clarity, understanding and dialogue.

Another key factor is frequency. Asking too many questions can cause someone to feel pressured, to shut down, or to give the answer they think you want to hear. Remember that effective questioning must always be combined with effective listening and responding. Our responses need to be affirming and not slip into teaching, correcting or criticizing.

More than anything, we need to remember that talking may be especially hard when someone is struggling, hurt or in pain. Sometimes, just being present in silence is the best way to send a message of love and support to both children and adults in our care.

Comparison. Comparison is a natural human tendency. It's a way to measure how we are doing. However, no two kids or adults are the same: they all have different skills, abilities and levels of confidence and self-esteem. Being constantly compared to others can create unintended pressure and stress, cause people to suppress feelings or withhold information, and potentially create distance in a relationship.

Pat and I learned to spend a lot less time keeping score and comparing our situation to others. We instead focused on enjoying the moments we had together. Theodore Roosevelt once said, "Comparison is the thief of joy." Don't let comparisons rob you.

Boundaries. Boundaries can be difficult to set, but ultimately, they are necessary. They help kids and adults make better choices. It's critical to let others know what is and is not okay in your caregiving situation. Although we were open to discussing anything that was respectfully shared, we asked people to refrain from overanalyzing or trying to predict what might happen. If we wrestled with thoughts like, "If only (fill in the blank)," we risked not valuing the moment we were in, wasting precious time and energy. Set boundaries together with your loved one to stay on the same page.
Patience. Trying to rush things with little ones can actually hinder a child's development and create unnecessary stress and frustration. Pancreatic cancer treatments and hoped-for improvement in a patient's health also demand one step at a time. Sometimes it means reinventing a daily routine or creating a new habit. Sometimes it means celebrating small successes, like fewer trips to the bathroom. We learned that the strength and confidence to continue was much more important than the speed of getting there.
Rebalancing constantly. Caregiving for kids and adults isn't complicated, but it sure is complex. Responsibilities and needs can change quickly. That's why rebalancing is so important. Everything can't be a number-one priority, so we have to decide what is right during a specific period of time. It's about either holding on or letting go—doing more of something and less of something else.
Caregiving can be bittersweet and filled with many highs and lows. It's exhausting but also rewarding and healing. Sometimes as a caregiver, we inadvertently overdo things. Other times, we underperform. Thank goodness for forgiveness and grace!
Capitalize on lessons learned in other caregiving moments with kids and adults in your life. Reflect on previous successes as well as techniques and processes that worked. Take stock of the resources you need (for example, time, money, help). Don't forget the missteps, too. And always remember: your selfless acts of love, compassion and kindness truly make a difference.