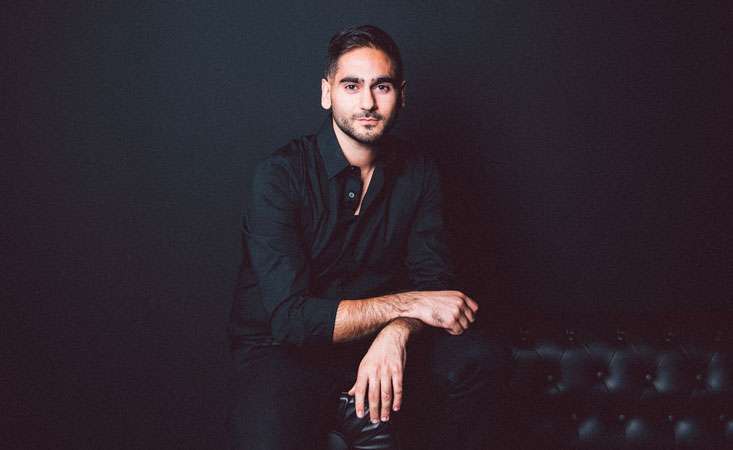 "Life, business, success … it's just like a nightclub. There are always three ways in.
There's the First Door: the main entrance, where 99% of people wait in line, hoping to get in.
The Second Door: the VIP entrance, where the billionaires and celebrities slip through.
But what no one tells you is that there is always, always … the Third Door. It's the entrance where you have to jump out of line, run down the alley, bang on the door a hundred times, crack open the window, sneak through the kitchen – there's always a way.
Whether it's how Bill Gates sold his first piece of software or how Steven Spielberg became the youngest studio director in Hollywood history, they all took the Third Door."
– From the international bestseller, "The Third Door: The Wild Quest to Uncover How the World's Most Successful People Launched Their Careers," by Alex Banayan
---
The best takeaway lesson 30-year-old Alex Banayan got while writing his book was: Don't think of failing as the opposite of succeeding.
The opposite of succeeding is not trying.
That takeaway came as a result of an interview with famed record producer Quincy Jones.
The 28-time Grammy award winner was one of many world-renowned public figures – from Bill Gates to Lady Gaga, Maya Angelou and more – who sat down with Alex over the course of several years to share how they became successful and how we all can, too.
The common thread? They all found – and went through – "the third door."
That's what Alex did too, when he quit college freshman year (to his parents' dismay) to track down people he admired and personally ask them how they became successful.
Their answers formed Alex's first business book, which was published in 2018 after seven years (from idea to copies on bookshelves) and quickly became an international best-seller. It led Alex down a path he – and his parents – never imagined for him.
"I grew up thinking I'd become a doctor; I was on the pre-med track in college," Alex said. "So, my mom had concerns about me taking a very untraditional path instead. My parents were immigrants who had seen a tremendous amount of loss and who sacrificed a lot to give us a safe and secure life. To turn my back on that and drop out of college to pursue what seemed like a silly whim was a very risky move."
But Alex was in passionate pursuit of an idea. The third door was calling.
The Back Story
One year before "The Third Door" was published, Alex's father died of pancreatic cancer. He had fought the disease for 14 months. Today, five years after his passing, Alex often thinks about the qualities he inherited from his father. Foremost among them: Passion.
"When I was a kid, I was usually rolling my eyes at my dad – he seemed overexcited about everything. His favorite foods, music, dancing, his kids – it could feel like too much. But now that I'm an adult, I can see and appreciate that my passion comes from him."
Alex remembers bike rides together along the Venice Beach boardwalk near their home in Los Angeles. His dad loved cycling and he took Alex with him every Sunday morning. Alex was so young that his feet barely reached the pedals.
Fast-forward to years later, and Alex and his dad were still spending quality time together. But this time at Cedars-Sinai Medical Center, at chemo treatments.
Going through cancer with his dad, Alex said, and then experiencing profound loss, changed how he lives his life today.
"Suffering can break you down or break you open," Alex said. "It didn't feel like it at the time, but I think I was lucky in that I had a 'break open' experience. Some things re-emerged or came into clearer focus after loss, and for me, one of those things was my spirituality. It became front and center."
One of the most insightful interviews Alex did for "The Third Door" was with actress Jessica Alba, where they discussed mortality.
"She shared her family's experience with cancer and said that challenges like that had helped her see humanity in a whole new way. She felt that staring down one of her biggest fears – in this case, cancer and even death – helped her be more successful."
There's Always a Way
Alex sees parallels between the premise of "The Third Door" – that there's always a way – and PanCAN's work to change the future of pancreatic cancer.
"You can get anything done if you believe it can be done," Alex said. "When I learned about PanCAN and your approach to ending pancreatic cancer, it made me smile. Whether it's doing the work to create a nonprofit like PanCAN, or to build a movement, or to find a research breakthrough, those things rarely happen by going through the conventional 'first door.' If it were that easy, you would see world-changing inventions every single minute."
Alex said he found solace in reading the stories about pancreatic cancer survivors on PanCAN's website ("they have a healing power," he said) and seeing all the information PanCAN provides to patients and families.
"PanCAN's holistic approach in helping patients provides possibility and hope and relief and comfort," Alex said. "To have a dedicated resource like PanCAN for patients and families is like a well of water in the middle of the desert. It's helped me in my healing – from our family's experience with pancreatic cancer to learning about PanCAN."
Alex's Best Advice
PanCAN's nationwide network of volunteers, grassroots advocates and generous donors are accustomed to finding the 'third door' as they help PanCAN create a world where all pancreatic cancer patients thrive. Alex, thinking back to Quincy Jones' words of wisdom about successes and failures, reminds us that rejections, closed doors, ignored emails, the word 'no' – all are part of the game.
"You're trying to do something that has never been done before," Alex said. "So, un-attach from the idea of failure and instead, commit to a larger purpose – trying and growing. Don't worry about how things look day-to-day but instead focus on how you're showing up, staying committed, being kind, telling stories, having integrity – and, as the saying goes, trust that the scoreboard will take care of itself."
Number-One Fan
Unconditional love.
Alex remembers vividly his mother's reaction when he dropped out of college.
"She cried, she yelled – she was pretty upset," he said. "But one of the unintended benefits of following my dream was learning about my mother's unconditional love for me."
She flew to New York to be with Alex when the book debuted. She was in Japan to celebrate with him when it became an international bestseller. And she often tells Alex: "If your dad were here, he would be out on the street corner selling your books himself!"
Give today
and support pancreatic cancer research funding, free services for patients and families, and more.