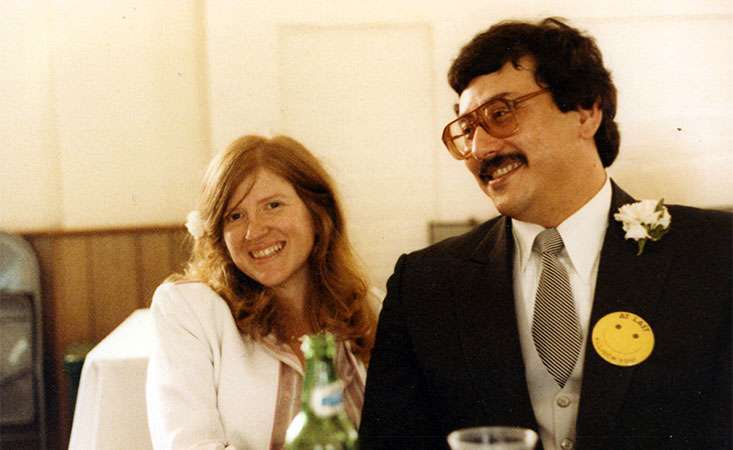 Editor's note: Our focus for Pancreatic Cancer Awareness Month is "Demand Better. For Patients. For Survival." Each week, we're bringing you conversations with people who are demanding better in ways that are meaningful to them. Today we share a previously published story about Gail Coleman, who is generously funding pancreatic cancer research after losing three family members to the disease.
They say that lightning never strikes the same place twice. But for Gail Coleman of Alexandria, Va., it's struck three times – losing her mother, father and husband to the same vicious killer, pancreatic cancer.
With these loved ones in mind, Coleman is generously supporting a 2017 Translational Research Grant.
When her husband, Kenneth Bruntel, shared the news of his diagnosis, Coleman was stunned. "He came home and called me downstairs and told me. I couldn't believe it had hit me again. It was horrifying."
All three of Coleman's loved ones were diagnosed with late-stage, aggressive disease. Her parents both died three weeks after their diagnosis, and Bruntel's death was four months to the day after he was diagnosed.
Bruntel was a senior partner in the Washington, D.C., law firm of Crowell & Moring at the time of his death in 2009, at the age of 60.
"Ken had more money than I need," said Coleman. "I decided to use it for pancreatic cancer research."
But Coleman wasn't going to blindly write a check to support research. Based on her loved ones' experiences and on her desire to understand the research taking place – and to build relationships with the researchers she's supporting – she investigated various institutions, researchers and projects that needed support.
Initially, she provided funding to Jonathan Brody, PhD, and Jordan Winter, MD, FACS, at Thomas Jefferson University. Brody is also the recipient of two PanCAN research grants, including a $1 million Research Acceleration Network Grant awarded in 2015.
"From my first interaction with Gail, it was obvious that she would be a very active, intelligent donor. She is eager and capable of understanding the science and knows the critical questions to ask," Brody notes. "She is a new brand of donor that I would call a 'donor-collaborator.'"
Coleman decided to next support a grant through the Pancreatic Cancer Action Network's highly acclaimed, peer-reviewed Research Grants Program. "It was much more difficult than I expected to research institutions, projects and scientists myself – and to find people who 'got it,' who understood what I was trying to do," Coleman recalls. "Funding through PanCAN gives me the peace of mind that the projects have been vetted by experts in the field and deemed to be meritorious."
Coleman was drawn to our Translational Research Grants, which provide critical funding for promising laboratory-based projects that are poised to be tested in the clinic.
She was particularly interested in funding a project with the potential to benefit patients with metastatic pancreatic cancer, the diagnosis received by all three of her family members.
The 2017 Gail V. Coleman-Kenneth M. Bruntel – Pancreatic Cancer Action Network Translational Research Grant will provide $300,000 over two years to Vladimir Bogdanov, PhD, and his co-principal investigator, Syed Arif Ahmad, MD, both at the University of Cincinnati.
Bogdanov and Ahmad's project focuses on a drug called RabMab1, which is an antibody designed to target an abnormal version of a protein called tissue factor (TF) that is produced by pancreatic cancer cells, but much less so by normal cells. If positive, the research findings supported by Coleman will progress to be tested in early-stage clinical trials.
"I admire Gail's decision to use the funds left to her by her late husband to further our community's efforts on pancreatic cancer, and I feel extremely honored that she will support our proposal in his memory," said Bogdanov, who was able to meet Coleman in person at our National Pancreatic Cancer Advocacy Day event in June. "Please rest assured that we will do all that we can to advance this technology as far ahead and as expeditiously as possible."
Coleman spoke about her interaction with Bogdanov: "He's lovely – really nice, articulate, excited about his project. It's extremely important to me that I can reach out to him and hopefully find time to visit his lab in Cincinnati."
Coleman continued, "There was no approved therapy for pancreatic cancer patients when my mom was diagnosed in 1989, and the treatment options were still extremely limited at the time of my dad's and husband's diagnoses in 2003 and 2009. But there's finally some activity now. I'm pleased to be able to support research that could have an impact on patients' lives."
Coleman's support comes via a TRowePrice donor-advised fund. These funds are typically established at third-party financial institutions (banks, stock brokerage, etc.) and can be a tax-wise approach to charitable giving. Based upon the donor's timing and recommendation, the donor-advised fund disburses finances to charitable organizations. Coleman added, "This has allowed me to make tax-deductible contributions each year but hold the money in the account until I decide on the project I wish to fund."
Explore ways to give that could support research efforts toward increasing options and improving outcomes for pancreatic cancer patients today.