Editor's note: In honor of Black History Month, PanCAN is celebrating the contributions of our community's Black supporters and the amazing ways they're making a difference for pancreatic cancer patients.
Karyn Temple carries with her a deep love, admiration and respect for her dad, Ronald.
He was a trailblazer, an educator and a mentor to many.
As a Black American in the 1950s, he shattered barriers in the world of academia. He was a college professor, the first Black American senior-level administrator at the University of Cincinnati, and chancellor of the City Colleges of Chicago. His accomplishments are too numerous to list.
He devoted his free time to mentoring youth in the Boy Scouts of America, where he rose to the highest leadership levels nationally.
"My fondest memories are driving in the car on family summer vacations – he and I would talk about all sorts of issues and ideas. He was my sounding board. He gave the best advice and had my back. I could always count on him."
When he was diagnosed with stage III pancreatic cancer in 2015, Karyn and her family were stunned and overwhelmed.
"We didn't know where to go for help," Karyn said. Fortunately, Ronald's oncologist recommended they contact PanCAN's Patient Services.
Karyn and her mom, Juanita, remember that first call.
"PanCAN was a lifeline for us. The calm within the storm. We could always count on our case manager to be responsive, ground us with essential information and offer us options.
"If it hadn't been for the information PanCAN gave us, we might not have had those five years with him," Karyn said. "My parents got to celebrate their 50th wedding anniversary and Dad celebrated his 80th birthday on Zoom."
The family was devastated when Ronald passed away last year on Thanksgiving.
Shortly after he died, Karyn created a PanCAN tribute page in her dad's memory and invited friends and family to donate to PanCAN through the page.
"After everything PanCAN did to help my dad and our family, we knew we wanted to give back," Karyn said. In less than a month, she had passed her fundraising goal of $10,000.
Karyn's mother, an attorney, has also been a role model for her.
"My parents instilled in me the power of education and the importance of service. No matter how busy we are, we must make the time to give back," Karyn said. "Sometimes it's harder than others and that's when we have to be flexible – just do what you can when you can – it all helps."
Karyn is the senior executive vice president and global general counsel for Motion Pictures Association. Prior to that she was the United States Register of Copyrights for the United States Copyright Office.
Despite her demanding career and being a mom, Karyn serves her community in many volunteer roles, helping people get access to what they need in order to thrive. She's a member of the international nonprofit The Links, Inc., a group committed to enriching, sustaining and ensuring the culture and economic survival of African Americans. Karyn's also a member of Alpha Kappa Alpha Sorority, Inc. (along with Vice President Kamala Harris), a sorority committed to servant-leadership in the U.S and internationally.
Karyn is committed to making access to healthcare resources available to everyone, particularly Black Americans who are affected by pancreatic cancer at a higher rate than other races.
"Where you live and how much money you make shouldn't determine whether you live or die."
Which is why she says supporting PanCAN is so compelling to her.
"PanCAN Patient Services offers compassionate, one-on-one help that's free and available to everyone."
In the meantime, Karyn will continue to give back in every way that she can, adding that her life decisions are always guided by the values modeled by her parents.
"I'm proud to pass my dad's legacy on to my own daughter."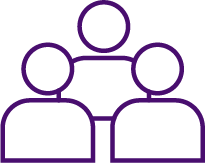 Join the movement to create a better future for pancreatic cancer patients.
Get involved today
.