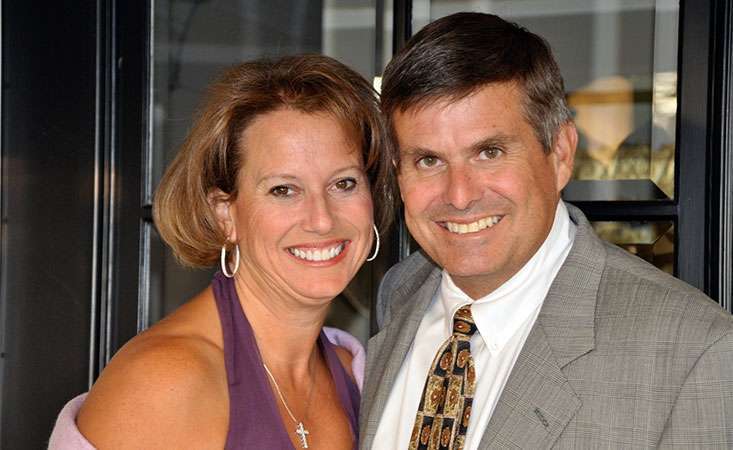 Editor's note: All week long, leading up to Valentine's Day, we're sharing stories of love, inspiration and special connections made through the Pancreatic Cancer Action Network. Come back for a new story each day.
Everyone loved Abby.
She was a take-charge person with a big heart. The kind of friend you'd want to have.
If you ever needed something – a PTA president, someone to put together the fundraiser benefit dinner, even a post-event cleanup person – the response was usually, "Ask Abby!"
She saw the best in people, easily pinpointing their talents and strengths.
As she gave back in her community and beyond, she made sure her two sons, now grown, understood the value of service work, too.
It's been nearly 10 years since Abby Sobrato's death.
The cause was pancreatic cancer.
Her husband, John M. Sobrato, said that all these years later, people still stop him and share their special memories of her…the impression she made on them…how much they miss her.
"It's a real testament to Abby," he said. "Everything she did, she did with all her heart. She was the most well-liked and admired person I've ever known. It's a tragedy that pancreatic cancer took her life."
Her father-in-law, John A. Sobrato, agreed, saying, "It still brings a tear to people's eyes when they talk about her."
These loving connections to Abby are what called the Sobrato family – both John M. and his parents, John A. and Sue – to become staunch supporters of the Pancreatic Cancer Action Network (PanCAN).
John M. has funded research grants as well as PanCAN's Precision PromiseSM, a new adaptive clinical trial platform designed to bring new therapies to patients more quickly.
John A. and Sue have given generously and have pledged to support PanCAN as well through a gift in their will (also known as a legacy gift).
The legacy gift will fund PanCAN's PanCAN Patient Services, the free, one-on-one, personalized support service for patients and families.
"We know from Abby's diagnosis the importance of having a place to go to get the latest information about the disease, as well as the security you get knowing that the information is the most accurate," John A. said.
Meanwhile, Sue said she was most moved by the ability to speak with someone who is going through the same thing – which PanCAN makes possible through its Survivor & Caregiver Network.
"The patient-to-patient connection is really important," she said. "I also like that you can get access to support groups in your area through PanCAN. These are some of the things that really made an impression on us."
The Sobrato family is known in the Silicon Valley of northern California for decades of charitable contributions.
John A. is founder of the Sobrato Organization, a premier commercial and residential real estate development firm. John M. is chairman.
Other family members are involved in the business and are also driven by causes personal to each of them – as well as to the family as a whole.
"Our collective impact is important to us," John M. said. "We know that we can do more together than separately."
The Sobrato Organization has been recognized by the San Francisco Business Journal as the most generous company in the Bay Area. And in late 2019, John A. was inducted into the Bay Area Council's Business Hall of Fame – honored for his corporate philanthropy and impact on the community.
John A. is certain that Abby would be pleased with the family's commitment to PanCAN – an organization known for innovation and risk-taking. Those values are part of the Sobrato Organization culture, too, in addition to giving back.
"It's sometimes difficult to know which organizations are worthy, when it comes to making a donation," he said. "But PanCAN is on our short list. You can quote me on that!"
John M. encourages others to consider a gift of any size to support PanCAN's mission because, "The pancreatic cancer status quo is unacceptable, and with more gifts, the more opportunity we have to change that."
He admitted that seeing the value in donating to medical research that can take years to show positive results, especially for a disease like pancreatic cancer, can be challenging.
"But that's the nature of funding research, and it's how breakthroughs happen," he said. "Plus, I know Abby would appreciate that we are giving back in hopes of making outcomes better for people who will find out in the future that they have pancreatic cancer."
On the day of Abby's funeral in May 2010, the Sobrato family and loved ones fastened purple PanCAN ribbon pins to each other's lapels.
They remarked that she inspired all who knew her.
That they would miss her with all their hearts.
And that they were better for having known her.