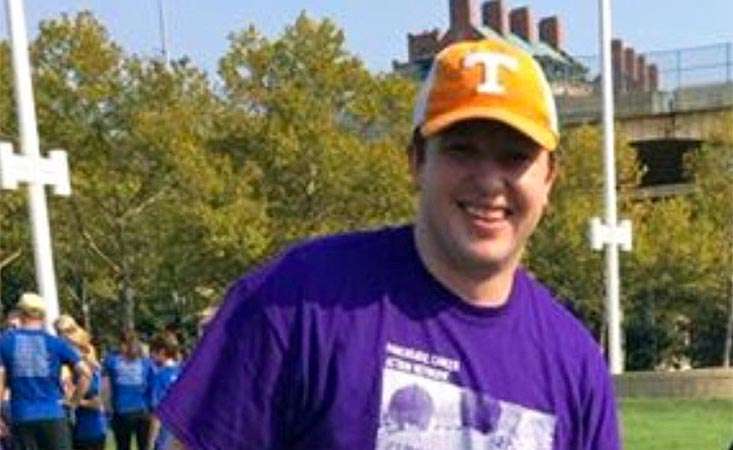 Editor's note: Our "It Starts with Someone" series chronicles all kinds of Pancreatic Cancer Action Network (PanCAN) supporters – volunteers, survivors, caregivers, advocates, researchers – and describes the "someone" who has impacted their efforts in the fight against pancreatic cancer. This week's "someone" highlights Patrick Lysaght, who fundraises for the cause in honor of his uncle, whom he lost to the disease.
Football and family were huge parts of David James' life. He played for the University of Tennessee in his college years and later volunteered as a grade school coach for 33 years. James was a positive influence on the lives of his 50-plus nieces, nephews and cousins in the Cincinnati area – football fans who together could fill up a team roster.
"You never saw David in a bad mood," said Patrick Lysaght of his uncle. "He was a dedicated husband and father to his three sons. It's a shame he's not here anymore."
James was diagnosed with pancreatic cancer in June 2016. Later that year, many members from his big but close family accompanied him on what would be their first PurpleStride Cincinnati, the walk to end pancreatic cancer, as "Team Onward."
"That experience showed us how many people in our area were affected by pancreatic cancer," said Lysaght.
James passed away in February 2017. Team Onward continues to fundraise for the annual 5K event and has been honored as one of the top fundraising teams in the area. Team captain Ann James, David's widow, sends out their fundraising email each year.
"People see the email and donate because everyone in town knew David," said Lysaght. "He had a big presence here."
In addition to PurpleStride, Lysaght fundraises for the Pancreatic Cancer Action Network and other charities through his app, 10 Seconds at a Time. The free app enables users to send encouraging messages to friends and family who need them.
The messages show up after a 10-second timer, designed to reward recipients for achieving small goals, like getting through their tough situations 10 seconds at a time. Ten percent of funds earned by ads on the app are donated to PanCAN each month. The rest is donated to a charity of the month, voted for by users.
James was a big inspiration for the app. Lysaght knew that James' illness sometimes kept him up at night. He thought an app like this would have helped James during those challenging times.
Another inspiration was the bestselling memoir, Lone Survivor, by Marcus Luttrell and Patrick Robinson. In the book, a wounded solider manages to crawl seven miles to safety by breaking down the journey into small steps. He drew a line in the sand, crossed it and repeated the process.
Asked about the encouraging message he'd give to pancreatic cancer patients, Lysaght said:
"Because counting 10 seconds may not work for everyone, my message is to 'cross your line in the sand.' When you're feeling at your worst, try to take one step forward. It is progress. Know that your families and friends support you and let that be your motivation to cross another line in the sand."