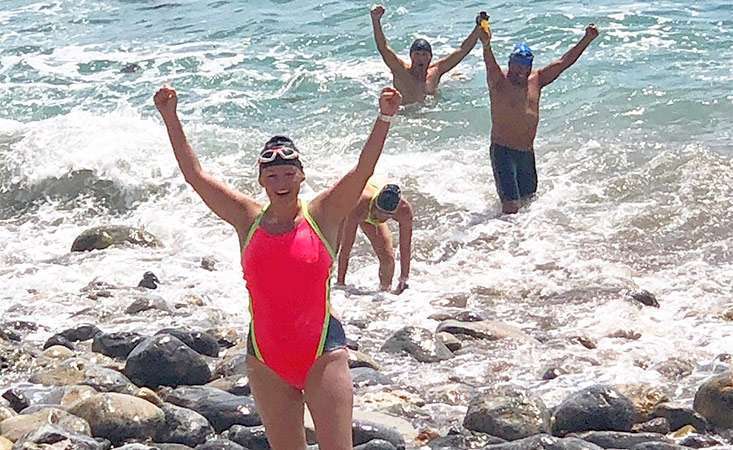 Editor's note: Our "It Starts with Someone" series chronicles all kinds of Pancreatic Cancer Action Network (PanCAN) supporters – volunteers, survivors, caregivers, advocates, researchers – and describes the "someone" who has impacted their efforts in the fight against pancreatic cancer. Today, fundraiser Rachel Griffin tells us about the inspiration behind her 21-mile swim to raise pancreatic cancer awareness.
On the night of August 23rd into August 24th, Rachel Griffin dove into the Pacific Ocean to swim the Catalina Channel – Catalina Island to Palos Verdes, CA. Her swim was grueling (21 miles in the open ocean), chilly (no wetsuit allowed per official rules) and full of purpose.
Griffin swam to raise money ($38,500 and counting) for the Pancreatic Cancer Action Network, the Hirshberg Foundation for Pancreatic Cancer Research and Memorial Sloan Kettering Cancer Center. She fundraised in honor of her mother, Patricia Griffin, who passed away from pancreatic cancer in 2008. August 24 would have been her mom's 76th birthday.
"My mom was awesome," said Griffin, who completed the solo swim in about 13 hours. "She was tough as nails, but she had a big heart."
Patricia was happily married for 45 years and the mother of five children.  She worked as a registered nurse and focused her work and graduate education on long-term care. Throughout her career, she visited nursing homes and made improvements to ensure residents were respected, treated fairly and given proper care. She was diagnosed with stage IV pancreatic cancer in 2007 and passed away six months later, on the eve of Mother's Day.
"Since starting this fundraiser, I've talked to people who were unaware of this disease or how deadly it has become -- now the third leading cause of cancer-related deaths in the U.S," Griffin said. "I'm glad I'm able to open their eyes, especially for people like me in their 30s to early 40s. We need more awareness for this horrendous disease."
Her swim was an extraordinary way to spread awareness about pancreatic cancer.
"We're inspired by people who push their limits," Griffin said. "And if someone is willing to risk drowning in the ocean to prove a point, you pay attention.  Yes, training and swimming the Catalina Channel was one of the hardest, not to mention most grueling, challenges of my life, but it pales in comparison to what those battling this awful disease suffer."
Only about 500 swimmers have swum the Catalina Channel, and it is known to be one of the world's seven most dangerous open-water swims for its rough and choppy conditions and fluctuating temperatures. Griffin trained for 35 weeks to prepare.
She spent three to seven hours at a time in swimming pools and the ocean, without a wetsuit, to adjust to the cold temperatures. In the pools, she would sometimes attach a parachute to her waist for resistance conditioning.
Her training especially paid off during the last few miles of her swim. The temperature had dropped 10 degrees by then, and the tide was beginning to change. Griffin was burning more energy and felt hungrier than she expected.
A small boat with family and friends followed behind her, as well as kayakers to give her food and moral support when she needed it. They urged her to keep swimming.
Griffin said she also did not anticipate the emotions she would feel when she was about half a mile away from shore. "It all hit me at once," Griffin said. "I was only $1,000 off from my fundraising goal. I was being cheered on by my team and my family on the boat, I could hear cheering and whistling from the beach. I couldn't even see Catalina Island behind me anymore. And it was my mother's birthday."
At that point, Griffin had to stop swimming. Not to quit but to fix her goggles. Her tears were making it too difficult to see through them. Then she continued to swim to shore for her mom.