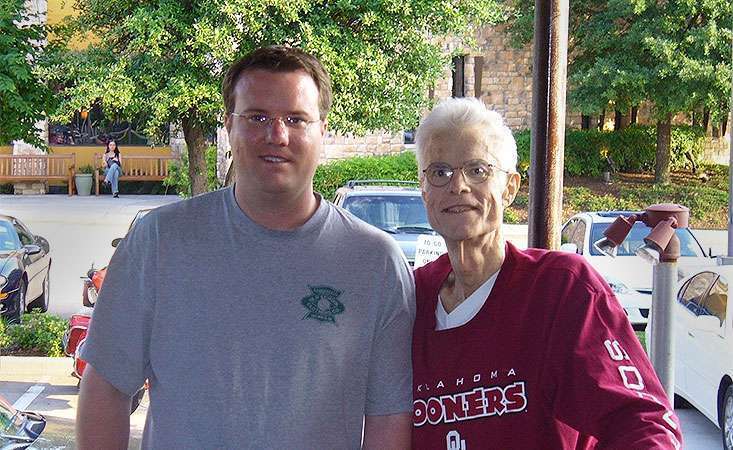 When it comes to corporate responsibility, Bell Nunnally goes beyond the standard engagement and sees it as an opportunity to become personally involved with their community. As the presenting sponsor for the 10th annual PurpleStride DFW 2018, the firm has become a hub for awareness and fundraising for the event, leading the Dallas-Fort Worth (DFW) community as it gears up for the annual walk to end pancreatic cancer.
It all started when Bell Nunnally's longtime friend and client, Brian Livingston, found out that his father, Robert, was diagnosed with stage IV pancreatic cancer in early 2006. Robert's treatment involved chemotherapy, radiation and the Whipple procedure.
"I made a promise to my dad that while I couldn't commit to him that I would cure pancreatic cancer, I would do my best to make sure people know about it. And during my lifetime, the disease would get the funding needed to thoroughly research it," shared Livingston. Although Robert passed away just 17 months after his diagnosis, his death was not in vain.
Bell Nunnally has been donating to the cause since 2009 and became official sponsors in 2011. They have been raising more money for each consecutive event. To date, the Dallas-based law firm has raised more than $176,000 to aid in the fight against pancreatic cancer.
"It was humbling to see a disease so treacherous bring people together," said Christopher Trowbridge, Chairman of Litigation at Bell Nunnally.
"Having three kids of my own, PurpleStride DFW has become a family event, which my young daughters call 'The Purple Party.' I want to educate families about pancreatic cancer, and for them to know that Bell Nunnally is supporting the community in its battle against this deadly disease."
Bell Nunnally is not only actively involved in the greater DFW community, but it also advocates within the firm itself. The company compensates for its employees and their immediate family members' registration at PurpleStride DFW.
They also have representatives from the Pancreatic Cancer Action Network (PanCAN) come to the firm to educate its professionals about the disease. In the weeks leading up to PurpleStride DFW, Bell Nunnally employees who wear purple to work get their names entered into a weekly raffle for prizes. After the event, the firm throws a party in celebration of the walk's success.
"Bell Nunnally really cares about this fight, and we want to be an important partner in defeating pancreatic cancer. I'm proud of the relationship we have with the community and our efforts to give back," said Trowbridge.
Bell Nunnally continues to support PurpleStride DFW because they know their fundraising efforts are making a difference in the lives of the pancreatic cancer community.
Trowbridge added, "I've seen the survival rate for pancreatic cancer increase over the years. The funds we've raised have a direct impact on research being done, which in turn leads to more survival. From an investment standpoint, the return is high and deeply meaningful."
As PurpleStride DFW celebrates its 10-year anniversary on Nov. 10 at Klyde Warren Park, Livingston is touched by Bell Nunnally's continued support and how the event has grown.
"I want people to realize that there is a chance of surviving pancreatic cancer. There are people working hard to raise money – scientists researching for a cure, and companies like Bell Nunnally that really do care about giving back to the community. It's just nice to see the good in people," said Livingston.
What started out as a fundraising walk for the father of Bell Nunnally's client has transformed into a community-wide educational and supportive event.
"PurpleStride is a signature event in Dallas that resonates with the community. The more people you talk to about pancreatic cancer, the more people you realize are affected by this deadly disease. Everyone can make a difference," said Trowbridge. "And that's why being part of the fight against the world's toughest cancer is such an honor."
Register, donate or learn more about PurpleStride DFW 2018.
Inspired by this story? You can make a difference, too.
Get involved
today.