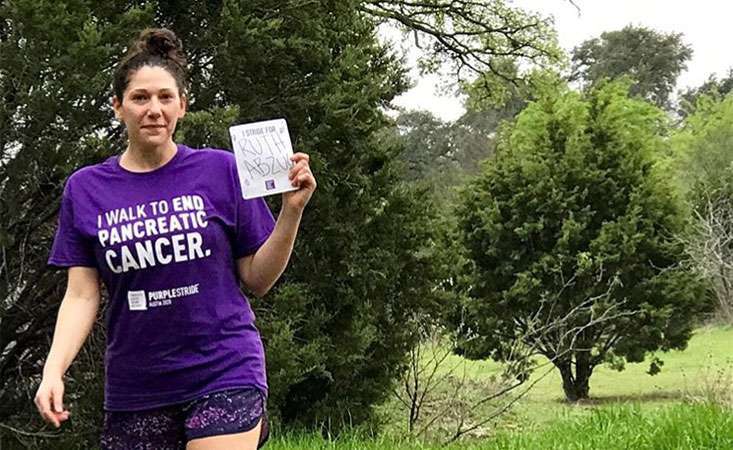 Did you hear? Virtual is the new purple!
As the Pancreatic Cancer Action Network (PanCAN) transitions its March thru June in-person PurpleStride walks/runs into "Virtual PurpleStride" events (to keep everyone safe during the COVID-19 pandemic), supporters are showing no signs of slowing down on the fundraising front – and in their ability to get creative and stride in their own way.
PurpleStride Austin on March 14 was PanCAN's very first walk to transition to a Virtual PurpleStride.
And wow!
We were blown away by the camaraderie that Austin virtual striders shared through stories and photos that day, even though they couldn't gather together for a large in-person event this year.
Thanks to their fundraising efforts (which will continue 60 days after the Virtual PurpleStride), PanCAN can continue to be here for pancreatic cancer patients and families with free, personalized resources and services through PanCAN Patient Services.
It's clear PurpleStride Austin knows how to get in the spirit of "Virtual Is the New Purple!"
Check out a few of the photos (please note, this Virtual PurpleStride took place before strict social distancing measures were implemented across the U.S.):
Finally, from Team Shirley's Striding Soldiers, we are sharing an excerpt of what Team Captain Dedra Bouffard said PurpleStride means to her, whether in-person or virtual :
"There are truly no words to describe PurpleStride, other than "time" and "fight." 
Two years ago, when my mom, Shirley, was diagnosed with pancreatic cancer, our lives forever changed. The news was devastating and unbelievable. We kept asking the question, "Why us?"
My mom is one of the healthiest people I know, so how could this have happened to her? As we all know, cancer doesn't discriminate and for whatever reason, my mom was dealt this horrific hand.
Once the shock settled, it was time for us to put on our combat boots and go to war! Shirley's Striding Soldiers were ready to fight! And we did.
From that moment, we have all locked arms and have been on the front lines with my mom during each phase of this war. Not only are we fighting for my sweet Momma, we are fighting for all those people who were taken from this world by this devastating disease far too soon.
So, what does PurpleStride mean to us? It means one more day. It means cherish each moment. Enjoy life to the fullest. It means we aren't promised tomorrow, so love with all you have, every day. It means fight, grit and grace! It means LIFE! It means another day my Mom will wear her purple Superwoman cape, when last year, she didn't think that was possible! It means to continue to FIGHT and cherish TIME.
I am beyond grateful to be able to share another walk with my Momma. She is a warrior and she is my hero."
Pancreatic cancer patients need your support now more than ever.
Wherever you live, please consider joining PanCAN's PurpleStride, the national movement that raises funds to improve outcomes for patients and their families. To participate as a virtual strider is easy.
After you register (for free!), kickstart your fundraising from the comfort of your couch:
Facebook is an easy way to ask friends to join the fight. Go to My Strider Central after you've registered, and start your Facebook fundraiser.
On the day of your PurpleStride, honor the person you are striding for by doing one of their favorite activities such as cooking, playing a game or watching a movie as a family.
Check with you employer to see if they have a matching gift program.
Please share your photos on social media and tag @PanCAN and use #PurpleStride so we can see how you are honoring your friends and family and share with others!