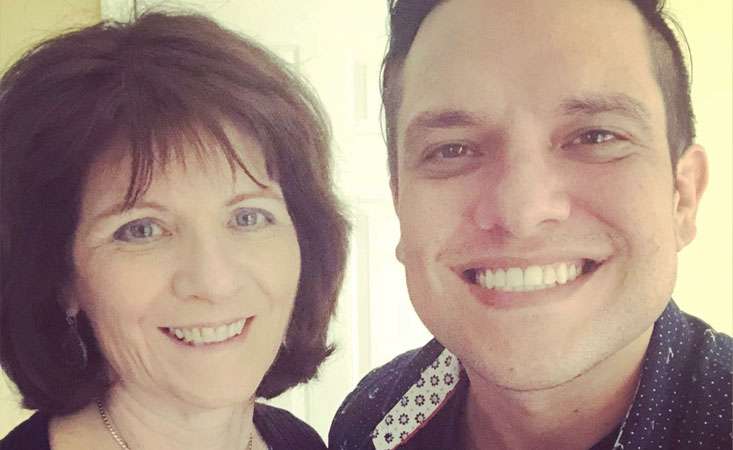 "Your mother has pancreatic cancer."
When the doctor said those words to him and his mom Joanne, Kyle McMahon cried, fell to the ground and was inconsolable. "I thought it was a death sentence."
Just hours after the diagnosis, Kyle began his research. He said the Pancreatic Cancer Action Network (PanCAN) kept coming up in his online searches. He called PanCAN's Patient Services immediately.
"We need a miracle," he said.
"The case manager was great. She told me to breathe and helped calm me down. She explained the importance of getting my mom's tumor profiled and focusing on the specifics of her cancer."
She also directed the Delaware mom and son to resources. Kyle shared, "Those first 24 hours are key. Our case manager stopped me from going to an even worse place in my mind. I just didn't know the facts about the disease."
Last year, Kyle's aunt, Kim, got a team together to take part in PanCAN's PurpleStride Delaware to raise money to fight pancreatic cancer. Then the pandemic hit.
Kyle knew he had to do something to lift his mom's spirits. "She's such a social person. Not being able to connect with friends and family in person was really affecting her."
He and his aunt got the idea at the same time – they would create A Purple Parade of Positivity honoring his mom. A parade of cars filled with friends and family to remind Joanne that support for her was stronger than ever.
"It wasn't easy getting everyone's phone numbers. My mom has so many friends and also teaches dance to nearly 100 people every week."
Kyle, his aunt and his dad, Don, got as many numbers as they could. He reached out to a few of her friends on Facebook, but not too many. "I knew she'd wonder what was up if she saw I'd friended a bunch of her friends!"
The Purple Parade of Positivity was a success. Every person Kyle's family called said yes– they were so happy to be able to do something to help.
When Joanne heard the cars honking in front of her home, she went outside and saw a long line of more than 75 cars waiting to drive by and send her good wishes. "And these were only the people I could get a hold of! It was such a testament to how special they think my mom is."
Friends and family brought gifts for her and donations for PanCAN. She was so touched that she was moved to tears. Many of her friends were crying, too, saying they couldn't wait to get back to dancing and being together. Kyle captured it all on video so Joanne could remember every sweet moment.
When asked what advice he has for people who want to fundraise during this challenging time, he said, "Use what you have in whatever way you can. People have so much untapped potential. The same thing applies to fundraising. You can do a Facebook live. Walk the neighborhood once a week. Make a commitment to hit a certain number of miles by the end of the month. Update social media along the way."
Kyle says he deeply respects his mom who raised him single-handedly for many years. "She has such a huge heart – she makes meals for people and drives them to treatments. I hope I can be like her."
When growing up, he says their home was filled with music and dancing. Joanne made lifelong friends through dance and loves music and movement of any kind. That influenced Kyle who is a musician and also hosts a national pop culture talk show with iHeartRadio.
As an advocate for pancreatic cancer awareness, Kyle tells people, "When you tell your story, you can change the world. Someone might become a cancer researcher. Others may donate. Your story could help someone else identify the signs and symptoms of the disease."
Consider
making a gift today
. Your generosity funds free one-to-one patient services and research to end this terrible disease.