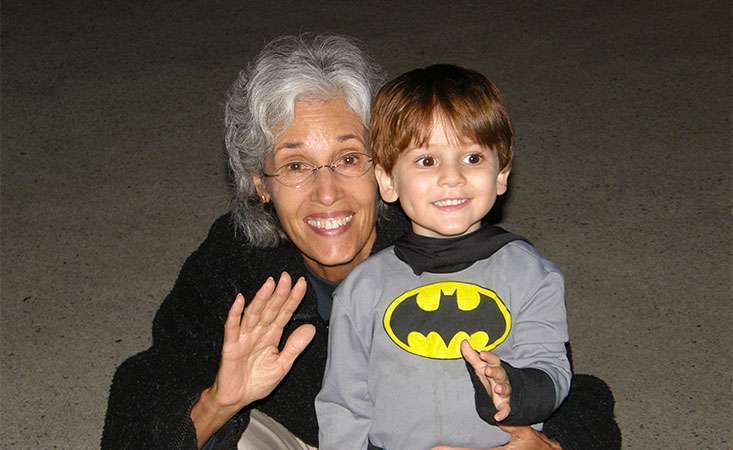 What could make two siblings coming together for a good cause even more inspirational? First, the fact that these two siblings have brought in over $100,000 collectively for pancreatic cancer research! Secondly, these two siblings are teenagers.
The siblings' Team Lala has been one of the top fundraising teams for PurpleStride Atlanta, the walk to end pancreatic cancer, for most of the team's eight years of participation. They have raised over $100,000 since the team's beginning.
The origins of Team Lala began in 2011 to honor Rose and Dov Karlin's maternal grandmother, Lala Greene, who had been diagnosed with pancreatic cancer a few months prior. Rose was only 12 years old at the time when she formed the team. Karlin's fundraising goal for her first year as team captain was $1,000. While her grandmother continued her battle, she served as inspiration to Rose, her family and all of Team Lala by continuously having a smile on her face throughout her fight.
Getting through that first PurpleStride was the easy part. After seeing the team's success in their first run, Rose upped the ante.
She increased their fundraising level every year and became the top individual fundraiser for Atlanta's event in 2014, 2015 and 2016. Individually, Rose raised over $11,000, $19,000, and $22,000 in each respective year. Consequently, Team Lala was the top fundraising team for PurpleStride Atlanta in 2015 and 2016, raising over $23,000 and $25,000 respectively.
Although Rose and her team surpassed their previous fundraising totals in 2016, it was the first PurpleStride without the team's namesake. Lala Greene passed away from pancreatic cancer in December 2015.
She had almost made it to her five-year survival mark but passed away one month shy of hitting that milestone. Rose and the team kept up the battle to fight the disease, this time in her memory.
"Even as she fought pancreatic cancer, the glass was not only half full, but it was overflowing. This is how Lala lived her entire life. She was one of the most caring, devoted, compassionate, unconditionally loving human beings. That is why it is so easy to raise money for Team Lala — everybody loved Lala!" exclaimed Rose.
Off to college in 2017, Rose handed the team captainship over to her younger brother, Dov, who is currently thirteen years old. In that same year, Rose and Dov Karlin's paternal grandmother, Joan Cherner, was diagnosed with and passed away from lung cancer.
Even though Cherner lost her fight to a different disease, Dov decided to dedicate his pancreatic cancer mission to both grandmothers. He also set out to top his sister's previous fundraising record – the sibling rivalry was on!
At PurpleStride Atlanta 2017, Dov topped his sister's record by raising over $29,000 individually and bringing in over $30,000 as a team. Dov's motivation has continued to grow stronger.
This year, Dov and members of his theater company, Orbit Arts Academy Company, participated in a video produced by him. The video shows the troupe singing "Seasons of Love" from the hit Broadway musical "Rent," as pictures of Dov with his grandmothers and family are displayed.
These talented teens took only 30 minutes to learn the music and record the video. Dov then spent the rest of the day piecing the video together as a tribute to his grandmothers. He has learned how to combine his passion for musical theatre and helping others, by continuing to raise funds and awareness for pancreatic cancer.
"Losing two grandmothers in such a short time has been very difficult and painful. I understand loss more than ever, and how to value our short time on earth.
"It is time to try and do for them even a little of what they did for me! That is why this year is more important to me than ever, as I fight to end pancreatic cancer in honor and in memory of both of my grandmothers."
Donate to Team Lala or start your own team by registering for PurpleStride Atlanta 2018 at Historic Fourth Ward Park on Saturday, Nov. 17.
Get involved with
your local PurpleStride
to demand better for families like the Karlins, advance research and create hope for patients and their loved ones.