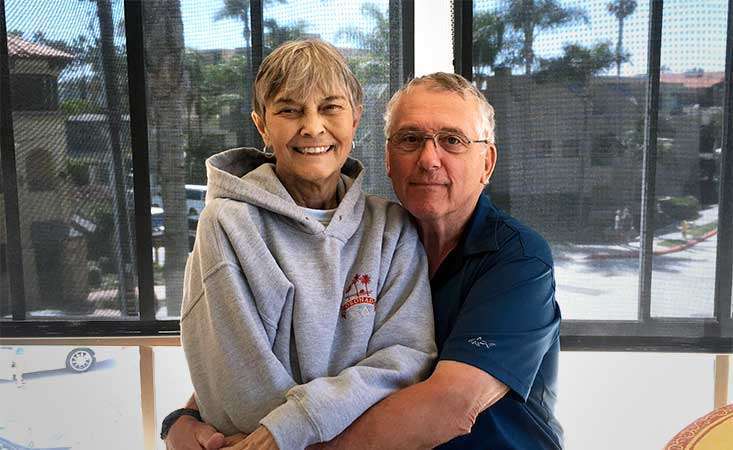 Editor's note: We recently received a letter from supporter John Vedock, in which he shared poignant memories surrounding his late wife's pancreatic cancer diagnosis and its impact on their family. But Vedock's letter was more than this – it was also a love story. Here, we share excerpts, along with an interview we conducted with Vedock and one of his daughters after we received the letter.
"I need to tell the story of my wife and her valiant fight with pancreatic cancer," the letter began.
"Marlene was a person who met any challenge – from jumping out of airplanes to rock-climbing – with zeal and enthusiasm. She adored her grandchildren and taught them to knit, paint, play the piano, do crafts and bake cookies. She loved to travel, hike and share time with her church family. She especially loved going to the ocean, taking walks, and watching the seagulls and the pelicans as they sailed the currents…"
John Vedock met Marlene more than 52 years ago at a high school dance. They were 15 and 16.
"We enjoyed each other's company from the first time we met," Vedock said in the follow-up interview.
The two were married 48 years – until Marlene's death from pancreatic cancer the day after Thanksgiving 2017. Vedock, his two daughters and his four grandchildren are still mourning the loss of Marlene. But as much as they are riding the inescapable waves of sadness, they are fighting back against the disease, because they promised Marlene they would.
Navigating the Next Chapter
"I know there are others out there who have lost loved ones to pancreatic cancer… They have had the same trials and tribulations and have faced that day when they needed to say goodbye. This story is for those who have loved deeply and now must come to grips with that loss…"
In summer 2013, a blood test revealed a high enzyme count in Marlene's pancreas. Doctors first thought the cause might be pancreatitis. But months of PET scans, blood tests and doctor's appointments followed, as did surgery and a biopsy when cancer was finally suspected. In September 2013, biopsy results devastated the Vedocks: pancreatic cancer.
Several times a week, the couple drove to the hospital for chemotherapy and radiation, along with more bloodwork and PET scans.
And after five months of treatment, tests revealed that Marlene's cancer was in remission.
"To say we were ecstatic was only half of it. We hugged, laughed and wept. And for the next year-and-a-half, we enjoyed our time together more than ever. We traveled, enjoyed our grandchildren and planned for the next chapter in our lives…"
One day, seemingly out of the blue, a brochure came in the mail addressed to Marlene. It was from the local cancer center near their home in the Phoenix area, and it focused on services for people with pancreatic cancer, including clinical trials.
The Vedocks had decided to pay a visit to the center and attend a group meeting with other survivors who were going through a similar experience when, around that same time, Marlene noticed some issues with her breathing. Something wasn't quite right. She subsequently learned that the cancer had progressed to her lungs.
Vedock recalled, "Marlene and I had been to visit the center, where she had shared her story with the group, and the next thing I knew, she told me she wanted to be part of research and contribute to a cure."
And she did. In November 2015, she began a new treatment through a clinical trial.
"Marlene was a giving and loving person…steadfast in her strength and resolve. As devastated as she was about the cancer returning, she felt empowered in knowing that she would be able to contribute to research for this unforgiving cancer…"
In It Together
Marlene's family was looking for ways to contribute, too. They formed a walk team for PurpleStride Phoenix. Daughter Carrie Mascaro led the charge, encouraging friends and family to join and fundraise for the Pancreatic Cancer Action Network (PanCAN).
"Having Mom with us was a gift, and we wanted to give back in appreciation," Mascaro said.
"One year, when she was too sick to join us at PurpleStride, I wanted to share the experience with her and bring hope to her. I asked survivors who were there to say a few words and I videoed them so she could watch."
Meanwhile, Vedock decided to honor his wife's lifelong giving spirit by becoming a monthly donor to PanCAN through its Circle of Hope.
"I promised Marlene that I would keep doing what I could to help those who are fighting this cancer, and that's what I'm doing. There's a lot I can't do, but there is so much I CAN do."
For 16 months, the Vedocks spent most days traveling for treatment as part of Marlene's clinical trial.
Suddenly though, in spring 2017, Marlene had numerous strokes that left her unable to continue trial participation. That summer, she entered hospice care.
Vedock set up the family room as a bedroom to make it easy for his wife. He positioned her bed facing a picture window so she could see outside and watch the hummingbirds. The couple took short walks together, talking, praying and preparing.
Mascaro remembers her parents' remarkable devotion to each other throughout her life and especially nearing the end of her mother's.
"They always had the most amazing partnership," she said. "They were in it together, always supportive of each other. I've never seen two people who loved each other more unconditionally."
Vedock confirmed this sentiment.
"I would do anything for Marlene," he said. "Anything to find a cure for pancreatic cancer."
"It is impossible to put into words how I feel about Marlene's passing, even today. The family came in for her services, and we celebrated her life with bright colors and joy, as she would have wanted. We know we will see her again in a new time as she awaits us with open arms. I will miss her every day until then.
"My love for her will always be unwavering."