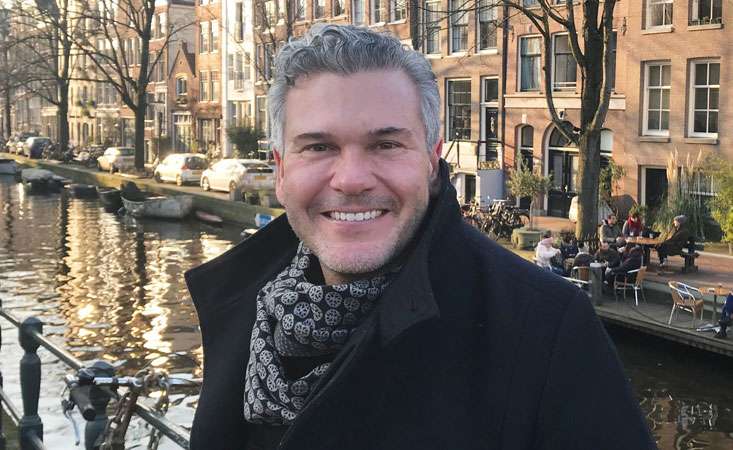 We sat down with PanCAN donor and volunteer Brian Brandt to talk about how much it means to him to have included PanCAN in his Will.  Brian lost his mother, Kathy, to pancreatic cancer.  Keeping her memory alive and ensuring others did not have to go through what she did are what inspired him to become a loyal PanCAN donor and volunteer almost seventeen years ago. His desire to continue her fight is what has led him to make the gift of a lifetime – a gift in Will.
"My mom had an infectious smile and great energy.  So many people said that she was their best friend.  Growing up, our house was like a revolving door. Everyone was welcome.  After a basketball game, it wasn't unusual for us to have 40 people over for pizza. Dad and Mom were great hosts—and Mom was at the center of it, warmly welcoming all."
When Kathy passed away, the family and her friends were devastated. Brian says one of the things they most missed was her smile--so he decided to give friends and family a reason to smile again.
"I partnered with PanCAN's Boston Affiliate volunteers and hosted a fundraiser in my mom's honor at my home in Dorchester, Mass. We had about 50 people over and we raised nearly $6,000 that evening."
In 2011, Brian and his husband Ty Kuppig first met at the event.  Brian's family and friends like to say that Kathy had a hand in putting Ty in Brian's path.  Everyone says it was meant to be.
Brian and Ty have continued to host the annual event together to raise funds for PanCAN. Since its first year, the event, now known as "The Boston Purple Party," has grown exponentially, moving to larger venues in order to welcome more and more attendees and supporters.   
In addition to being a PanCAN donor and volunteer, Brian is also a successful wealth manager who helps people plan legacy gifts to the causes that matter most to them.
You can meet him next week at our first-ever webinar to talk about legacy giving. PanCAN has been a little shy talking with donors about making gifts in their Wills, but we are hearing from more and more supporters that legacy giving is important to them--that they want the work they've done during their lifetime to continue on--and that they feel the gift in their Will is an important part of their life story.
Brian and Ty married in 2015 and that was when they decided to remember PanCAN in their legacy planning. Brian emphasizes that life events like marriage, birth and graduation are the perfect time to begin planning for the future and for those you love, after you are gone.  He feels that his legacy gift is fulfilling a promise he made to his mom to continue to help others that face pancreatic cancer in the future.  "None of us are going to live forever. The impact we can have isn't gone the moment we pass. It can continue.  Ty and I have such a sense of joy that comes from being able to give back."
Register for our webinar to find out why donors like you find great joy in making gifts in their Wills
Brian highlighted, "we always recommend everyone organize their affairs as part of showing love to their families. It doesn't have to be anything complicated, but having your affairs organized makes the administration easier on your loved ones later.  Most people think that making a legacy gift is just for the wealthy. But that's not true," Brian said. "Anyone can leave a gift in their Will."
Another common misperception about the gifts donors make in their Wills is that only large gifts are important. "Every individual makes a difference and every gift is important, large or small," Brian said. "Most people are surprised to see how much more they can give through these kinds of gifts."
It's also quite easy for supporters to make gifts in their Wills. "It's not overwhelming.  It's pretty straightforward," said Brian.  "If PanCAN is your passion, there's no heavy lifting or great cost to make a legacy gift."
Legacy donors say they like being able to share with their families that they've included a gift to PanCAN in their Wills.  They let their kids know that in addition to taking care of them, they've also put money aside for PanCAN.  It's part of sharing their values and what's most important to them.  Future generations will be able to see what their parents and grandparents did and be proud.
"I'll talk about other misconceptions at next week's webinar and I hope you'll come away with a clear sense of how a few short lines in your Will can fund the next research breakthrough."
Brian says that if his mother could see him now, she'd be chuckling, wishing she was planning the parties, the menu, the flowers, what purple outfit she would be wearing—purple was a favorite color!  "Mom would be thrilled to see that the values she and Dad instilled in us are in our DNA – and that others are benefiting from those values in action."
Register for Our Webinar
On How To Leave a Gift in Your Will (it's easier than you think)
Feb. 11 at 9 a.m. PST
(10 a.m. MST, 11 a.m. CST, Noon EST)
Sign up here today – space is limited
If you've already remembered PanCAN in your Will, please let us know.
Your gift will inspire others and allow us to plan for the future.