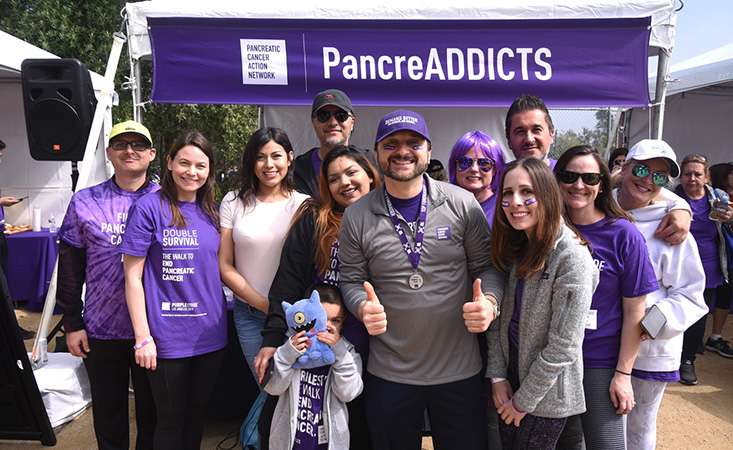 Editor's note: National Doctor's Day is March 30 and to recognize and honor the countless contributions of physicians, PanCAN Guest contributor Jamie Foltz, who lost her mother to pancreatic cancer, interviewed long-time PanCAN PurpleStride Team Captain and fundraiser Dr. Babak Eghbalieh.
Babak Eghbalieh, MD, is the captain of his PanCAN PurpleStride Los Angeles team, the PancreADDICTS, named because they're addicted to making sure they always do the right thing for their pancreatic cancer patients.
Dr. Eghbalieh has been involved in the pancreatic cancer community since 2009, when he started a support group for patients. He was impressed by the resources that PanCAN provided, free of charge, to physicians to give out to patients and caregivers. He is also part of Southern California Multi Specialty Center, created by Dr. Eghbalieh and his two brothers, to provide a collaborative, family-oriented approach to every patient.
In 2017, when he moved to Los Angeles, he got involved in his first PanCAN PurpleStride.
Dr. Eghbalieh and his PancreADDICTS team have consistently been among the top five fundraisers for PanCAN PurpleStride Los Angeles.
He said, "Our team is dynamic. It's not just patients and their family members. It's filled with people who are helping take care of these patients throughout their journey."
The PancreADDICTS, with as many as 50 members some years, is filled with purple pride as they all arrive at the event in their team shirt. After the event, they usually all celebrate their success together with margaritas.
To fundraise, the team hosts an annual raffle that helps bring in a portion of their donations. One year they were able to raise over $10,000 just from selling $20 raffle tickets. This year their goal is $50,000 and they're well on their way to hitting it.
Dr. Eghbalieh said, "We want to make sure that we raise as much money as possible. But whether we finish first or 40th, it really doesn't matter. I'm just excited and so grateful that so many folks are out there raising money for PanCAN through PurpleStride."
The secret to Dr. Eghbalieh's individual success as a fundraiser is simple. He said, "I pick up the phone and go through my contacts A-Z. You get a lot of 'no,' but when you get a 'yes,' it's amazing. That applies to every aspect of life."
He continued, "I'm not a shy person. When I believe in something, I reach out. Once you explain what PanCAN does, people want to give. Donations don't always have to be three, four or five digits. If you get 100 people to give you $26 each, that's $2,600, and that makes a big impact."
He said sharing PanCAN's mission is critical to his success as a fundraiser.
"Pancreatic cancer is still an underrepresented cause. Many causes thrive because of the survivor community that is there to champion the campaign. But given the outcomes in the last 30 years, we don't have enough survivors to make the kind of dent that other cancer organizations have seen."
Dr. Eghbalieh believes in organic outreach and hopes that we can find more ways to increase awareness of pancreatic cancer within the medical community specifically. He said, "We need to get in front of the first person that is going to see a pancreatic cancer patient, the family and internal medicine practitioners."
He said, "Awareness among internal and family medicine doctors is the key to helping us find these cancers in stage I or stage II. Five-year survival jumps significantly when we find tumors early. Many physicians feel that pancreatic cancer is such a difficult diagnosis that there just isn't much they can do."
He believes that everyone can be a fundraising champion for their team and their event.
He said, "Just go with your heart. Let your light within shine when you describe what PurpleStride is. When you approach someone to raise funds, impress upon them the love and the passion to understand why this cause is so important. Don't be afraid, just go with it. It's not about the number. Every $20 can make a difference."
PanCAN PurpleStride will take place on One Big Day – April 30, 2022 – in 59 communities and with PurpleStride USA, wherever you are!
Register for free today
!