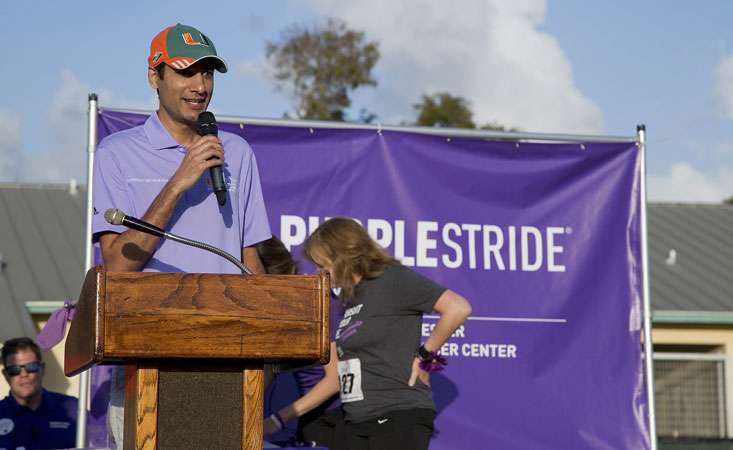 You may still be writing 2020 on your checks, but make sure to mark your calendars for a special 2021 event on Saturday, Feb. 6, 2021. That's when PurpleStride Miami 2021 takes place, presented by Sylvester Comprehensive Cancer Center (Sylvester), part of the University of Miami Health System.
This will be the sixth consecutive year that Sylvester has been a presenting sponsor, and the Pancreatic Cancer Action Network (PanCAN) is extremely grateful for their continued support.
Sylvester, like PanCAN, is committed to fighting the world's toughest cancer. They also understand that there is no time to waste in terms of research and care for pancreatic cancer patients. This year, more than 60,000 Americans will be diagnosed with pancreatic cancer – a 5% increase over last year.
"Deaths from forms of cancer like lung cancer and breast cancer have been decreasing in many western countries," said Peter Joel Hosein, M.D., a gastrointestinal cancer specialist at Sylvester. "But pancreatic cancer is the third leading cause of cancer death and is increasing in incidence."
Sylvester and PanCAN have always had a symbiotic partnership; a standout value they have in common is spreading the message of hope.
Harcourt Sylvester Jr., the philanthropist who the Center was renamed after in 1987 said, "May hope run eternal in us all." PanCAN certainly mirrors this statement, weaving hope into every program and initiative offered.
Hope is what every pancreatic cancer patient and their loved ones deserve. When you participate in PurpleStride Miami 2021, you're showing them just how much hope there is.
Sylvester knows how hard a cancer diagnosis is, so their mission to reduce the human burden from cancer through research, education, prevention, and the delivery of quality patient care is something to be celebrated. And yes, joining in on the fun that is PurpleStride Miami 2021 is a great way to celebrate.
Don't live in the Miami area? No problem. This year's event is being held virtually due to the ongoing pandemic, so anyone can participate from anywhere – and registration is free!
We encourage all participants to post their PurpleStride Miami 2021 activity on social media using the hashtag #PurpleStride – and make sure to tag us (@pancan). Remember, make this PurpleStride event your own!
Get creative. If walking isn't your thing, pick another activity that better suits you. PurpleStride participants across the country are finding fun alternatives to the traditional walk. From horseback riding to hiking, people are showing their commitment to improving outcomes for pancreatic patients in new ways every day.
PurpleStride Miami 2021 is at 84% of their fundraising goal, and you have the power to get them to the finish line. Grab your Golden Girls wig, put on Will Smith's 1997 hit "Miami," and show your Magic City pride on Saturday, Feb. 6, 2021!