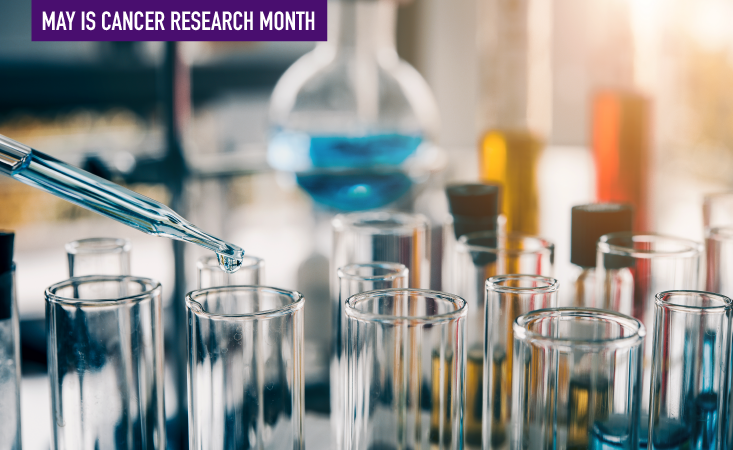 When Marilyn Taub lost her sister, Shirley Sadoff, to pancreatic cancer in 2000, she knew that one way to honor her sister's memory was to give back to the pancreatic cancer research field in hopes of sparing other families a similar loss in the future. And since 2015, PanCAN's research program has benefited greatly from the Taub family's generosity and visionary leadership.
The Henry and Marilyn Taub Foundation, which Marilyn and her late husband, Henry Taub, started in 1967, has made generous contributions to PanCAN.
The Foundation's first gift to PanCAN funded research grants for David Linehan, MD, of the University of Rochester, and co-principal investigator Brian Wolpin, MD, MPH, of the Dana-Farber Cancer Institute, to support a large, multi-center phase 2 clinical trial testing an immunotherapeutic approach in patients with metastatic pancreatic cancer.
Most recently, a second gift to PanCAN from the Foundation was made to support The Catalyst Research Fund, which allows donors to fund special projects that accelerate our efforts to find an effective early detection method and new treatments for pancreatic cancer patients.
One of the projects that the Foundation will fund is "The Catalyst Research Fund REGARD Project, funded by The Henry and Marilyn Taub Foundation honoring the memory of Shirley Sadoff."
REGARD (which stands for Recent Elevation of Glucose and Recent Diabetes) is designed to help refine PanCAN's Early Detection Initiative, a study exploring whether the connection between new-onset diabetes and pancreatic cancer can help us develop an early detection strategy.
"Too many people are taken by this horrible disease," Marilyn said. "We hope that by funding research, we can improve outcomes for patients with pancreatic cancer."
In honor of Cancer Research Month, we recently asked Marilyn to talk more about why the Foundation supports PanCAN and funds innovative research projects.
PanCAN: Why is medical research an area of focus for programmatic funding at The Henry and Marilyn Taub Foundation?
Marilyn Taub: Many areas of medical research are in desperate need of support, but unfortunately, we often don't learn about them until an illness hits home and we see the suffering of a loved one. After my sister, Shirley, died of pancreatic cancer, the Foundation began to support research in this field.
It has been a priority for our family to provide resources needed to build an understanding of the mechanisms of this disease, with the hope that this might lead to improved treatments and, perhaps one day, prevention or a cure.
PanCAN: How did you choose PanCAN as the organization to support for advancing pancreatic cancer research?
Marilyn: As a family foundation, we put considerable time and thought into the process of deciding which organization to support. In addition to posing many questions to PanCAN about their approach to research, we asked the opinions of the scientific community in our network.
Our medical consultants are familiar with the major cancer research sites around the country and how different organizations work to evaluate research proposals. The qualifications of your scientific review committee members and the layers of rigorous review that PanCAN uses to evaluate research proposals were important in our decision. In addition to these high standards, it was important to us to know that PanCAN deliberately chooses to support research sites with diverse patient populations.
PanCAN: What do you hope your giving accomplishes?
Marilyn: The Foundation's gifts to PanCAN are intended to accelerate research outcomes. Our latest gift is designed to provide researchers with the flexibility to pursue new ideas as they emerge. We certainly understand that wins are made incrementally in cancer research, and that it is necessary for research findings from many laboratories around the world to be evaluated together to make gradual progress over time.
PanCAN: What would you say to PanCAN researchers whose work is buoyed by The Henry and Marilyn Taub Foundation funding?
Marilyn: We are grateful that there are scientists who have dedicated their careers to pancreatic cancer research – who are driven by the realization that pancreatic cancer is among the deadliest cancers.
We stand in support of your efforts and hope that discoveries you are making incentivize you to continue your journey, knowing that there is a strong network supporting you and your research endeavors. On behalf of all families, like ours, who have experienced the pain of pancreatic cancer, we thank you for your work.
Give today
to advance progress in pancreatic cancer research.