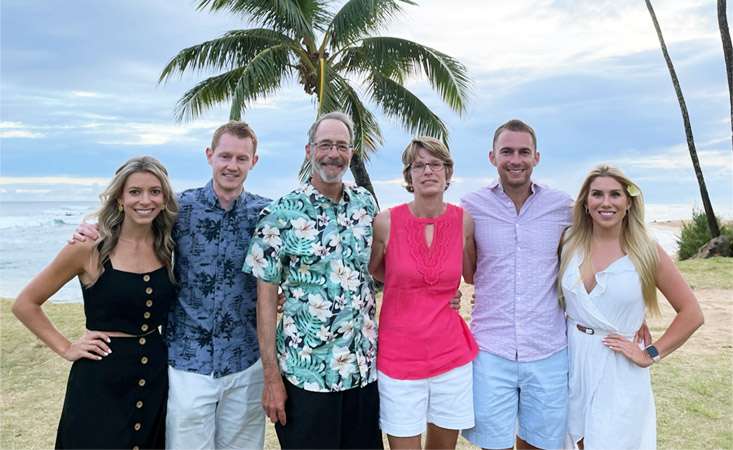 Charitable donations fuel the fight against pancreatic cancer in many ways. They advance leading-edge scientific research. They offer support to patients and caregivers navigating their cancer journey. They make it possible for patients to access specialists and clinical trials. And most importantly, they offer hope against one of the world's toughest cancers.
These are among the reasons that Art and Elaine Taylor give to PanCAN.
"For us, it's about support beyond the science," said Art, an almost three-year pancreatic cancer survivor.
"That's why Elaine and I contribute to PanCAN, because this organization is there to help patients find more options, to give them direction and a place to turn, to help them get biomarker testing for their tumor, to get them connected with a nutritionist. PanCAN Patient Services is there to support people going through this disease, and to me, that is just as important as supporting research."
The Taylors support PanCAN through a donor-advised fund (DAF), which allows them to give appreciated stock to fund their DAF and direct grants to support PanCAN. A DAF is like a charitable investment account for the sole purpose of supporting organizations meaningful to donors.
The Taylors are also monthly donors through PanCAN's Circle of Hope.
And this year, Art and Elaine were the number-one PanCAN PurpleStride fundraisers and the number-two fundraising team (Team Taylor) in the United States. Team Taylor raised over $157,000 for PurpleStride Silicon Valley in 2023, and the couple individually raised over $124,000. In 2022, they were the top fundraising team in the country and the number-two individual fundraisers in the country.
Over the past two years, the Taylors have raised more than $371,000 for PanCAN through Team Taylor.
At PurpleStride this past April, several walk participants approached Art and asked how he and Elaine were able to raise so much money for PanCAN. He told those who asked that their own personal story of how they had been impacted by pancreatic cancer was the most important thing to share with prospective donors.
"Just outline why this cause is important to you," he told them.
With respect to fundraising, he said, "If you don't ask, you don't get," and added that everyone should know that "anything you can do or give is great, and you will be amazed at people's generosity."
Art was diagnosed with pancreatic cancer in 2020, after noticing symptoms like unexplained weight loss and jaundice (yellowing of the skin or eyes). His doctor ordered blood tests, an MRI and a CT scan, and within two weeks, Art was undergoing Whipple surgery to remove the tumor.
Three rounds of chemotherapy followed, and now he receives an immunotherapy infusion every three weeks – a more targeted therapy that was pinpointed after biomarker testing of Art's tumor revealed that it could be a more effective treatment. The side effects are tolerable.
"I try to make the most of the good days and quickly forget the down days," he said.
Over the past few years, other pancreatic cancer patients have found him and reached out to share their experiences. Art is grateful for the connections and the people he's met along the way. Especially when it comes to a disease that can leave people feeling isolated after diagnosis.
"Pancreatic cancer is like that car you get thinking you're the only one who has that model, and then you start to see them everywhere on the road," he said.
Art's father-in-law died of pancreatic cancer in 2004, before he could benefit from new therapies that would be introduced over the next two decades.
In making the most of every day, Art and Elaine enjoy golf, tennis and pickleball, as well as road trips, book clubs, socializing with friends and family, and supporting charities they value, like PanCAN.
"As a cancer patient, you become much more aware of your mortality," Art said. "After making sure our affairs are in order, we worked with our financial advisor to make sure charitable donations continue to be part of our budget. We're grateful to be able to give to organizations that make such a positive contribution, like PanCAN."
You can
make an impact
like Art and Elaine Taylor by supporting PanCAN through a grant from a donor-advised fund, donating appreciated stock, or giving from your IRA. These are just some of the many ways you can advance research, provide vital information for patients and families, and advocate to increase federal research funding for pancreatic cancer.