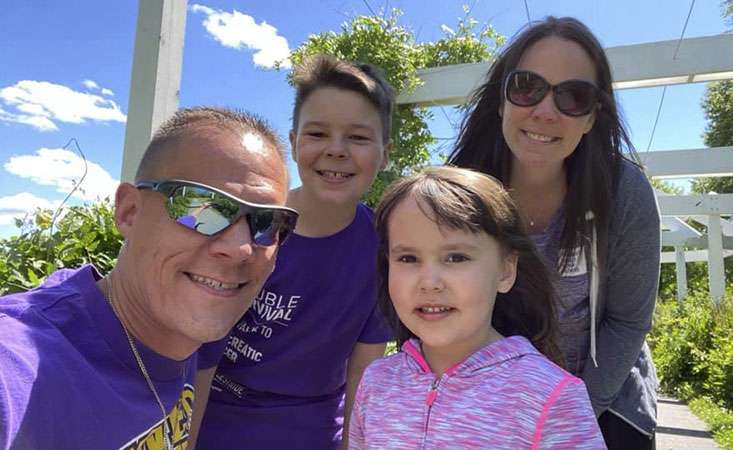 Editor's note: April 18-24 is Volunteer Appreciation Week and we're turning the spotlight on some of the Pancreatic Cancer Action Network's (PanCAN) invaluable volunteers, who really make it all happen. We're grateful for their energy and enthusiasm every day.
Some of Dan LaMagna's favorite memories of his dad are of the times they enjoyed sports together.
There was the day they got personally escorted backstage at the All-Star Café after boxing at Madison Square Garden – by the famed heavyweight champion boxer Lennox Lewis, himself – for a VIP meet-and-greet. Dan was just a teen, but it seems like yesterday.
In another memorable moment, years later, father and son attended a N.Y. Yankees game together. It was their first time at Yankee Stadium. Even though Dan's dad had pancreatic cancer by then, it didn't interfere with his enthusiasm for taking in sports with his son.
Dan is a natural coach. In college, he had his eye on playing professional football. His senior year, he spent time working with at-risk youth and as he realized how much he enjoyed helping others, his professional goals began to shift. He went on to become an assistant football coach at Lackawanna College in Scranton, Penn., and he also started his own semi-pro football team.
"The semi-pro team was an expensive seven-year hobby!" he said.
The team was frequently involved in charity work and fundraising in the community.
"That's where I really started getting volunteer experience under my belt, and it's when I got passionate about doing everything I could to give back locally," Dan said.
"My dad died two years after his pancreatic cancer diagnosis, and after that experience, I also wanted to do something in his memory to raise awareness and funds for the disease so others wouldn't have to suffer like our family did."
Today Dan is the Affiliate Chair for PanCAN's volunteer-led Northeastern Pennsylvania (NEPA) Affiliate, where, he said, "Our group's passion and energy comes from a place of caring."
He's been involved with PanCAN in various ways for 17 years. Before taking the Affiliate Chair role for the NEPA Affiliate, he was the Media Chair. He used his connections in the news media, as owner of the semi-pro team, and his study of communications in college, to bring media attention to PurpleStride NEPA (which will be held this year on June 12).
His day job is as Associate Vice President of Student Engagement at Lackawanna College, and a big part of that job is deeply rooted in giving back to students and helping them be the best they can be. He got his start at Lackawanna as a career coordinator for students, where helping others was a key part of the job.
"There is definitely a common denominator between my involvement with PanCAN, my dad and my career," he said. "I feel that I'm giving back, making a difference in people's lives, and connecting with my community. All our volunteers and leaders have made PurpleStride NEPA such a great event, and that's really cool to be a part of."
Dan said he enjoys keeping energy and spirits high not only at PurpleStride but also in leading the affiliate.
"I try to be a positive team player to keep us all energized," he said. "It helps to remember why we're all doing what we're doing for this cause – it keeps us fired up."
The NEPA Affiliate is currently rebuilding, under Dan's leadership and coaching. Which suits him perfectly.
"I like building things to make them the best they can be. And PanCAN is so supportive, making it an absolute pleasure to volunteer, and always meeting us where we are. I've enjoyed the entire experience."