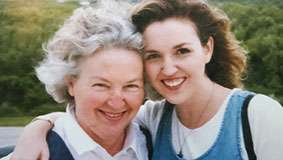 I will never forget the phone call that warm, May evening in 2007.  Her voice wasn't right.  There was something on her pancreas.  She wanted me to research painless jaundice.  She knew that pancreatic cancer was one of the "baddies."  I had never heard my mother so scared before.
My mother, Nancy Shughart, was a superhero.  She was widowed at 32, left alone to raise three children.  My sisters were three and two; I was 11 months.   Years later, when I found myself the mother of three children under four years old, I knew without a doubt that my mother was a superhero!
I did my research.  Fifteen-plus years in the news business had taught me how to research.  I didn't like what I found, or what her doctors were telling us.  We learned of a surgeon, Dr. John Cameron at Johns Hopkins, who had performed more Whipple procedures than anyone in the world.  That's our guy, I said.  You'll never get in, they said.  My superhero mother had always been my strongest advocate.  It was my turn to be hers.  We won't get in?  Watch me.
Dr. Cameron's surgery was successful, and we looked forward to many years with Mom.  In October 2007, I participated in my first 5K for the Pancreatic Cancer Action Network. I'd discovered the organization during my research, and our family had benefited from the PanCAN Patient Services program.  It was the inaugural 5K for the Central Florida Affiliate.  I remember calling Mom to tell her that I actually finished the 5K without tripping or passing out. She laughed, then cried when I told her about the money I raised, and all of the people who donated in her honor. It was a special day. I decided at that moment that my involvement with this organization wouldn't end with a race t-shirt.
You see, when you're several states away from your loved one it's easy to feel useless.  It's easy to feel helpless.  There were things I couldn't do for her, but I could do this: I could work to help others facing this beast.  I could do this.  Watch me.
My mom's valiant fight ended on March 19, 2009. I thought it would be too painful to volunteer, and it can be.  At these times I remember what Mom said when we were discussing clinical trials: if she could help someone down the line she'd do it.  By volunteering I'm helping others Wage Hope against this disease.  I'll do it, Mom.  Watch me.
With my television news background, the Media Relations core role was a perfect fit.  I knew I was in a unique position to extend our message in the Central Florida area.  I had some success, but I wanted to do something more.  The aha moment came at 3 a.m. one Friday in February.  Our morning meteorologist thanked one of the anchors for reminding her to wear red.  Another anchor put a small red dress pin on his lapel, near his red tie.  I watched as our anchors, our competitors' anchors, and the network morning show anchors wore red.  The answer was right there.  My goal was to see purple on the air that November.  While I didn't openly admit it, my ultimate goal was to make this a national event.  Could I do it?  I thought of Mom.  Watch me.
In November 2010, after months of brainstorming, I added information about Purple with a Purpose to my PurpleStride press kit.  While I was happy with the response, I knew I'd have to do more the next year.  The key was social media.  In 2011, I focused on Twitter to engage the on-air talent, and recruited our affiliate volunteers to tweet them as well.  It worked; we had greater participation, more on-air mentions of PurpleStride and Pancreatic Cancer Awareness Month, and several anchors and news stations were following US on Twitter!  By 2012, I knew we were in the midst of a movement.  There were "Twitter Throwdowns" between rival news teams who embraced our cause and posted pictures of their anchors and reporters wearing purple.  Affiliates across the country promoted Purple with a Purpose with great success.  What we didn't have was George Stephanopoulos and Matt Lauer wearing purple ties.  We didn't have them… yet.
On Friday, November 22, 2013, after an extraordinary effort by our national team and Media Relations Chairs across the country, the airwaves from Orlando to Seattle were purple.  At 7:00 a.m. Eastern Time, I held my breath.  There they were.  Matt and George and all of the anchors on all of the morning shows were wearing purple.  More importantly, they said they were wearing Purple with a Purpose, and that the purpose was pancreatic cancer awareness.  I cried.  I thought of my Mom and whispered, "We did it."
We still have work to do.  We've had a slight name change, we'll now wear Purple for a Purpose, but our mission remains the same: we need to raise awareness and Wage Hope.  We'll not only wear purple, we'll tell people WHY we're wearing it.  We're going to make sure that if you see someone wearing purple ribbons in November, you'll know WHY they're wearing them.  Think we can't do it?  Watch us.