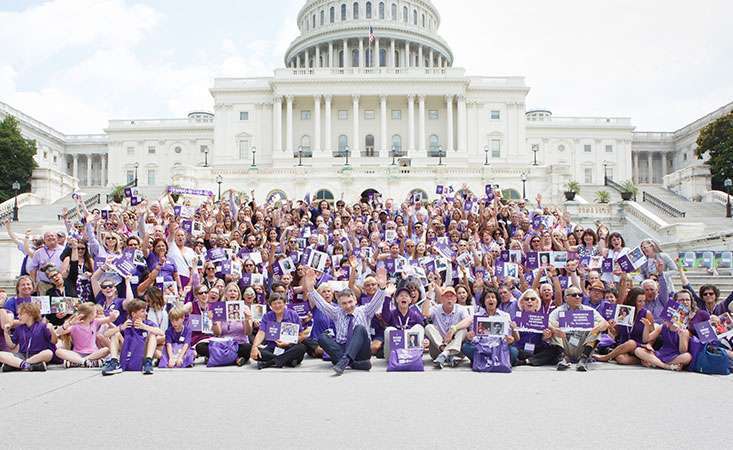 Steve Cook of Huntsville, Ala., knows what it means to be an advocate from his career in aerospace when he traveled to Washington, D.C. to speak with lawmakers on behalf of his industry. After he lost his wife to pancreatic cancer in 2018, he went to Capitol Hill for a new reason – to advocate for increased federal funding for pancreatic cancer research. Cook is returning to National Pancreatic Cancer Advocacy Day for the second time June 24-25, so we caught up with him to hear more about his experience and learn his tips and tricks for newcomers to the event.
Pancreatic Cancer Action Network (PanCAN): When did you get involved with PanCAN and what inspired you to attend Advocacy Day in 2018?
Cook: When my late wife was diagnosed with pancreatic cancer in June of 2017, I reached out to PanCAN for resources. As her fight progressed and we began learning more about the research side of the pancreatic cancer community, I realized that funding was a major issue and is holding back progress.
She encouraged me to take the message of waging hope to our leaders in Washington, D.C. I attended my first Advocacy Day in 2018, about two weeks after she passed away. I considered not going but knew she wanted me to attend – I am very glad I did.
PanCAN: What was your prior experience with advocacy?
Cook: Advocacy is an element of my "day job" in the aerospace and defense field. It started when I worked for NASA and had to advocate for my space programs to the White House and Congress – I transitioned to private industry about 10 years ago. My first experience with advocacy for PanCAN was Advocacy Day 2018.
PanCAN: What made your first Advocacy Day memorable?
Cook: It was incredible. Being around more than 500 people who were all passionate about helping others was encouraging and uplifting. Small group discussions with others who were previously or currently dealing with this disease at the opening session was very meaningful – particularly hearing Sen. [Chris] Coons' story.
I went on to meet one-on-one with him several months later – we prayed and cried together in his office. While our political views are on different ends of the spectrum, we shared a common bond. This disease isn't a "red" or "blue" issue – it's literally "purple!"
PanCAN: What tips do you have for people who might be nervous about talking to their members of Congress or attending Advocacy Day for the first time?
Cook: I have a few things for people to remember:
Your members of Congress and their staff are there to represent you. They are interested in helping – and they are people just like you, so don't be nervous.
Be courteous.
Be yourself.
Know that your personal story will have the greatest impact.
You don't have to be an experienced advocate to attend Advocacy Day – all you need to do is go and share your story. PanCAN will set up your meetings with your members of Congress or their staff and provide training and all the resources you will need to speak out. Registration is open until May 10, so reserve your spot now!