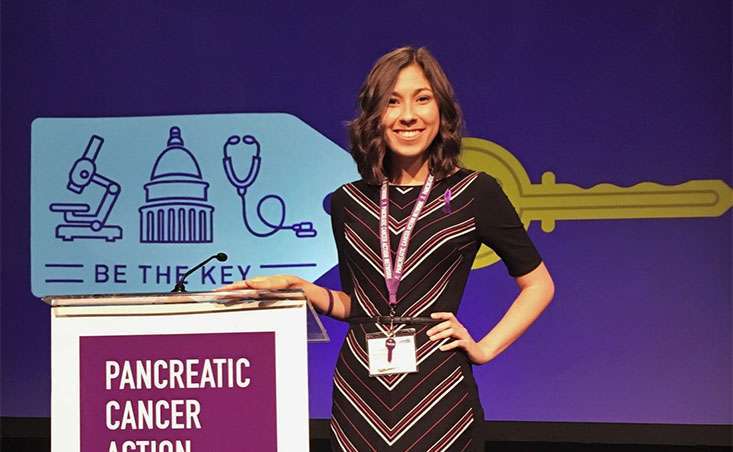 Editor's note: World Gratitude Day is today, Sept. 21, and we thank all of our incredible supporters for all they do for the pancreatic cancer cause. In honor of the day, we are re-publishing this story about Emily LaSalle, who has been involved with PanCAN since she was 11 years old.
"No matter how young or old you are, your voice matters. PanCAN taught me that when I was only 11 years old, and I have never forgotten it." Since then, Emily LaSalle – now in college studying music – has been using her voice at every opportunity to raise pancreatic cancer awareness.
LaSalle first learned about the Pancreatic Cancer Action Network (PanCAN) when she was 10 years old. Her father had been diagnosed with pancreatic cancer in December 2009. One of the nurses treating him told them about PanCAN Patient Services.
John LaSalle passed in April 2010 at 45 years old, and LaSalle says, "It still feels surreal after nine years. He was my rock, my duet partner, and my best friend. His presence remains a huge part of my life, and I know he always will be. He truly was the best man I've ever known."
After their loss, LaSalle's mom was exploring the PanCAN website and found the Volunteer Affiliate locator. The Orange County Affiliate soon became their second family.
"From then on, we attended meetings, ran PurpleStrides, and grew even closer with fellow affiliate members," she recalls. "I still remember reading a poem I had written at one of my first PurpleStride events when I was 12 years old, with purple corduroy pants and a smile full of braces. My affiliate made me strong."
LaSalle says she truly found her voice attending National Pancreatic Cancer Advocacy Day in 2014. "Every meeting I sat in that day and all the other years I've advocated on Capitol Hill on behalf of PanCAN, I realize today even more how important my story is. Not only for the purpose of keeping my father's memory alive, but also because what happened to my family is happening everywhere and that is unacceptable."
It was at Advocacy Day last year that LaSalle was inspired to launch her own Wage Hope My Way (WHMW) fundraiser, thanks to a WHMW breakout session she attended. She had been wanting to host a fundraiser or event in honor of her dad, but she kept putting it off.
During the session, the speaker told the group of advocates that they were capable of anything, and LaSalle said of that moment, "All my hesitation and fear was gone. I knew I had to do something more. By the end of the day, I knew exactly what I wanted to do. I remember telling my mom in our hotel room, 'I think I'm going to plan a benefit concert for dad.'"
The benefit concert was Hope Rising, a coffeehouse-style concert featuring her fellow music students from the Bob Cole Conservatory of Music at Cal State Long Beach. LaSalle's goal was $2,500 and now, she's closing in on $6,000.
"When I started planning Hope Rising in June, I had no idea three of my former teachers would be diagnosed at the start of that same new year," she said. "Our communities need to be informed and our stories do just that. Your voice matters and can catalyze tremendous change."
Bringing her commitment to PanCAN full circle, LaSalle is working as an intern this summer in the PanCAN national office with the community engagement team.
For anyone considering getting involved with PanCAN LaSalle says, "Just go for it! Have no excuses and no hesitations. Pancreatic cancer completely altered the course of my life, like it does for so many families. But we have the opportunity and the tools to fight back! Our stories and even our pain are the fuel that motivates us to start making change."
PanCAN would not be able to make moments that matter for patients and their families without you. PurpleStride, Wage Hope My Way, Advocacy Day, local Volunteer Affiliates –
find the way
that feels right for you.