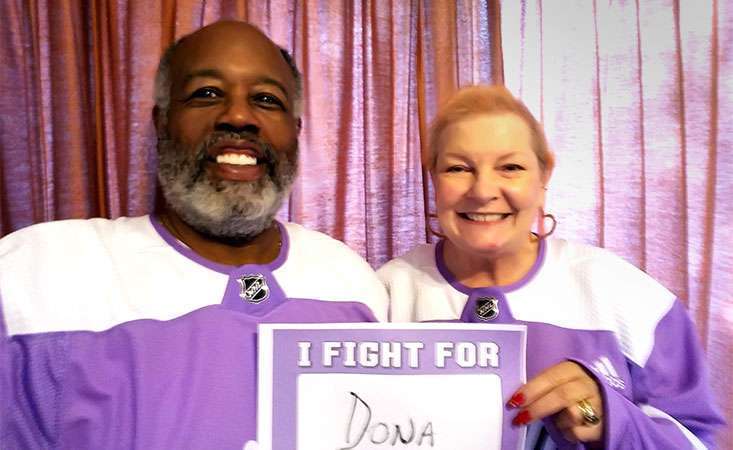 It's one thing to cheer on your favorite hockey team in an arena packed with fellow fans, but another when the whole arena's rallying for you.
Greg Christian and wife Dona Coultice-Christian set a goal to see their team, the Washington Capitals (Caps), play at every National Hockey League (NHL) stadium across North America. To each game, they brought a poster tracking their progress.
After Dona was diagnosed with pancreatic cancer in April 2017, many fans expressed their support. There's one moment Christian will never forget.
"Dona and I were at the Dallas arena, walking around the concourse between periods," Christian said. "We were wearing lavender Hockey Fights Cancer™ (HFC) jerseys, and Dona had cut her hair quite short since she was getting treatment. It was clear that she was the one facing cancer.
"On our walk, a fan of the Dallas Stars, the opposing team, came up to touch Dona's shoulder and just wish her good luck."
Christian continued, "Hockey fans are different. Compared to the rest of the top four sports in North America, hockey has the smallest fan base. But because of that, we're tight-knit."
Greg and Dona crossed off 34 arenas from their list and purchased tickets to Caps games in St. Louis and Toronto, the two remaining destinations, before Dona's health declined and prevented her from travel.
They missed a hockey game they planned to attend with their daughters and grandchildren. Bringing Christian and Dona to that game "in spirit," their family carried a photo of the couple with them.
Dona passed away on Thanksgiving 2018. On Twitter, Christian wrote that pancreatic cancer claimed his linemate.
For the games at the final two arenas, Christian, inspired by his daughters and grandchildren, brought a poster-sized photo of Dona and kept it next to him. "It was like she was there with me. I looked over and told her we made it."
And despite being in an away arena in visitor regalia, Christian and the poster were shown on the jumbotron in St. Louis.
Christian claimed hockey fans are different. Looking at the hockey community's tremendous support for cancer patients, it's easy to see why. For the past two years, the Caps have served as the presenting sponsor of PurpleStride Washington D.C., the walk to end pancreatic cancer.
The NHL, HFC and the National Hockey League Players' Association designate November as Hockey Fights Cancer month, which features philanthropic event nights benefiting patients affected by cancer, including their families and caregivers.
"The NHL and HFC fundraise for cancer patients on an annual basis," Christian said. "I think that's emblematic of the type of support you see within the hockey community."
For Christian, the arena tour was one way he and Dona decided to "live in spite of life's curveballs." Dona was always up for adventure and loved traveling domestically and abroad.
When she wasn't cheering on the Caps or entertaining friends and families over homecooked meals, Dona, a communications professor, enjoyed teaching and being with her students.
This year, Christian plans to put together a team for PurpleStride, the signature event of the Pancreatic Cancer Action Network, and participate in National Pancreatic Cancer Advocacy Day.
Inspired by this story? You can make a difference, too.
Get involved
today.